"This is wrath of God money"
When a young researcher is killed, enthusiastic blogger for the Washington Globe Della Frye (McAdams) discovers that she was having an affair with Congressman Stephen Collins (Affleck). Wanting to save his friend and his wife Anne (Wright Penn) any public humiliation, veteran investigative reporter Cal McAffrey (Crowe) tries the point Della in the right direction. As the pair look deeper into her death however, the discover a connection to Cal's current story and the Senate hearing that Congressman Collins is overseeing against PointCorp, a private military company. The biggest story they have ever come across, might just cost them their lives but the people behind it will do anything to stop it from breaking.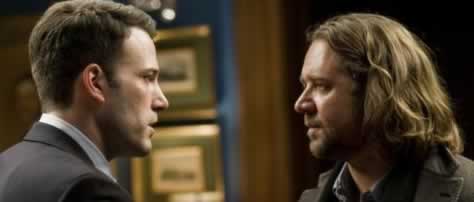 The investigative journalist maybe be disappearing all with many a local newspaper in the US but can a movie reinvigorate the power of the press?
As many a newspaper goes under and the newsstands get emptier and emptier in the major cities of the US, the draw of been an investigative journalist has never been as strong. The freedom of the Internet has given everyone the chance to post their story and have their say the big news topics with some blogs and websites getting just as many readers daily as any big city newspaper. For Hollywood however, the love affair with the investigative reporter has never wondered but in these times when they are becoming a rare commodity, 'State of Play' gives them another chance to shine.
Based on the award winning BBC TV series by Paul Abbott, British director Kevin Macdonald transports the story from the UK to the US to create an intelligent thriller that reflects the current times. After moving from documentary filmmaking to mainstream cinema with 'The Last King of Scotland', Kevin Macdonald proves that he could coach Oscar winning performances not just from a subject matter as he did for 'One Day in September' but from actors as well. While his previous movies dealt with real events and real people, a big screen adaptation of Paul Abbott's series was the next step. This might not be based on a real event or story, but it is a thriller that reflects real life and could easily happen.
With Forest Whitaker deservingly winning for his portrayal of Idi Amin, actors are clambering to work with Kevin Macdonald. For 'State of Play', the director has attracted an all-star cast with Russell Crowe leading the line as investigative reporter Cal McAffrey. Putting on weight, growing his hair and going unshaven for the role, Crowe captures the look and approach of what you would think would be a seasoned newspaperman. This is another different kind of role for Russell Crowe, showing his rage and his ability to create an interesting and charismatic character. Since making her name in 'Mean Girls', 'The Notebook' and 'The Wedding Crashers', Rachel McAdams hasn't really set the box office on fire but this is really a return to form for an actress with real talent. As the new online blogger for the Washington Globe, she is a reporter who longs for the bigger story and thinks this could be her first big break. With a string of disasters behind him like 'Surviving Christmas', 'Gigli', 'Jersey Girl', 'Paycheck', Ben Affleck has finally started to choose his films more carefully and after small appearances in 'Smokin' Aces', 'Clerks II' and a supporting role in 'He's Just Not That Into You', the character of Congressman Stephen Collins finally gives him the chance to show why he became that big Hollywood star in the first place. The always-excellent Helen Mirren plays Washington Globe editor Cameron Lynne and there is good support from Robin Wright Penn as the Congressman's wife Anne, Jason Bateman as the sleazy Dominic Foy and Jeff Daniels as Rep. George Fergus.
'State of Play' is an excellent thriller that twists and turns in all the right places to keep you guessing all the way to the thrilling finale. Fans of the original British TV show, will still enjoy the film, even with the change of location and cast but it is just shows that Kevin Macdonald is a fantastic talent and a director that just doesn't make bad movies.


PICTURE & SOUND
The Blu-Ray disc presents the movie in High Definition wide screen 2:40 up to 1080p, with Dolby TrueHD 5.1 surround sound.
BONUS FEATURES
Deleted Scenes (3.39 mins/SD)
Two deleted scenes that suffer from the lack of an introduction or commentary to explain why they were removed.
The Making of State of Play (18.45 mins/HD)
Director Kevin McDonald, producer E. Bennett Walsh and stars Russell Crowe, Rachael McAdams, Jeff Daniels and Helen Mirren talk about adapting the award-winning BBC mini series into a tight American journalistic thriller.
U-Control
Universal's unique interactive Blu-Ray viewing system comes into its own for "State of Play". For this release you can watch picture-in-picture behind the scenes footage, interviews and Washington D.C. location facts, all while watching the movie.
BD Live
Place the Blu-Ray in an Internet enabled player or PS3 and connect to receive extra content for the film
OVERALL
The Blu-Ray treatment for 'State of Play' is one that fans should enjoy. The featurette is good but it is U-Control mode that makes the film worth a second watch with this feature on.
BLU-RAY


---
The Usher Home | Hush, Hush... | The Big Story | The Usher Speaks
Stuck @ Home | Coming Soon | Links | Contact the Usher

2009