"Just do what you promised"
Ben Thomas (Smith) might just seem to be an average IRS agent but he has a secret that he can only share with a chosen few. He has the power to completely change the lives of seven people but this is a gift that he is not giving away lightly but as Ben gets to know one of his chosen seven, Emily (Dawson) a young woman with a terminal heart problem, things start to change. As his journey is about to reach its climax, he discovers in Emily something good again but could it be too late?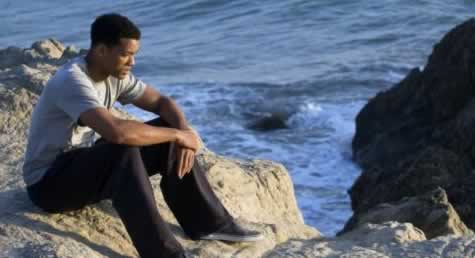 There is another side to Will Smith's career that sees him move away from his blockbuster persona and show what a good actor he actually is and 'Seven Pounds' is one of those movies but it is the correct showcase for the megastar?
Fans of Will Smith know he can act and there is more to him than just the big budget event movie. While he does like to appear in hits like 'I am Legend', 'Hancock', 'I, Robot', 'Independence Day' and the 'Men in Black' and the 'Bad Boys' movies, every now and again he like to show that there is more to his talent that just appearing in SFX filled extravaganzas. Watch him in films like 'Ali', 'Six Degrees of Separation' and 'The Pursuit of Happyness' and you will realise that he is an actor with an abundance of talent. Working again with 'The Pursuit of Happyness' director Gabriele Muccino, this is another chance for Smith, the actor, to shine but it is just a shame that the story is a little predictable.
In 'Seven Pounds', Will Smith plays Ben Thomas, a man with a secret and a guilt that is making him do something that will change the lives of seven people. Written by Grant Nieporte, the story is a thriller mystery with a hint of romance thrown in for good measure. The mystery is what is driving Smith's character to change the lives of these seven people but the problem is that big revelation as to what is driving Ben Cross to do what he is doing becomes a little predictable and even signposted at times. This takes away some of the suspense but because of the cast and Smith's presence, this is still an interesting tale to tell.
As Ben Thomas, Will Smith gets to show that he can act. Just as he did in 'The Pursuit of Happyness', Smith plays an unassuming man, riddled with guilt but fines himself opening up to a woman, when he really shouldn't be. That woman is played by the beautiful and talented Rosario Dawson, who, as Emily Posa, is the person who could scupper Ben's plan and take him away from his path. There is also a pivotal role for Woody Harrelson as blind man Ezra Turner and Barry Pepper as Ben's friend Dan. Elpidia Carrillo also stands out as Connie Tepos, a woman who really needs to get away from her abusive husband.
With a good cast and some excellent performances, the predictability of 'Seven Pounds' still makes for an enjoyable tale. Will Smith simply doesn't make bad movie and while it might not be the most original, the presence of the superstar actor alone makes this worth your time.


PICTURE & SOUND
The Blu-Ray disc presents the movie in High Definition wide screen 1:85 up to 1080p, with Dolby TrueHD 5.1 surround sound.
BONUS FEATURES
Commentary with Director Gabriele Muccino
The French director and the man who worked with Will Smith on his first Hollywood feature 'The Pursuit of Happyness', talks passionately about 'Seven Pounds'. The man at the helm discusses the editing decisions made for the film, casting, the script, development of the characters and working with Will Smith again. This is a decent single person commentary from an interesting director.
Seven Views on Seven Pounds (High Definition)
Writer Grant Nieporte, producers Todd Black, Jason Blumenthal and James Lassiter, director Gabriele Muccino, location manager Kei Rowan-Young, editor Hughes Winborne and star Will Smith talk about bringing 'Seven Pounds' to the silver screen.
Creating the Perfect Ensemble (12.58 mins/High Definition)
Director Gabriele Muccino and casting director Denise Chamian talk about casting Will Smith, Rosario Dawson, Woody Harrelson, Michael Ealy and Barry Pepper for 'Seven Pounds'.
The Box Jellyfish: The World's deadliest co-star (4.58 mins/High Definition)
See how Box Jellyfish is the deadliest killer in the world and the starring role in 'Seven Pounds'.
Emily's Passion: The Art of the Printing Press (8.44 mins/High Definition)
See the history of the printing press in the US and the research Rosario Dawson did into her role's profession.
Deleted Scenes (High Definition)
Entitled 'Ben leaves a message for Dan', 'Dr. Gatsinaris confronts Ben', 'Ben gets Duke' and 'Ben watches Ezra at the Mall #2', these deleted scenes suffer from the lack of commentary track or introduction to say why they were removed.
Trailers
Previews of 'Angels & Demons', 'Rachel getting Married', 'Nick & Norah's Infinite Play List', 'Not easily Broken', 'Hancock' and 'The Pursuit of Happyness'.
OVERALL
The Blu-Ray treatment for 'Seven Pounds' is one that fans of the film would enjoy. The commentary is good and the featurettes cover most aspects of the film's production and some background information on the movie, which is very welcome, making this a little better than the normal, run of the mill Blu-Ray release.
BLU-RAY


---
The Usher Home | Hush, Hush... | The Big Story | The Usher Speaks
Stuck @ Home | Coming Soon | Links | Contact the Usher

2009