"I'm Julia Child. Bon appetit!"
When Julia Child (Streep) moved to Paris with her husband Paul (Tucci) in 1948, she as a lost for something to do but one thing she really enjoyed about living in the French capital was the food. Determined to overcome the language barrier and the prejudice of an America learning to cook French cuisine, Julia quickly became the talk of the town. In 2002 Julie Powell (Adams) still longed to be a writer but as her friends made successes of their careers, hers seemed to be going backward. Having always loved cook she decides to write a blog called the Julie/Julia project where she would cook every recipe in Julia Child's book, Mastering the art of French Cooking.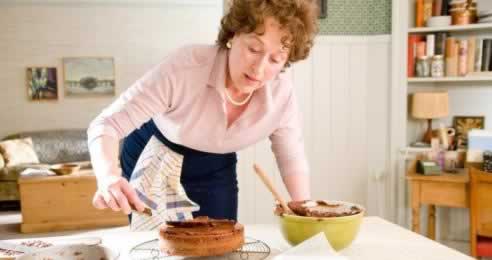 Cookery has captivated the appetites of TV viewers for decades but can the culinary delights of French cuisine transfer to the big screen?
When it comes to naming the TV chefs that inspired a generation in the US, Julia Child will instantly come to the mind of many an American. She is the woman who brought the complexities of French cooking to the homes of TV viewers during 60s, 70s, 80s and 90s. One person she inspired was Julie Powell, a young woman who wanted to start a project that would adhere herself to a new audience, the online community. For a whole year, Julie cooked the five hundred and twenty-four recipes in Julia Child's book 'Mastering the Art of French Cooking' and wrote about her experiences in her Blog, which then became a novel. Both women introduced an audience to French cooking and each of them have stories that would be great movies but writer/director Nora Ephron decided to tell both in one movie.
Better known for her romantic comedies such as 'When Harry Met Sally', 'Sleepless in Seattle' and 'You've got Mail', Nora Ephron is a writer and filmmaker who knows how to tell a story and get the most from her leading ladies. Covering two women's lives in two hours is a huge undertaking, especially when you could have based the movie entirely on Julia Child alone but, for the most part, Ephron manages to get the mixture just right.
For a movie like this to work you need two actresses to captivate you from the off and in Amy Adams and especially Meryl Streep. As Julie Powell, Amy Adams oozes the charm that has made her the star she is today. Her girl-next-door persona works well for the character as you connect with her from the off, as her grand blogging experiment takes its toll on her life and relationships. The movie is stolen by the performance of Meryl Streep however and this, unfortunately, draws you away from Julie's story as you want to spend more time with an actress on stunning form. Streep encapsulates the TV chef with great gusto, throwing herself into the mannerisms, voice and look of the pioneering French cook. This is Streep at her very comedic and dramatic best, as a head strong woman in a time were women were only seen as accessories for the important husbands. Chris Messina and Stanley Tucci play the men in Julie and Julia's lives, both encouraging in their own ways but not without their own problems with the women in their lives been so dedicated to their cookery.
The one thing that will stay with you while watching this film is the amazing food. This is one movie that will have you salivating at the sight of all of the food that graces the screen. Whether you love French cookery or not, both Julie and Julia will make you starving while watching.
'Julie & Julia' is a fun insight into the lives of two headstrong, pioneering chefs. While Meryl Streep will rightly get all the plaudits for her performance as Julia Child, Amy Adams shows again that she is an actress with charm, making the Julia story just as engaging. If you love food and cookery, you will get a little more from this engaging and scrumptious piece of cinema.


PICTURE & SOUND
The Blu-Ray disc presents the movie in High Definition wide screen 1:85 up to 1080p, with Dolby TrueHD 5.1 surround sound.
BONUS FEATURES
Commentary with writer/director Nora Ephron
The queen of the American romantic comedy provides a chatty and informative commentary for 'Julie & Julia'. Talking about filming in Paris and New York, casting and meshing two stories together, this is a good commentary track that fans of Nora Ephron will enjoy listening to.
MovieIQ: Julia Recipe Collector
Watch the movie with MovieIQ enabled via an internet connection and you'll receive updated information on the French cooking techniques used within the movie.
Secret Ingredients: Creating Julie & Julia (27.44 mins/HD)
Writer/director Nora Ephron, producers Amy Robinson, Laurence Mark and Eric Steel and actors Meryl Streep, Amy Adams, Chris Messina, Jane Lynch and Stanley Tucci talk about bringing the books and blog to the silver screen.
Family & Friends: Remembering Julia Child (47.39 mins/HD)
The people who knew Julia best talk about the effect that the pioneering TV chef had on their lives and the American pallet.
Julia's Kitchen (22.31 mins/HD)
Follow the process of transferring Julia Child's actual home kitchen to the Smithsonian Museum, to be one of their most beloved exhibitions. Cooking Lessons Watch the great woman herself and many of the chefs that have been influenced by her prepare poached eggs, hollandaise sauce, scrambled egg, braised beef short ribs and butter poached Maine lobster.
Trailer
Watch a preview of 'Cloudy with a Chance of Meatballs'
OVERALL
The Blu-Ray treatment for 'Julie & Julia' is one that fans will really enjoy. The commentary track is very good and the featurettes are all worth watching. The cooking lessons are a fantastic bonus however and make this an appetising package.
BLU-RAY

---
The Usher Home | Hush, Hush... | The Big Story | The Usher Speaks
Stuck @ Home | Coming Soon | Links | Contact the Usher

2009