"Hush, hush you mean vicious animal"
As Manny (Romano) and Ellie (Latifah) prepare for the arrival of their first baby, Diego (Leary) thinks its about time he left the herd and Sid (Leguizamo) wishes he could also be a father. When he finds three abandoned large eggs in an ice cave however, Sid thinks this is his shot at been a dad. When the eggs hatch however, the babies are not like anything the herd has seen before but when their real mother comes looking for them, she takes her babies back and takes Sid with her. As Manny, Diego, Crash (Scott), Eddie (Peck) and a heavily pregnant Ellie head into to cave to save him they discover a lost world filled with creatures they thought were extinct, dinosaurs.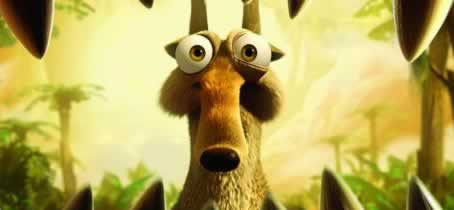 When it comes to computer-animated movies most people think about Pixar and DreamWorks but there is an extremely successful franchise that isn't produced by them and it's time to go back to the Ice Age.
After the success of the first two movies in the franchise, Blue Sky's 'Ice Age' is just as popular as 'Shrek' and even 'Toy Story' and it is easy to see why. Fox's Animation Studio has cracked the formula that both Pixar and DreamWorks figured out many a year ago, appealing to the whole of the family. A mix of cute and friendly characters and some jokes that will make adults smile is a winning combination and that is what Blue Sky have got right now in three movies.
As with all the 'Ice Age' movies the story is a simple one but one that provides laughter and some heartwarming moments. Manny and Ellie are preparing for birth of their first child and Diego and Sid are feeling a little left out. Since joining the herd Diego has found that he is loosing his hunting skills and thinks he needs to leave to get them back. Sid is having trouble persuading Manny and Ellie that he would be the perfect uncle and babysitter, so he sets off to find his own family. When he finds three very large eggs and returns them back to the herd, the eggs hatch and three baby dinosaurs star calling him mommy. This leads to the herd been attacked by a T-Rex and Manny, Diego, Ellie, Crash and Eddie discovering an underground land of the lost where dinosaurs have survived the extinction. This is nothing new but this well-worn storyline with an Ice Age twist is one worth watching.
All of your favourite characters are back from the first two movies. Manny, Sid and Diego are voiced again by Ray Romano, John Leguizamo and Denis Leary and the trio fall back easily into their characters, with Leguizamo stealing every scene Sid graces. Queen Latifah, Seann William Scott and Josh Peck return as Ellie, Crash and Eddie but it is a new member of the cast that makes a big splash. Simon Pegg's completely crazy Buck, who has been trapped in the land of the dinosaurs for far too long but just might be the ultimate adventurer. Of course the star of the series is, of course, Scrat and this time he has not only got his acorn for love but Scratte is turning his head. As with most animated movies released at the box office, 'Ice Age 3: Dawn of the Dinosaurs' is also released in cinemas in 3D. This again adds a depth of field to the film, pulling you into the world and making it feel more involved. There are a few moments of items or even characters sticking out of the screen but this is another 3D movie that could easily be watched in 2D without missing out on something, especially as cinemas continue to charge extra for the 'Experience'.
'Ice Age 3: Dawn of the Dinosaur' is great family fun. With some excellent characters, plenty of laughs for the young and old and brilliant animation, this again shows how good animation is at the moment. Whether the movie needed to be in 3D is a much longer debate, but this is a welcome addition to a fun franchise and one that shows that other studios can compete with Pixar and DreamWorks Animation.


PICTURE & SOUND
Presented in Widescreen 1.85:1 Anamorphic with a Dolby Digital 5.1 soundtrack, the transfer is very good as you'd expect from a CGI release.
BONUS FEATURES
Walk the Dinosaur Music Video (1.30 mins)
Queen Latifah performs the classic song with clips from the hit movie included
Falling for Scratte (8.10 mins)
Director Carlos Saldanha, producers Chris Wedge and John C. Dunkin and storyboard artist Karen Disher talk about creating a new story for Scratt that just doesn't involve him chasing after his beloved acorn.
Buck: From Easel to Weasel (7.13 mins)
Director Carlos Saldanha and vocal stars Josh Peck, Seann William Scott and Simon Pegg talk about the creation of mad adventurer Buck the weasel and the performance that Simon Pegg brought to the character.
OVERALL
The Movie Studios have decided that Blu-Ray is the primary format and DVD is coming a lowly second and for the release of 'Ice Age 3: Dawn of the Dinosaurs' this is extremely evident. Were the Blu-Ray release is filled to the brim, the DVD is a little lacklustre. With a music video and two short featurette, this is a disappointing release for Ice Age fans and it means that they really have to upgrade to Blu-Ray to get the most from their favourite animated franchise.
DVD


---
The Usher Home | Hush, Hush... | The Big Story | The Usher Speaks
Stuck @ Home | Coming Soon | Links | Contact the Usher

2009