Starring:
Jeremy Renner, Anthony Mackie, Brian Geraghty, David Morse, Evangeline Lilly, Guy Pearce and Ralph Fiennes
Director:
Kathryn Bigelow
Running Time:
131 mins
Out to buy on Blu-Ray/DVD 28/12/09
"If I'm gonna die, I want to die comfortable."
When Sgt. JT Sanborn (Mackie) loses a key member of his elite Bomb Disposal Team, his replacement SSgt. William James (Renner) is a little more maverick in his approach than what he is used to. This becomes even more risky when the team get drawn into a game of cat-and-mouse with a deadly and extremely skilled bomb maker and it is up to the young Sergeant to keep the team focused and on mission.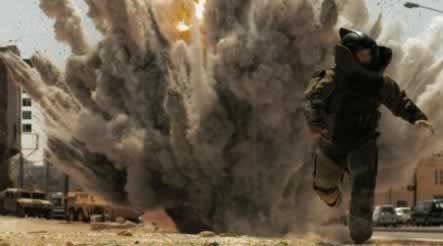 When it comes to naming the defining films that dealt with the conflict and occupation of Iraq, one film will stand out from the rest and that movie is 'The Hurt Locker'.
Kathryn Bigelow has a reputation of been one of the best action directors of her generation but she hasn't really had a hit since 'Strange Days' in 1995. You have to remember that she did bring us one a genre defining vampire movie in 'Near Dark', made Jamie Lee Curtis kick some butt in 'Blue Steel' and made one of the quintessential action movies of 90s and maybe of all time, 'Point Break'. Now in 2009 she returns to form and shows up why she has such a reputation with 'The Hurt Locker'.
Movies and TV shows about the conflict and occupation of Iraq have struggled to show what it is like to be deployed in the Middle East. Films like 'Three Kings' tried to inject some humour, documentaries like 'Control Room' told us how it is and TV shows like 'Over There' struggled to gain an audience even with much critical acclaim. Whether it is because of people's strong opinions as to if our troops should be over there in the first place or if people don't want to be reminded of the money and more importantly the lives that are been lost in Iraq and Afghanistan, studios have been reluctant to release films on the subject but 'The Hurt Locker' will change all that.
What Kathryn Bigelow and writer Mark Boal have created a story that reflects not only what it is like over there but also a group of soldiers feeling about fighting a continuous war against a hidden enemy, relentless in their pursuit of causing havoc for the occupying American forces. This, of course, creates high drama and a real tension during the bomb disposal scenes but it is the development of the characters that sets this apart from many other war movies. Never glorifying the conflict in anyway, it is the performances of Jeremy Renner as the risk taking bomb disposal expert SSgt. William James and Anthony Mackie as Sgt. JT Sanborn, the soldier assigned to protect him and almost be his conscience, that make the film as powerful as it is. With cameos by Guy Pearce and Ralph Fiennes, this never distracts from the two central performances of the leading men that are the driving force of this drama.
'The Hurt Locker' is one of the best movies that you will ever see on the occupation of Iraq. Showing exactly what our soldiers have to face on a day-to-day basis reveals real drama but it is the expertly developed characters that make the movie have such a big impact.


Not Available
---
The Usher Home | Hush, Hush... | The Big Story | The Usher Speaks
Stuck @ Home | Coming Soon | Links | Contact the Usher

2009