"Now you leave them alone"
When his wife passed away, Koren War veteran Walt Kowalski (Eastwood) lost the only person who wanted to be around him. Alienating his two sons and with only his faithful dog Daisy for company, Walt prepares to see out his days in the house he and his wife made a home and driving his pride and joy, his 1972 Ford Gran Torino. The neighbourhood he called home in Detroit was changing however. A large Hmong community had moved into the area and while he never really had time for his Asian neighbours he steps in when the local Hmong gang tries to recruit the young son of family, Thao (Vang) by force. Realising that the boy isn't like the gang members, he takes it on himself to show Thao how to be a honourable man but the gang do not take rejection well.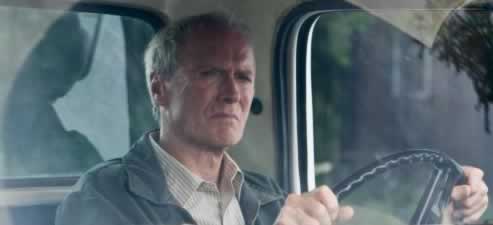 Even at the age of seventy-nine, Clint Eastwood continues to direct a movie every one or two years but we haven't seen him on the silver screen since 2004 but now he returns for what could be his swansong but what a swansong!
For over fifty years, Clint Eastwood has entertained audiences with a cold stare, an anti-hero persona and a star quality that is still unmatched. Setting the standard when it came to the Western, creating the quintessential police officer of the 70s and 80s as Inspector 'Dirty' Harry Callahan and even trying comedy with an orang-utan called Clyde, Clint Eastwood is the true definition of a Hollywood legend. Turning his hand to directing in 1971 with 'Play Misty for Me', he has bought us such classics as 'The Outlaw Josey Wales', 'Pale Rider', 'Heartbreak Ridge', 'Mystic River' and 'Million Dollar Baby', sometimes staying behind the camera as well as directing himself in front of it. Now as he enters the later years of his life, he has decided to hang up his acting shoes after one last time gracing the silver screen in 'Gran Torino'.
As with most of Clint Eastwood movies, this is a story that is compelling from the off. Based on a story by Nick Schenk and Dave Johannson, this is the tale of intolerance, acceptance, gang warfare and forgiveness made all the more powerful, emotional and even funny by the screen presence of Clint Eastwood. As Walt Kowalski, it could be easy to mistake his last character as one of this most famous, creations 'Dirty' Harry Callahan, only retired and living in Detroit. Walt Kowalski is, in fact, a retired Ford plant worker and former Korean War veteran who has just lost his wife and now has to contemplate living alone in his neighbourhood that is now more Asian than anything else. With a Hmong gang controlling the streets and trying to recruit his young next-door neighbour Thao, Walt steps in when his property is threatened, only to become more involved than he would have ever had thought.
At seventy-nine, Clint still commands the screen and your attention throughout. The similarities between Walt Kowalski and Dirty Harry might seem a little too obvious but this doesn't take anything away from the performance or the character. While some may also argue that the character is a relic of the 70s, with his racist views on his neighbours and his language and name calling but it is Walt's outlook and approach to life, even in his latter years that makes the character realistic and sometimes, unintentionally funny. The supporting cast is a little bit of a mixed bag however. John Carroll Lynch is very funny as Walt's barber, Christopher Carley is very good as Walt's wanabe conscience Father Janovich but it is the two young actors who play the next-door neighbours children. Ahney Her is very good as Sue Lor, the strong willed Hmong girl who befriends Walt and draws him into her community. The same can't be said of Bee Vang as Thao. Both he and Ahney Her have never acted before but while Her shines, Vang really struggles to play opposite Clint Eastwood, but then again, most actors would.
'Gran Torino' is a fantastic way for Clint Eastwood to sign off his acting career. This is a movie that will make you laugh, shock you and draw out real emotion by the end of the exceptional finale. While young Bee Vang might not have enough screen presence to think he will continue on the big screen, even this can spoil an exceptional swansong for a true screen legend.


PICTURE & SOUND
The Blu-Ray disc presents the movie in High Definition wide screen 2:40 up to 1080p, with Dolby TrueHD 5.1 surround sound.
BONUS FEATURES
Behind the Story (High Definition)
Entitled 'The Eastwood Way' and 'Manning the Wheel', these two featurettes feature contributions from director Clint Eastwood, producers Robert Lorenzo and Bill Gerber, writer Nick Schenk, editor Joel Cox, casting director Ellen Chenoweth and stars Christopher Carley, Bee Vang and Ahney Her. They cover the making of the movie and the importance of the Gran Torino car, as a character in the movie. Both of these featurettes are well worth watching as they give you an insight into Clint Eastwood, the filmmaker and star.
Gran Torino: More than a car (3.57 mins/High Definition)
A look at the American car culture and the importance of the can in the lives of ordinary people
BD Live
Please the disc in an Internet enabled Blu-Ray player or PS3 and gain extra features from the Warner Bros. BD Live service
OVERALL
The Blu-Ray treatment for 'Gran Torino' is one that fans will enjoy. While the lack of a commentary track is disappointing, the featurettes are good and offer an insight into the making of this fine movie.
BLU-RAY


Dirty Harry
---
The Usher Home | Hush, Hush... | The Big Story | The Usher Speaks
Stuck @ Home | Coming Soon | Links | Contact the Usher

2009