"Kill for me Jason"
In 1980, Pamela Voorhees (Visitor) went on a revenge driven killing spree, murdering the camp councillors responsible for not looking after her son Jason, who drowned in Crystal Lake. Unbeknownst to her and as her last victim got the upper hand and killed her, the young Jason had survived but was forever scared after seeing her killed. Ever since the Camp Crystal Lake site had remained abandoned but when a group of campers visit, they discover that Jason is still around but now fully-grown and driven by nothing but a murderous rage, anyone who comes near his lake will meet a bloody end.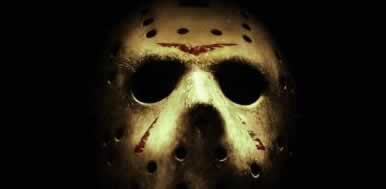 Hollywood continues to run out of ideas but after the success of 'The Texas Chainsaw Massacre' remake, Michael Bay's 'Platinum Dunes' production company takes us back to Camp Crystal Lake.
Platinum Dunes decision to take us back to Camp Crystal Lake and reintroduce us to Jason Voorhees is one that is a little strange. After ten films in the franchise and a cult coming together with another horror legend in 'Freddy vs. Jason', the hockey-masked, machete wielding, unstoppable killer didn't really need a reboot, reimagination or whatever Michael Bay's production company wants to call this. All you have to remember is that Hollywood thinks that young American audiences will not watch movies made in the 70s or 80s so they have to reintroduce these classic horror characters but do they really have to?
The pre-title sequence sets the scene. Recapping what happening in the original 'Friday the 13th' with ex-Star Trek: Deep Space Nine actress Nana Visitor taking on the role of the revenge driven Pamela Voorhees, while only for a very short time, to introduce Jason's murderous motivation. Then we get to see him in action, pre-hockey mask, viciously doing what he does best, killing young campers who dare come to Crystal Lake. The rest of the movie is just the same again, with 'Supernatural' actor Jared Padalecki's character looking for his sister who went missing during Jason's first attack and another group of young people travelling to the lake only to meet up with Jason.
What these movies are all about however are the killings and you can have real fun with an unstoppable masked killing machine wielding a machete. The group of young, stereotypical victims each meet a grisly end after getting themselves alone so Jason can kill them in numerous different and more gruesome ways. With the exception of Jared Padalecki and Nana Visitor, the rest of the cast are new, up and coming stars and starlets hoping that appearing in a horror movie will give them the kick-start to there career like stars Kevin Bacon and Johnny Depp did by appealing appearing in 'Friday the 13th' and 'A Nightmare on Elm Street'.
'Friday the 13th' is an unnecessary reboot, reimagination or whatever it is supposed to be of a franchise that could have just continued. Fans probably would have preferred another clash between Freddy and Jason or even another futuristic adventure for the killer but trying to start things again and forgetting about what had come before makes this just a disappointing outing for the hockey masked killer. While you can enjoy seeing Jason kill again, you just wish that Michael Bay and director Marcus Nispel had put a little more substance into this effort.


Not Available

Friday the 13th Franchise
---
The Usher Home | Hush, Hush... | The Big Story | The Usher Speaks
Stuck @ Home | Coming Soon | Links | Contact the Usher

2009