"In the words of the late, great, Marvin Gaye. Let's... Get... It... On! "
Moving to New York to escape his past, Shawn MacArthur (Tatum) is quickly hustled out of his money and left to sleep on the streets, even though he thought back. His fight didn't go unnoticed however and local promoter and hustler Harvey Boarden (Howard) tell him he can make some serious money on the illegal bare-knuckling brawling circuit. Taking him up on his offer, Shawn quickly makes a reputation for himself but when Harvey asks him to throw a fight to make even more money, Shawn has to make a choice that could hurt him, his manager and his new girlfriend, Zulay (Henao).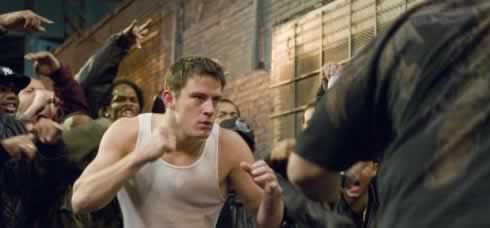 Movies about illegal street fighting are nothing new but can one set in New York with one of Hollywood's up can coming stars become the 'Rocky' of the genre?
When it comes to telling stories from the streets of many an American city, there always has to be some violence involved. Whether it be gangs, criminals, drugs or, in this case, bare-knuckle fighting, there always has to be something illegal to produce the drama in modern films. 'Fighting' is no different.
Underground street fighting is a subject that has been covered many times before. The vision of bare-knuckle fighters surrounded by bookies and willing punters baying for blood as the two men pummel away at each other, it one that has graced many a movie. 'Fighting' uses this model but then tries to add a 'Rocky' feel to what is basically a very familiar plot.
He we have Shawn, a down on his luck street vendor who has just been hustled out of his money. When he fights back however, local promoter Harvey sees some potential in him and offers him money to fight. Along the way he meets a beautiful waitress called Zulay, they fall in love but then the biggest fight comes along, against a person from his past and he has to chose between love and the money to start a new. Unfortunately director Dito Montiel and his creative team inject nothing new into this formula.
The main reason the film doesn't work, besides from the storyline you have seen many times before, is the performances. The jury is still out as to whether Channing Tatum can be a lead character in a movie. After making a slight ripple in 'Step Up' and 'She's the Man', he continues to make inroads into Hollywood but he has yet to show that he can really make a real impact and this movie doesn't help. Terrance Howard has already forged a reputation but his performance as street promoter Harvey Boarden is one that is completely on the rails. It is almost like he isn't even trying. Zulay Henao on the other hand is the film's shining light and deserves a lot better than this.
'Fighting' is a movie trying to punch well above its weight. Adding drama to a fight movie is all well and good but that drama has to be convincing. The biggest selling points should have been the fights however but even they are not as exciting as they could have been, with realism winning over entertainment to bring us some very punch-poor match ups. This is one movie that is knocked out in the first minute and then never recovers.


PICTURE & SOUND
The Blu-Ray disc presents the movie in High Definition wide screen 1:85 up to 1080p, with Dolby TrueHD 5.1 surround sound.
BONUS FEATURES
Deleted Scenes (8.24 mins/HD)
Entitled 'It's raining Harvey', 'Gray's Papaya', 'Martinez', 'Grandma yells' and 'Small town Harvey', these deleted scenes suffer from the lack of an introduction or commentary to reveal why they were removed.
OVERALL
The lack of bonus materials for 'Fighting' will come as a real disappointment to fans, especially as this is a Universal Blu-Ray. With only deleted scenes and no commentary, featurettes or interviews, this is a very poor HD package.
BLU-RAY

---
The Usher Home | Hush, Hush... | The Big Story | The Usher Speaks
Stuck @ Home | Coming Soon | Links | Contact the Usher

2009