Starring:
Benicio Del Toro, Carlos Bardem, Demián Bichir, Joaquim de Almeida, Pablo Durán, Eduard Fernández and Lou Diamond Phillips
Director:
Steven Soderbergh
Running Time:
135 mins
Out to buy on Blu-Ray/DVD 29/06/09
After his success in Cuba, Ernesto 'Che' Guevara (Del Toro) leaves his position in the Cuban government and disappears. In 1966 he surfaces in Bolivia having raised a small guerrilla army to take on the militarist Bolivian movement. Unlike Cuba however, Che has to struggle with a lack of supplies, an unwelcoming local population, his own ill health and a US backed Bolivian army hunting for him.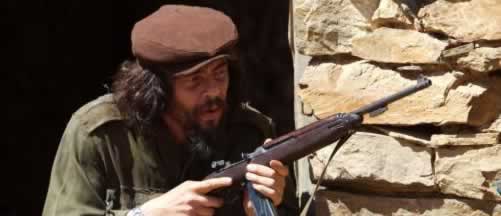 The story of the world's most famous revolutionary continues but this is a very different movie than the first part.
Benicio Del Toro and Steven Soderbergh's epic telling of the story of Ernesto 'Che' Guevara continues and after showing his triumphant rise to power, we now witness his decline and subsequent death during his failed Bolivian campaign. Where the first part was oozing with colour and the grandeur of Cuba's Revolution, showing the scope of Guevara's impact on the war, Castro's regime and the country, the second part is a most close, intimate portrait of the revolutionary's fall.
Moving from 2.35:1 to 1.78:1 for the second part and a reduction in colour to symbolise Guevara's frailty and influence flowing from him, Soderbergh and Del Toro move the character on and show a side of the man that is seldom talked about. Still commanding respect from his Cuban troops but loosing the faith of the Bolivians, this is an almost desperate Che, one who can see this revolution failing but one who refuses to give up and continues the fight until his capture and execution.
For Del Toro this is a chance to enhance his relationship with the man, which many an actor never really gets to do. In playing Guevara at three key and very different stages in his life, Del Toro is allowed to show growth within the character, a gift that few actors ever get to do and he revels in it. When it comes to naming the defining role for this superb character actor, don't be surprised if this is the role that Del Toro is remembered for. As Ernesto 'Che' Guevara, you cannot help but be engrossed by his performance and you can see the man become the man who influenced so much and so many.
'Che: Part Two' is just as captivating as the first part and the perfect ending to a captivating life of one of history's most pivotal figures. While it doesn't quite have the grandeur of the first part, this is still just as memorable and fascinating all because of the performance of the astounding Benicio Del Toro.


PICTURE & SOUND
The Blu-Ray disc presents the movie in High Definition wide screen 1.78:1 up to 1080p, with Dolby TrueHD 5.1 surround sound.
BONUS FEATURES
Interviews
Watch short interviews with star Benicio Del Toro, composer Alberto Iglesias and Che consultant Jon Lee Anderson as they talk about the film project and their own contribution to it.
Theatrical Trailer
Watch the preview of the film that showcased it in theatres and online.
Trailers
Previews of 'In the Loop', 'Gonzo' and 'Persepolis'
OVERALL
The Blu-Ray treatment for 'Che: Part Two' is very average. The lack of a commentary is disappointing and the interviews are short and not as comprehensive as they could have been. Even though the film speaks for itself, fans will be slightly disappointed with the extra features on this disc.
BLU-RAY


---
The Usher Home | Hush, Hush... | The Big Story | The Usher Speaks
Stuck @ Home | Coming Soon | Links | Contact the Usher

2009