"There are always consequences"
1976, when box is delivered to Norma (Diaz) and Arthur Lewis (Marsden), the couple open it to discover a button and a card saying to expect a visit from Arlington Steward (Langella) at 5pm. As day unfolds, Norma is told that she will have to pay the full tuition fees for her son and Arthur is told that he hasn't been selected for the astronaut programme after years of working on the Viking Mars landers for NASA. As the clock ticks around to 5pm, Mr. Stewart does indeed make a visit to the Lewis household and makes Norma an offer. She can choose to press the button and she will be given $1 million but it comes at a price. A person, who she doesn't know will die.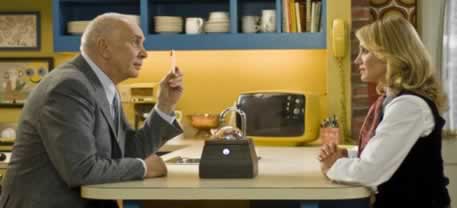 After making a real splash when he burst onto the scene in 2001, writer/director Richard Kelly has yet to follow up on that early potential but can he do that with 'The Box'?
Hailed as the next big thing when he released 'Donnie Darko', Richard Kelly waited five more years until he gave us 'Southland Tales'. The movie was a complete mess and completely bombed at the box office. When it was announced that he would be adapting a short story by Richard Matheson, the writer of 'I am Legend', interest returned but what he delivered is another confusing film that will leave you baffled after watching.
Set in 1976, we meet Norma and Arthur Lewis, a young married couple who wake to a knock at the door early in the morning. When they open the door they greeted a box containing a large red button with a card saying to expect a visit from Arlington Steward at 5pm. The day is not the best for the couple putting them into financial dire straits but when Mr. Steward arrives he offers a solution to their money problems. All they couple have to do is press the button inside the box and they will receive $1 million. Pressing the button comes with a consequence however because if they choose to press it, someone who they don't know will die. Of course, these leads to a dilemma that the couple has to face but they never expected the consequences of pressing the button would be so terrifying. While this sounds like an excellent premise, the execution by Richard Kelly will leave you confused and disheartened.
What Richard Kelly has done well is attract a good cast to the production. Cameron Diaz and James Marsden show good chemistry as the young couple facing a very difficult decision and the consequences of doing so. James Marsden is showing how diverse an actor he can be and it is good to see a more dramatic role again for Cameron Diaz, after 'My Sister's Keeper'. Frank Langella is superb as the mysterious Arlington Steward. Every time the actor graces the screen, the film dramatically improves. Even these good performances cannot change the fact that the movie poses more questions than it answers. The history of the button experience is not fully explained, it is overly surreal in parts and always feels that it should be a much longer movie.
'The Box' is a big improvement over 'Southland Tales' but never gets to the heady heights Richard Kelly set himself with 'Donnie Darko' in 2001. There is much to enjoy but the confusing plot and with too many unanswered questions will leave you frustrated after watching. Is Richard Kelly still the next big thing? On this evidence, we'll have to wait and see.


GROUNDED IN REALITY: Director Richard Kelly is a filmmaker known for his bizarre and unique storytelling. Explore how his own family's experiences-both professional and personal- helped him expand the classic short story into a feature film. RT 10:40
RICHARD MATTHESON: IN HIS OWN WORDS: An intimate interview with a sci-fi legend, Richard Matheson, about his career, his inspirations, the films that have been made from his books and more. RT 4:48
MUSIC VIDEO PREQUELS: Exhibits A-B-C: Go beyond the story with these short, surveillance montages that expand beyond the story and into a secretive world where you are the experiment. RT 9:15
VISUAL EFFECTS REVEALED: Expertly guided by Visual Effects Editor Dylan Highsmith, get not only the before and after shots, but the chronological sequences from the most difficult scenes in the film - Arlington's Face Water Coffins and Transforming Richmond. RT 3:38
---
The Usher Home | Hush, Hush... | The Big Story | The Usher Speaks
Stuck @ Home | Coming Soon | Links | Contact the Usher

2009