Starring:
John Krasinski, Maya Rudolph, Catherine O'Hara, Jeff Daniels, Allison Janney and Maggie Gyllenhaal
Director:
Sam Mendes
Running Time:
98 mins
Out to buy on DVD 01/02/10
"I LOVE my babies. Why would I want to PUSH them away from me?"
When Burt (Krasinski) and Verona (Rudolph) discover they are having a baby, they decide that find the perfect place for them to start a family. Six months into the pregnancy, the journey begins as they travel the country visiting friends and family. Expecting to find the ideal location, the pair instead go on an emotional journey that will not only find them a new home but teach them about love, friendship and the importance of family.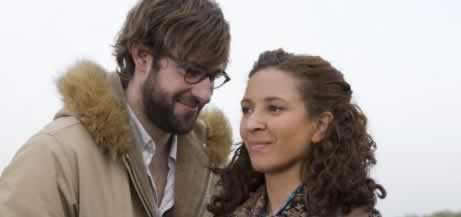 After winning his Oscar, Sam Mendes has turned his hand to many a different genre of film but can he do light hearted comedy?
When his first motion picture 'American Beauty' gained him the Best Director Oscar, former theatre and TV director Sam Mendes became a major Hollywood player. What followed was a critically acclaimed and varied range of films as director and producer but most noticeably was the variation of genres. A graphic novel adaptation of a gangster story in 'Road to Perdition', a realistic portray of the Gulf War in 'Jarhead' and a punishing look at 50s family life in 'Revolutionary Road', as well as producing 'The Kite Runner', 'What we left in the Fire' and 'Starter for 10', Mendes has shown that he is a filmmaker of great diversity and 'Away we go' allows him to show this again.
Written by Dave Eggers and Vendela Vida, this is the story of Burt and Verona, a young couple who are about to have a baby. When they discover that Burt's parents are moving to Holland, leaving them no reason to stay living in the Colorado, the couple decide to travel around North America visiting friends and relatives to see where would be best to bring up their child. Their journey introduces us to their slightly bizarre and sometimes extremely weird friends and family but they remain themselves throughout and draw you into their story.
Bringing Burt and Verona to life are John Krasinski and Maya Rudolph. With Krasinski best known for this role in the American version of 'The Office' and Rudolph best known for her 'Saturday Night Live' work, these two can easily handle the comedic element of the film but as Burt and Verona they are almost the straight guys to the madness of the people they visit. We have Catherine O'Hara and Jeff Daniels as Burt's extremely unsupportive parents, Alison Janney as Verona's over-the-top friend Lily, Maggie Gyllenhaal as Burt's earthly cousin LN and Chris Messina and Melanie Lynskey as their best friends from college Tom and Munch, all are incredibly quirky and equally off putting to Burt and Verona pushing them away from were they live.
'Away we go' is a gem of a film and one that reveals again how diverse a director Sam Mendes can be. It shows how good a movie this is when after viewing you want to spend more time with Burt and Verona and see them through their pregnancy but instead we wish them good luck and hope to see them again.


The Making of Away We Go
Feature Commentary with Director Sam Mendes and Writers Dave Eggers and Vendel Vida
Green Filmmaking and Away We Go

American Beauty
---
The Usher Home | Hush, Hush... | The Big Story | The Usher Speaks
Stuck @ Home | Coming Soon | Links | Contact the Usher

2009