"This is our Land!"
2154, when his twin brother is killed, former Marine Jake Sully (Worthington) is offered the chance to replace him in a scientific experiment called the Avatar programme. Wounded in combat and paralyzed from the waist, Jake is told that this could be the chance for him to contribute again and if he succeeds, be able to walk again. What he didn't realise is that the programme would take him to another world, Pandora which is filled with incredible life forms but most of them are extremely hostile. Told to gain the trust of the local population called the Na'vi by Colonel Quaritch (Lang) and facilitate their relocation to allow the mining of a precious mineral, Jake is given the tools to do this by Dr. Grace Augustine (Weaver) by transferring his conscious mind into a Na'vi avatar body, enabling him to be fully mobile again. When he meets the people however, he soon realises that they are not going to give up their ancestral lands without a fight.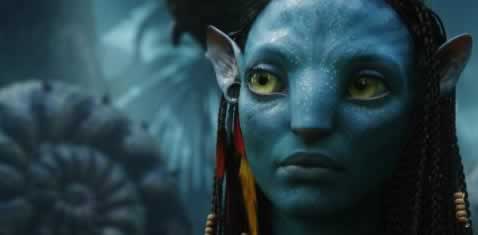 Twelve years away, James Cameron returns with promising of starting a cinematic evolution but can the self proclaimed King of the World deliver?
After cleaning up at the Oscars with the behemoth that was 'Titanic', uber-filmmaker James Cameron disappeared from the box office and made IMAX documentaries on the Titanic, the Bismarck and the 'Aliens of the Deep', utilising the underwater equipment he had purchased and invented for the biggest grossing movie in motion picture history. Even his experiment in television, the post-apocalyptic Sci-Fi show 'Dark Angel', was cancelled after two seasons but an idea had been brewing in the mind that brought us 'The Terminator', 'Aliens', 'The Abyss' and 'True Lies' but unfortunately the technology to make this idea a reality was not available until now.
That idea was 'Avatar', the story of a paralysed marine given a new lease of life inside the body of an indigenous humanoid of the planet Pandora. Called the AVATAR programme, the new technology gave the operator control of a genetically engineered Na'vi, which combined the native DNA with that of the controller. This had been set up for Jake Sully's scientist twin brother however but Mining Company SecFor offers him the chance to replace him and be the first soldier in the programme. Ordered to infiltrate the Na'vi, gain their trust and then get them to relocate away from a large deposit of a precious mineral, Jake sets out to follow these orders to the letter but when he gets to know the Na'vi, especially a young female called Neytiri, he realises that people will not give up their home without a fight.
This plot, gives Cameron the chance to tell a story of Company/Military might stamping all over the indigenous population to gain access to a much valued natural resource, paralleling what humanity has been doing for millennia, with a science fiction twist. He also throws in an environmental message for good measure, with the Na'vi worshipping and being at one with all of the life forms on Pandora. This sounds a little preachy trying to parallel some of the environmental, religious and historical issues we face today, as you might expect but it does successfully bind the film together. For a film lasting 161 minutes however, the one complaint is the lack of back story and scientific explanation. Why is the mineral so precious, what is the vortex that makes mountains float and vehicle instruments and sensors go haywire and how the AVATAR programme came about? The plot, however, is just a way of showcasing the advances in technology that James Cameron and his creative team have been working on to bring this movie to the silver screen.
Computer generated characters have been hailed as the end of the actor for well over a decade now and many a film have used CGI to bring a cornucopia of different fantastical creatures, humans, robots and aliens to life. While creations like Gollum, the T-Rex, King Kong, Dobby the House Elf, Garfield, Alvin, Simon and Theodore, Sonny, Optimus Prime, The Hulk and Jar Jar Binks have been brought to live with varying levels success, James Cameron has set out to finally create a photo-realistic character what is completely believable. Whereas many of the CGI creations that have come before have had something not quite right about them, like overly shiny eyes, cartoony design or just been Jar Jar Binks, 'Avatar' sets a new level and then jumps a couple of hundred feet over it. The creation of the Na'vi and the creatures that inhabit the jungles of Pandora are simply jaw droppingly stunning. Both Jake Sully's Avatar and especially the lead female Na'vi, Neytiri are stunningly realised, setting a new standard for photorealistic and motion captured characters. It doesn't just stop there however as the flora and fauna of Pandora are just as impressive, transporting you to a completely alien world with its own unique biology.
Mixing human performances with motion captured CGI characters has always provided problems and headaches for directors but James Cameron manages to get the most out of his cast, both real and in motion capture suits. Hailed as the next big thing, British actor Sam Worthington was the highlight of 'Terminator Salvation' but the jury is still out over his leading man credentials. While he is strong as Jake Sully, he doesn't really have the emotional range or charm to be considered as the next screen icon. There is nothing wrong with his performance when he is bringing the Na'vi version of himself to life but as the paralysed Marine he struggles to show any real frustration or inner conflict via his reflective video journals when he knows he will have to betray Na'vi and tell them they have to leave their ancestral home. 2009 has also been a breakout year for Zoe Saldana. After wowing audiences with her sexy but strong portrayal of Uhura in 'Star Trek', she finishes an astonishing year as the heart and soul of 'Avatar', Neytiri. Her character may be completely computer generated, it is her vocal and motion captured performance as the young Na'vi woman that drives the film and shows that with new technology an actor can provide just as much strength and emotion as if she where on the screen as herself.
The supporting roles are also good with a cigarette smoking Sigourney Weaver (why does James Cameron continue to think that cigarettes will still be around in the future?) nicely cast as chief scientist Dr. Grace Augustine, Giovanni Ribisi as the Carter Burke-like Parker Selfridge, Michelle Rodriquez as gung-ho pilot Trudy Chacon and Joel Moore as the geeky Norm Spellman. In a role that could have been filled by Cameron stalwarts Michael Biehn or the govenator himself Arnold Schwarzenegger, Stephen Lang plays the villainous Colonel Quaritch with almost pantomime aplomb and shows why the actor hasn't really had many starring feature roles.
While there are many positives to be taken from 'Avatar', there are a few standout negatives that hold the film back from been the cinematic classic that is could have become. Along with the story shortcomings, the film is also hindered by James Horner's score. Cameron fans will quickly hear the similarities between this and his previous science fiction classic 'Aliens', especially during the action and battle sequences. The Leona Lewis song 'I See You' is reminiscent of the dreadful Celine Dion number from 'Titanic' and will make you want to jump out of your seat and leave as soon as the end credits run. Most importantly however is the use of 3D in the film. Hailed as the future of cinema and much has been lauded about the new technology and techniques developed by James Cameron and his technical team to showcase what 3D can actually do. While this works during the stunning scenes on Pandora, offering a real depth of field and layers to the jungle environment, it still doesn't justify the extra cost on the ticket price to see this with the extra dimension.
Is 'Avatar' the groundbreaking, industry changing revolution for cinema that has been promised? The answer is yes and no. While the advances in computer generated effects are a giant leap forward, 3D still needs to justify its 'Future of Cinema' tag. As a movie however, this is a fantastic piece of fantasy science fiction and a love story set against a huge world changing event, which James Cameron did so successfully when he was the King of the World. A journey to Pandora is one that you wouldn't want to miss.


Not Available

Aliens
The Lord of the Rings
Star Wars
---
The Usher Home | Hush, Hush... | The Big Story | The Usher Speaks
Stuck @ Home | Coming Soon | Links | Contact the Usher

2009