"Smell it, Smell it... Now taste it"
Zohan Dvir (Sandler) is Israel's number one counter terrorist agent and their number one sex symbol but little did they know that he wanted to give it all up to pursue his dream, to cut and style hair in America. When Palestinian terrorist The Phantom (Turturro) is spotted and his Special Forces commander requests that he brings him in single handed, Zohan sees this as his chance to fake his own death and fulfil his dream of becoming a hairdresser but when he arrives in New York, he does find it as easy as he first thought.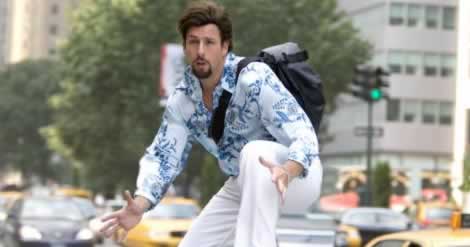 When it comes to Adam Sandler, his comedies really struggle to find an audience outside of the US but can 'You Don't Mess With The Zohan' change that?
Adam Sandler is a superstar in the US. Most of his films are aimed exclusively at an American audience with many of his jokes not really translating to film fans over here in the UK or around the world but sometimes they do. 'The Wedding Singer' and '50 First Dates', 'Click' were huge, deserved hits but films like 'The Waterboy', 'Mr. Deeds', 'The Longest Yard', 'Big Daddy', 'Little Nicky' and even 'Anger Management' were filled with American centric humour and Sandler doing his trademark shouting. For 'You Don't Mess With The Zohan' this might just change however but only just.
This is another of Adam Sandler's over the top comedies with a premise that does serve comedy well however. Sandler plays Zohan Dvir, Israel's number one counter terrorist agent and lover but he longs for a different life. He wants to give up all his training, glory and fame to be a hairdresser in New York City but of course his leaders, family and friends think he is crazy. The only way he can do this is to fake his own death and re-emerge as a New York stylist working at Dahlia's saloon. The only problem is that even though Palestinian terrorist The Phantom is now thinking it is he that has killed the Zohan, a lowly Palestinian taxi driver called Salim recognises him and wants to become the just as famous as the Phantom. While this is a far-fetched but it is one that provides some genuine laughs.
As Zohan, Adam Sandler creates one of his most appealing characters. While it might be hard to believe that Sandler has made himself Israel's number one sex symbol, he certainly has some fun with it, making love to any woman he meets whatever she looks like or how old she is. He also does action really well, enjoying himself in the fight scenes and having fun with the weapons. His good friend and collaborator Rob Schneider has his customary role as Salim, the Palestinian taxi driver who recognises the Zohan in New York. Emmanuelle Chriqui is the beautiful Dahlia, owner of the Salon and the woman who melts Zohan's heart. John Turturro is suitably over the top as The Shadow, the Zohan's archenemy and Nick Swardson and Lainie Kazan have fun with their roles.
Completely over the top but good fun all the same, 'You Don't Mess With The Zohan' is one of Adam Sandler's better movies. While it may not have the same impact as his best movies, 'The Wedding Singer' and '50 First Dates' this is one of his comedies that can appeal to an audience outside of the US.


PICTURE & SOUND
The Blu-Ray disc presents the movie in High Definition wide screen 1:85 up to 1080p, with Dolby TrueHD 5.1 surround sound.
BONUS FEATURES
Commentary with Adam Sandler, Robert Smigel, Rob Schneider and Nick Swardson
Adam Sandler and the other members of his cast provide a funny track to 'You Don't Mess With The Zohan'. This, as you'd expect, is a track that is just filled with gags and behind the scenes stories, as well as a lot of mickey taking. Fans will enjoy this track. Commentary with director Dennis Dugan The man at the helm provides an informative and fun commentary for 'You Don't Mess With The Zohan'. If you want to know more about how the movie was made, this is the track for you.
Featurettes (1hr 26 mins/High Definition)
Split into parts entitled 'Look who stopped by', 'Dugan: The hands-on director', 'The Stunts of Zohan', 'Dugan Espanol?', 'Zohan vs. The Phantom', 'Zohan's Doubles', 'Shooting Baja for Tel Aviv', 'All-American Redneck', 'From guns to scissors', 'News on 3: Missing Goat', 'News on 3: Who is the Zohan', 'News on 3: It's very good', 'The Robot', 'Getting Sticky' and 'Laughing is contagious', these featurettes include contributions from Adam Sandler and the rest of the cast and crew as they cover most aspects of the film's production.
Deleted Scenes (12.34 mins/High Definition)
Entitled 'Veilcam activated', 'Zohan's funeral', 'Pretzel man walks away', 'A small bomb', 'Phantom training', 'Hector & World Series', 'McEnroe & the Phantom 1 & 2', 'Phantom pretzeled', 'Disco break at the end', 'Resistance! No Proof!', 'It's Sony guts', 'I can hear it', 'Muchentuchen Resturant' and 'Salim and Hamdi', these deleted scenes suffer from the lack of a commentary track or introduction to reveal why they were removed.
Trailers
Previews of 'Hancock', 'Stepbrothers', 'The House Bunny' and 'Casino Royale'
BD Live
Allow your Blu-Ray player or PS3 to connect to the Internet for extra features downloaded from BD Live
OVERALL
The Blu-Ray treatment for 'You Don't Mess With The Zohan' is one that fans will enjoy. The sheer number of featurettes is really impressive and the deleted scenes are fun, even without a commentary track or introduction. The commentary tracks are also very good and well worth a listen. Adam Sandler fans should be very pleased.
BLU-RAY

---
The Usher Home | Hush, Hush... | The Big Story | The Usher Speaks
Stuck @ Home | Coming Soon | Links | Contact the Usher

2008