"I am Dragonfly"
Rick Riker's (Bell) life wasn't anything special. No one notices him at high school, the girl he adored doesn't even know that he exists and he is constantly a figure of fun for the most popular guy in school but all changes when his class visits a science lab. While on the tour he gets bitten by a genetically engineered dragonfly, which makes him extremely ill but after sleeping for five days he wakes up to feel better than he has ever done. Little does he know but his body has changed and on his first day back at school he discovers that he has superpowers, so Rick sets out to become the superhero 'Dragonfly'.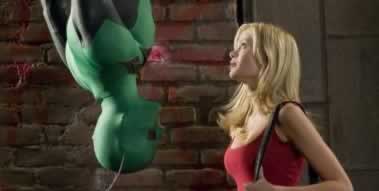 When it comes to parodies, modern cinema has fallen into just making fun of the previous year's releases and anything that was popular at the time of making the movie but can 'Superhero Movie' be different?
The 'Scary Movie' series have a lot to answer for. Since the Wayans brothers started parodying horror movies in 2000, Hollywood has been scraping the bottom of the barrel and bombarding us with some of the most appalling so called comedies. 'Date Movie', 'Meet the Spartans', 'Epic Movie' and of course the main offenders, the 'Scary Movie' franchise, pushed the art of parody to its lowest point.
When David Zucker took over the 'Movie' franchise for 'Scary Movie 3', fans saw the series pick up slightly and after the fourth film, Zucker and his creative team decided to move the 'Movie' films in a new direction. Leaving horror behind, the world of superheroes and super villains, 'Superhero Movie' sees the franchise try and move the series away from just parodying films from the previous year or commenting on popular cult, instead they decided to take the mickey out of a resurgent genre that is taking the box office by storm. Unfortunately they end up making the same mistakes.
'Superhero Movie' takes a large chunk of 'Spider-Man' and mixes in a bit of 'X-Men', 'Fantastic Four' and many other Marvel Comics movies and produces an origin story that is the same as our friendly neighbourhood wall crawler. Here we have Rick Riker played by Drake Bell, geeky high school student who has awful bad luck and no chance with the ladies. He adores his next-door neighbour Jill Johnson, played by Sara Paxton but she has never noticed him as he lives with his Aunt Lucille and Uncle Albert, played by 'Happy Days' favourite Marion Ross and the king of parody Leslie Nielson. When his school visit the local science lab, Rick is bitten by a genetically engineered dragonfly and suddenly he doesn't quite feel himself. Sound familiar?
When you decide to parody a genre or even a specific story you need to really understand the themes you are trying to pay comedic homage to. The best of the parody genre, 'Blazing Saddles', 'Young Frankenstein', 'Airplane' and 'The Naked Gun', played on the clichés of the genre, not just recreating key scenes or entire plotlines. 'Superhero Movie' just copies
'Spider-Man' and then throws in a few more movies to try and gain some laughs but they fail dismally. 'Superhero Movie' is the lowest of the low. With only Leslie Nielson as a saving grace, the film really scrapes the bottom of the barrel for laughs, especially in one sequence that relies on flatulence for over five minutes. This is one superhero movie that has no super powers for creating laugher.


PICTURE & SOUND
Presented in Widescreen 1.85:1 Anamorphic with a Dolby Digital 5.1 soundtrack, the transfer is good.
BONUS FEATURES
Commentary by writer/director Craig Mazin and producers David Zucker and Robert K. Weiss
The writer/director and his producers provide a chatty and amusing commentary for 'Superhero Movie'. The trio talk about the concept behind the movie, moving away from horror films and trying to create a new franchise for the 'Movie' series. They also talk about casting, talking passionately and amusingly about Leslie Nielson and what he brings to the movie. This is a commentary track that fans of the film should enjoy.
Alternate Ending (5.14 mins)
Watch a very different confrontation between Dragonfly and the Hour Glass and see how it plays out.
Deleted Scenes (10.41 mins)
Entitled 'Rick changes in the Alley', 'Wall sit ups', 'Non-stick toilet seat', 'Can you fix a prostate', 'Sick Rick (Extended)', 'CEO Chinese food', 'Landers leg restraint', 'Collateral', 'Around the horn', 'Shithead's guide to superhero costumes', 'Crazy editor (Extended)', 'Hourglass Bomb', 'Upside down kiss', 'Sticky Kiss', 'Elastic tongues', 'Automatic rain', 'Pop up Porn', 'Nurse gets whacked', 'Landers and Rick backstage', 'Dragonfly's distraction' and 'More Tom Cruise', these deleted scenes suffer from the lack of an introduction or commentary to explain why they are cut.
Meet the Cast (11.10 mins)
Director Craig Mazin, producers David Zucker and Bob Weiss and stars Drake Bell, Christopher McDonald, Sara Paxton and Marion Ross talk about the movie and the characters of the film.
The Art of Spoofing (10.36 mins)
Director Craig Mazin, producers David Zucker and Bob Weiss and star Christopher McDonald talk about the art of spoofing and how the 'Movie' films have affected this.
Theatrical Trailer
Watch the promotional trailer that announced the film at cinemas and online.
Previews
Watch trailers for 'The Hammer', 'The Nanny Diaries', 'I could never be your Woman' and 'Finishing the Game'
OVERALL
The DVD treatment for 'Superhero Movie' is one that fans (if there are any) of the movie should enjoy. The commentary is good and the deleted scenes bring more so called jokes to the screen. Fans will be pleased.
DVD

---
The Usher Home | Hush, Hush... | The Big Story | The Usher Speaks
Stuck @ Home | Coming Soon | Links | Contact the Usher

2008