"Hello Lady!"
When Robert Doback (Jenkins) and Nancy Huff (Steenburgen) meet and fall in love, their whirlwind romance leads to them getting married. As the couple start their lives together, their sons Dale (Reilly) and Brennan (Ferrell) are forced to live together as stepbrothers, even having to share a bedroom. While this would be fine for any young family, Dale and Brennan are forty, have never left home and have always had the full attention of their mother and father. As they battle for domination of the house and the attention of their parents, Dale and Brennan start to realise that they might actually have more in common than they first thought.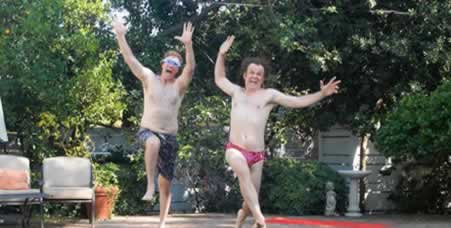 Star Will Ferrell and director Adam McKay come together for their third collaboration but can they recreate the success of 'Talladega Nights: The Ballad of Ricky Bobby' and 'Anchorman: The Legend of Ron Burgundy'?
After a few misfires with 'Semi-Pro' and 'Blades of Glory', Will Ferrell returns to director Adam McKay, producer Judd Apatow and co-star John C. Reilly for 'Step Brothers' and with it comes a real return to form. Audience reaction to Will Farrell's movies has always been very mixed, with them either hating or loving the former 'Saturday Night Live' star, with no in-between and this is another movie that will divide audiences, with genuine Farrell fans getting the most out of this movie's high jinx.
The premise is simple but the execution is first rate. Robert Doback and Nancy Huff fall in love but of the many things they have in common, one is going to change their lives forever, they both have sons living at home. While this can be normal for many a divorced, separated or widowed parent but for 'Step Brothers' the sons, Dale and Brennan are both almost forty, unemployed and still acting like they are twelve. At first they hate each other, with both of them pushing for dominance in the house and for the attention of their parents but when they meet Brennan's overly competitive younger brother Derek, they realise that they might just have a lot in common.
This premise, of course, leads to plenty of physical comedy and some real laugh-out-loud moments but it is the chemistry between Will Ferrell and John C. Reilly that makes the film stand out. After appearing together in 'Talladega Nights: The Ballad of Ricky Bobby', Ferrell and Reilly bounce off each other like they have been working together all of their lives. Most of the movie is reliant on the two of them working together, with the rest of the cast mainly used as props to push the story forward or introduce the possibility of new comedic situations. It is a joy to watch both of them going from hating each other to true best friends, brothers in everything except blood and the comedy just flows so naturally, you cannot help but laugh.
The support is also good. Mary Steenburgen and Richard Jenkins are well cast as Brennan and Dale's parents Nancy and Robert. Adam Scott plays Brannan's brother Derek so well that you'd like to push him. Kathryn Hahn steals every scene she is in as Derek's wife Alice, who takes a shine to Dale and Rob Riggle is very funny as Derek's work colleague Randy.
'Step Brothers' is a real return to form for Will Ferrell and another hit for director Adam McKay and producer Judd Apatow. Ferrell fans should rejoice at their favourite star return to working with John C. Reilly, as this is quickly becoming a recipe for comedy gold. Now where is my Chewbacca mask?


PICTURE & SOUND
The Blu-Ray disc presents the movie in High Definition wide screen 1:85 up to 1080p, with Dolby TrueHD 5.1 surround sound, the Blu-Ray includes the theatrical cut and the extended version of this comedy movie.
BONUS FEATURES
Commentary with Will Farrell, John C. Reilly, Adam McKay, special guest Baron Davis and scored by Jon Brion
For the first time on any Blu-Ray or DVD commentary, the two stars and their director sing for the entire commentary track. This is completely hilarious and mad, as composer Jon Brion plays to accompany the mayhem. A must listen for fans of the film, the commentary is a classic and one that really has to be heard to be believed.
Boats N' Hoes Music Video Editor
Produce your own Prestige Worldwide music video by cutting together footage using the video editing software on the Blu-Ray Extended & Alternate Scenes Entitled 'Ghost Story', 'What do you do?', 'Night vision goggles', 'Hulk hands' and 'Catalina heart attack', these extended or alternate scenes suffer from the lack of a commentary track or introduction to reveal why they were not used.
Line-O-Rama (5.55 mins/High Definition)
Watch the cast improvise their lines and all the alternate takes on some of your favourite scenes.
Gag Reel (4.15 mins/High Definition)
Watch Will Farrell, John C. Reilly and the rest of the cast have fun on the set of 'Step Brothers' Prestige Worldwide
Full Presentation (4.51 mins/High Definition)
Watch Dale and Brennan present their vision of 'Prestige Worldwide' to possible investor in full.
Boats N' Hoes Music Video (1.52 mins/Standard Definition)
Watch Dale and Brennan in their very own music video for their potential hit single.
Dale vs. Brennan - Sibling Rivalry (6.52 mins/High Definition)
Discover how much Dale and Brennan hated each other when their families became one.
The Making of Step Brothers (22.04 mins/High Definition)
Director Adam McKay, producer Judd Apatow and stars Will Farrell, John C. Reilly, Richard Jenkins, Mary Steenburgen, Adam Scott and Kathryn Hymn take you behind the scenes of the making of 'Step Brothers'.
The Music of Step Brothers (18.16 mins/High Definition)
Director Adam McKay and composer Jon Brion talk about creating a class style score for the comedy adventure and reveal how it fits into the style of the film
BD Live
Place the disc in an internet enabled Blu-Ray player, PC drive or PS3 and have access to a wealth of extra bonus features
OVERALL
The Blu-Ray treatment for 'Step Brothers' is one that fans of the movie will really enjoy. The featurettes are first rate and very funny but it is the commentary that is just genius and worth buying the disc for alone. This is how all comedy commentaries should be done in the future.
BLU-RAY