"Four pregnancy tests, how did you produce that much pee?"
Juno MacGuff (Page) has always been a free spirit, looking at life in her own unique way but two months after she sleeps the schools best long distance runner Paulie Bleeker (Cera) her life turns upside down. She is pregnant. Knowing that at sixteen she wouldn't be able to give the child the life she deserves, Juno and her best friend Leah (Thirlby) look for prospective adoptive parents and formulate a plan before she tells her Dad (Simmons) and stepmother (Janney) about her situation.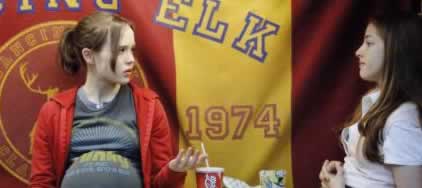 Every couple of years a small budget, character driven quirky comedy comes along and becomes an instant cinematic gem, 'Juno' is one of those movies.
After making a real splash with 'Thank You for Smoking' in 2005, Ivan Reitman's son Jason continues to ride that wave with his second feature length movie, 'Juno'. The story of a sixteen year old girl who becomes pregnant might not sound like the most original premise for a movie but Reitman and his creative team's approach to character development and story make this one of those rare low budget, character driven gems.
A movie like this survives on its characters and 'Juno' creates one that you instantly take to and care about. These are not your typical Hollywood version of high school students, filled with beautiful people who look like they are in their late twenties who don't really know about the real world or real problems. Juno, Bleeker and Leah are your average, slightly quirky sixteen year olds who see life as an adventure and come up with their own unique methods of dealing with adult problems. Juno and Leah tackle the problem head on, looking in the local paper for prospective adoptive parents for her unborn child, while Bleeker just throws himself into his running, distancing himself from the problem, even though everyone at school is talking about it and Juno is getting bigger. This added realism, injected with some truly quirky realisations and development that just endear you to the characters even more. Add to this some equally quirky adult characters that have just as many problems as the kids and you have a movie that you will connect with more than anything Hollywood usually turns out.
With the characters and the story drawing you in, it is the performances of the cast that breathe life into the movie and the actors and actresses in 'Juno' make the movie the gem that it is. Michael Cera is carving out a career for himself as a fine comedic actor. Extremely naturalistic in his approach, the actor builds on his experiences on TV show 'Arrested Development' and his starring role in 2007 smash 'Superbad' to create an endearing and likeable teenager that you can believe in. He reacts in the way that any sixteen year old would who has little or no real life experience, deciding to concentrate on running instead of his responsibilities. Olivia Thirlby makes a great impact as Juno best friend Leah, the girl who asks the most unlikely questions but gets the answers. J.K. Simmons and Allison Janney are perfectly cast as Juno's father and stepmother, each reacting differently to Juno's revelation but being supportive and understanding as their daughter goes through her pregnancy. Jason Bateman and Jennifer Garner show again that they are fine character actors, with Bateman's Mark still consumed by his own worries about been a new father and Garner's Vanessa becoming the obsessed wannabe mother who needs everything to be perfect.
Stealing the entire film is the performance of Ellen Page. After coming to the attention of moviegoers and critics alike with her performance in 'Hard Candy' in 2005, Page has quickly become an actress to watch and as Juno she reinforces this and how. As the driving force of the movie, acting as the lead character and the narrator, Page is simply exceptional. She creates a peculiar and odd character but one that you instantly adore for her approach to life and her passion for everything she does. Even though she has to deal with one of the most life changing moments of her very young life, it's her approach to this that allows you to connect instantly with the character and make you adore her even more.
'Juno' is a gem of a movie. Drawing you into story and the characters from the first scene, this is a rare look at real teenage Americana, while still been slightly quirky. With a stunning leading performance from a real superstar in the making, Ellen Page and an ensemble that backs her to the hilt, this low budget, character driven filmmaking at its very best and while it might not appeal every age demographic because of its language and content, this is a film that you should watch, enjoy and embrace.


PICTURE & SOUND
Presented in Widescreen 1.85:1 Anamorphic with a Dolby Digital 5.1 soundtrack, the transfer is good.
BONUS FEATURES
Commentary by director Jason Reitman and writer Diablo Cody
The first time writer and the son of Ivan Reitman talk passionately and upbeat commentary track for 'Juno'. They cover all of the key scenes and reveal how the film came together. They are two very intelligent and fun filmmakers that provide and excellent commentary.
Deleted Scenes (20.24 mins)
Entitled 'Mrs Rancik', 'Juno Hitchhikes', 'Intro to the family', 'Carrying chair to Bleeker's', 'Sat in the car drinking', 'Café Triste', 'Bleeker's Bedroom with Juno', 'Lorings in Bathroom', Mark plays guitar', 'Juno plays guitar', 'Montage' and 'Mark's loft', these deleted scenes are accompanied by commentary director Jason Reitman and writer Diablo Cody.
Gag Reel (5.11 mins)
Watch the cast have fun on set, mess up their lines and say sorry a lot.
Screen tests (22.34 mins)
Watch Ellen Page, Olivia Thirlby, Michael Cera and J.K. Simmons screen test with each other before the movie started filming.
Way beyond 'our' maturity level: Juno-Leah-Bleeker (8.58 mins)
Director Jason Reitman, writer Diablo Cody and stars Ellen Page, Olivia Thirlby and Michael Cera talk about the characters. Here we hear about the maturity, the language of the characters and trying to create characters that represent young people of the modern age.
Diablo Cody is totally Boss (8.36 mins)
Director Jason Reitman, producer Mason Novick, executive producer Daniel Dubiecki and stars Ellen Page, Allison Janney, Michael Cera and Jennifer Garner talk about Diablo Cody's first script, its character and her style of writing.
Jason Reitman for Shizz (8.09 mins)
Producers Lianne Halfon and Russell Smith, executive producer Daniel Dubiecki and Nathan Kahane, writer Diablo Cody and stars Ellen Page, Michael Cera, Jason Bateman and Olivia Thirlby talk about working with director Jason Reitman and what he brings to a film set.
Honest to Blog!: Creating Juno (13.02 mins)
Director Jason Reitman, writer Diablo Cody and stars Ellen Page, Michael Cera, Allison Janney and J.K. Simmons talk about how 'Juno' came about. From Diablo Cody's original blog to how she started writing the novel, this featurette reveal the creation process of the movie and what it means to the actors and director.
Trailers
Previews of 'Jumper', 'Be Kind Rewind' and '27 Dresses'
OVERALL
The DVD treatment for 'Juno' is one that fans of this great film will really enjoy. The commentary is very good and the featurettes cover most aspects of the film's production, the characters and the tone of the film. This is a very good, single DVD presentation.
DVD


---
The Usher Home | Hush, Hush... | The Big Story | The Usher Speaks
Stuck @ Home | Coming Soon | Links | Contact the Usher

2008