"Of course I'm on the list..."
Sidney Young (Pegg) has always wanted to mix with the most famous people in the world but as a journalistic hack working for his own, unsuccessful magazine, he struggle to get past security, never making into the celebrity parties. But when he crashes a BAFTA party hosted by Sharps Magazine, he is noticed by famed editor Clayton Harding (Bridges) who sees a little of his younger self in him and offers Sidney a job in New York. The problem is that Sidney is desperate to make a big impression in the Big Apple but all he does is come across as a buffoon.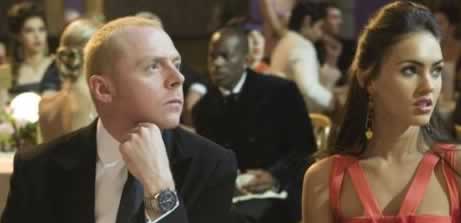 British comedic talent are no strangers to becoming stars in Hollywood through romantic comedies but can Simon Pegg have the same impact?
Stars like Dudley Moore, John Cleese, Eddie Izzard, Rowan Atkinson and Hugh Laurie made their names on British TV screens before moving to Hollywood and becoming comedy superstars and it looks like Simon Pegg is following suit. After making his name on cult TV shows like 'Big Train' and 'Spaced', it was the movie which he collaborated with director Edgar Wright, 'Shaun of the Dead' that got him noticed by the Hollywood bigwigs. Suddenly he was appearing in 'Mission: Impossible III', been cast as Scotty in J.J. Abrams' 'Star Trek' and 'Shaun…' follow up 'Hot Fuzz' pulled in some of the best British talent to co-star next to the upcoming star. Now, with a starring role in a romantic, Hollywood comedy Simon Pegg is teetering on superstardom.
Based on the semi-autobiographical novel by Toby Young, this is the story of a London hack called Sidney Young, who wants to climb the journalistic ladder and cover the show business world from the inside, instead of been thrown out of all the best showbiz events. When his latest scheme to get into an after-show BAFTA party goes disastrously wrong, he does get himself noticed by Sharps Magazine editor Clayton Harding, who offers him his dream job in New York. Of course this is another fish-out-of-water tale, with Sidney struggling to fit into his new surroundings but it is Simon Pegg's performance as the hapless journo that makes the movie a lot more watchable than it could have been.
The British superstar in the making might be the headline grabber but his supporting cast is also gossip worthy. The movie has not one but two women providing the love interest for Pegg's Sidney. Firstly we have Kirsten Dunst as Alison Olsen, the Sharps magazine gossip reporter assigned to reluctantly show Sidney the ropes. This role isn't really a stretch for Dunst, as she has carved a career out of playing love interests but the character is still worth watching. The second is the unbelievably gorgeous Megan Fox as new Hollywood starlet Sophie Maes, the object of Sidney's. Fox does well in her portrayal of the attention seeking actress and the fact that she would consider even been near Sidney is simply because of his every growing position at the magazine. When you also throw in good, if slightly underused, performances from Gillian Anderson, Danny Huston and Jeff Bridges, you have a movie worth watching.
'How to lose friends and alienate people' is a fun comedy movie that showcases how much talent Simon Pegg has. This movie could have so easily have fallen into average mediocrity if it wasn't for his presence alone providing most of the big belly laughs of the piece. Simon your star is definitely rising.


PICTURE & SOUND
The Blu-Ray disc presents the movie in High Definition wide screen 1:85 up to 1080p, with Dolby TrueHD 5.1 surround sound.
BONUS FEATURES
Deleted Scenes (15.02 mins/Standard Definition)
Entitled 'Thandie Newton', 'Taxi Money', 'Breakdancing', 'Back of the Limo improv', 'Failure Montage', 'Fantasy applause', 'Han Young/Bathroom/Wizard/Rachel dance window/Pull out effect/Danny and Simon at the Bar' and 'Cocaine', these deleted scenes are accompanied by a commentary track to explain why they were removed.
Commentary with Robert Weide and Simon Pegg
The director and his star come together to provide a fun and informative commentary. Any fans for Simon Pegg will know that the actor really like to have fun with his commentaries and this is no different as he and the director talk about all of the shenanigans what went on during filming and what it was like making the movie.
Commentary with Robert Weide
The director provides an informative commentary about the making of 'How to lose friends and alienate people'. While not as good as the one with Simon Pegg, this is still worth a listen for those fans that want to know more about the film.
Gag Reel (31.50 mins/Standard Definition)
Watch the cast have fun on the set, make a hash of their lines and improvise while making 'How to lose friends and alienate people'.
Blogs (17.23 mins/Standard Definition)
Entitled 'First Day', 'Cocaine', 'Thandie Newton', 'Garden Party', 'End of the Road' and 'Pick up Day/NY', these blogs have contributions by the director and the cast and crew, taking you behind the scenes of the making of 'How to lose friends and alienate people'.
OVERALL
The Blu-Ray treatment for 'How to lose friends and alienate people' is one that friends will enjoy. While Paramount continue not to really embrace the HD format, the extras are still decent by DVD standards but not by Blu-Ray ones. The commentary tracks are very good and the featurettes are watchable, making this a good package.
BLU-RAY


Run Fat Boy Run
---
The Usher Home | Hush, Hush... | The Big Story | The Usher Speaks
Stuck @ Home | Coming Soon | Links | Contact the Usher

2008