"Everybody lies"
After a series of bombings in Europe, the CIA increases their push for known terrorist extremist Al-Saleem (Abutbul). Field agent Roger Ferris (Di Caprio) is the man on the ground, working with Jordanian Security Minister Hani (Strong) to place an asset into Al-Saleem's inner circle. With Ed Hoffman (Crowe) monitoring his every move back in Washington D.C., Ferris is struggling to keep control of his own operation and he knows that if he fails the bombings will continue and escalate.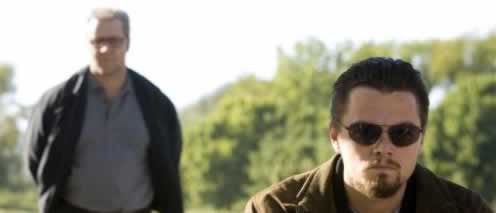 American counter intelligence in the Middle East in the continued 'War on Terror' has quickly become a rich story vain for Hollywood but can the latest film from Ridley Scott have something new to say?
Director Ridley Scott is one of the most diverse filmmakers working today. After defining science fiction with 'Alien' and 'Blade Runner', setting the standard when it comes to recreating historical action and drama with 'Gladiator' and 'Kingdom of Heaven', empowering women in 'Thelma & Louise' and showing that the American military can make mistakes in 'Black Hawk Down', Ridley Scott has shown time and time again that he is a visionary that can turn his hand to any genre and for 'Body of Lies' he moves into politics and espionage.
Based on the novel by David Ignatius, 'Body of Lies' tells the story of two different sides to the war on terror, the man in the field and the man supplying the orders. Here we see how a government and its intelligence services react to a terrorist attack on their allies, looking at the man who has to put the plan in place to gain the information to discover who was behind the attack. While he makes the decisions and hands out the assignments from the relative comfort his CIA office and home, it is the man in the field who risks his life to gather the information that his country so desperately needs to enforce global security. This, of course, creates two fascinating characters for Ridley Scott to bring to the screen.
For the CIA handler Ed Hoffman based in the headquarters in Langley, Virginia, Scott has cast his long time collaborator Russell Crowe. Having worked together in 'American Gangster', 'A Good Year' and, of course, 'Gladiator', their fourth collaboration sees Crowe play a very different character again for his favourite director. He is the man who pulls the strings and places the operatives in harms way for the good of the mission and the good of his country, all the while living his normal, safe family life. This is a role that shows there is more to Russell Crowe than just the action star. Taking over his action duties as CIA operative in the field Roger Ferris is Ridley Scott new boy Leonardo DiCaprio. With performances in 'The Departed', 'Blood Diamond' and 'Gangs of New York' proving that he can handle the action but this is probably his most demanding role yet. The character of Ferris is one that has to be able to deliver in both the acting and action skates, as he has to investigate, negotiate and in some cases eliminate and, surprisingly, DiCaprio rises to the occasion.
These powerhouse performers are supported by some excellent performances from Mark Strong, Alon Abutbul and Golshifteh Farahani. Mark Strong is brilliant again as Hani Salaam, Jordan's head of security and Ferris's main ally in his mission. This is a role that will get the British actor even more plaudits and one that will make him an even bigger player in Hollywood. Alon Abutbul and Golshifteh Farahani as Al-Saleem and Aisha are also excellent as the people Ferris has to interact with during his assignment.
'Body of Lies' is filled with fine performances and impressive set pieces, as you'd expect from any Ridley Scott movie but while the contempory story is reminisant of modern times, it doesn't quite become as engaging as it could have been. Whether it is audiences coming blasť to the 'War on Terror' or that the story needs to be more controversial or hard hitting to standout from many tales like this that have come before. This aside, this is still a Ridley Scott movie, so it commands your attention as this director's movies always do.


PICTURE & SOUND
The Blu-Ray disc presents the movie in High Definition wide screen 2:30 up to 1080p, with Dolby TrueHD 5.1 surround sound.
BONUS FEATURES
Commentary by director Ridley Scott, screenwriter William Monahan and author David Ignatius
As ever, Ridley Scott and his collaborators provide a must listen to commentary track. The monumental filmmaker, provides an informative and fascinating insight into the making of a huge budget film. Any aspiring filmmakers should listen to this track, as this is a master at work.
Actionable Intelligence: Deconstructing Body of Lies
Split into featurettes entitled 'Uneasy Alliance: Ferris and Hoffman', 'Foreign Relations: Ferris and Aisha', 'The Colour of Toast: Costume and Production Design', 'Master of the Craft: Ridley Scott', 'Controlled Hostility: Safe House', 'Field Operation: The Terrible Room' and 'Author Provocateur: David Ignatius', these can be viewed separately or as focus points shown at key points during the movie.
Interactive Debriefing
Watch interviews with director Ridley Scott and his stars Russell Crowe and Leonardo DiCaprio, as the trio talk about the story, their collaboration and the intelligence of the movie.
Additional Footage (14.45 mins/High Definition)
With an introduction and commentary by director Ridley Scott, these deleted or alternate scenes are entitled 'Bassam's wife', 'Christmas is for everyone', 'Gel Bridge' and 'Alternate Ending'.
OVERALL
As usual, Ridley Scott provides a Blu-Ray filled with additional features that offer a fascinating insight into how he makes a film. The incorporation of the featurettes into the movie is something that Ridley Scott and his creative team have been putting into his home entertainments releases and it works really well. The commentary, of course, is first rate and that additional scenes are well worth watching, making this a package that fans will enjoy.
BLU-RAY

---
The Usher Home | Hush, Hush... | The Big Story | The Usher Speaks
Stuck @ Home | Coming Soon | Links | Contact the Usher

2008