"All I want is your Soul"
The world's most famous stunt motorcycle rider Johnny Blaze (Cage) risked his life every time he performed a death-defying leap to test his own mortality. Johnny has a secret however, when he was seventeen he sold his soul to save his fathers life. Now Mephistopheles (Fonda) has returned to collect his debt by making Johnny his bounty hunter on earth. He is the Rider and Blackheart (Bentley) is the evil he has to return to hell.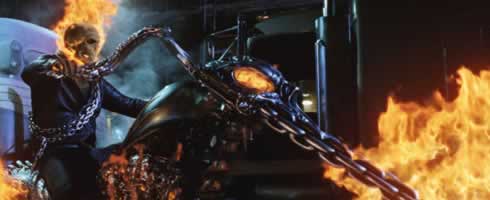 Comic Book movies have became big business for Hollywood with both extremely popular and less known characters heading to the silver screen, now it is the turn of Ghost Rider.
While not as popular as the big names like 'Spider-Man', 'Batman', 'Superman', 'The Hulk' or 'Wonderwoman', 'Ghost Rider' has a loyal and almost cult-like following but he is definitely a candidate for the big screen treatment. The sight of a leather-clad biker with a flaming skull for a head that rides a motorcycle of made of bones, steal and fire has cinema written all over it. In this modern era of computer generated visual effects where anything the filmmaker can imagine can come to life, a character like 'Ghost Rider' can be complete realised on film and director Mark Steven Johnson's movie pushes those effects to the very limit.
The visual effects for 'Ghost Rider' are quite simply stunning. Johnny Blaze's transformation into the rider takes the film into a whole new level of superhero realisation. The action sequences involving the rider push the current level of visual effects to the limit. The design of the character is superb, bringing the flaming skull headed bounty hunter and vigilante to life as he sits atop is flaming chopper. Adding to this is the creation of the elemental fallen angels that join Blackheart in his quest to take over the earth and Blackheart and Mephistopheles' demonic manifestations when their evil takes over
. The film may look visually stunning but that doesn't always make a great movie and unfortunately this is the case with 'Ghost Rider'. A combination of a week storyline, some overly corny lines and in parts some bad acting, make the movie fall short of being a comic book classic. The film has the same problem as every first movie in a potential comic book franchise, it has to tell an origin story. As a first time viewer or even a diehard fan, it takes a while for the title character to actually appear as we have to be introduced into how Johnny Blaze sold his soul and how he waited with dread for Mephistopheles to return. While we know this has to happen but the build up story doesn't really grab up and keep you interested. The performances are fine throughout, with Peter Fonda as Mephistopheles and Sam Elliott as the Caretaker bringing some class to their roles. Eva Mendes is as gorgeous as she needs to be as Johnny's lost love Roxanne and Donal Logue continues to keep playing best friends as Mack. Wes Bentley's Blackheart on the overhand is underdeveloped and he plays him far too over the top to be an effective villain.
Nicolas Cage's Johnny Cage/Ghost Rider is the role that, of course, can make or break the movie and the good news is that he doesn't break it but he does cause a few cracks. He is too old to play the role, especially when is supposed to be the same age as Eva Mendes' character. You could also argue that he is too much of a big Hollywood star to play the role. Where movies like 'Superman Returns', 'Batman Begins' and 'Spider-Man' have succeeded is having an actor who is not A-list in the title role, giving the actor the chance to become the character not just a big star playing superhero. You can tell that Nicolas Cage is a big comic book fan however and looks like he is really having fun in the role, making the character more appealing.
'Ghost Rider' is an improvement over writer/director Mark Steven Johnson's last effort 'Daredevil' but it is still not perfect. The visual effects are brilliant but are not enough to compensate for the weak storyline and some of the performances. This doesn't mean that the film isn't fun however but just don't go expecting a movie that will redefine the comic book genre.


PICTURE & SOUND
Presented in Anamorphic Widescreen 2.35:1 with a Dolby Digital 5.1 soundtrack, the movie is presented well.
BONUS FEATURES
Disc 1
Disc 2
Ghost Rider Animatics (3.33 mins)
Watch the original computer generated, animated storyboards that show Ghost Rider riding the hell cycle, the transformation and the bike.
The Making of Ghost Rider Documentaries (81.56 mins)
Writer/director Mark Steven Johnson, executive producer E. Bennett Walsh, producers Avi Arad, Ari Arad and Gary Foster, production designer Kirk Petruccelli, cinematographer Russell Boyd, makeup designer Lesley Vanderwalt, visual effects supervisor Kevin Mack, stunt coordinator Glen Boswell, costume designer Lizzy Gardner and stars Nicolas Cage, Eva Mendes, Wes Bentley, Peter Fonda, Raquel Alessi, Matt Long, Laurence Breuls, Daniel Frederiksen and Mathew Wilkinson this documentary, split into three sections entitled 'Spirit of Vengeance, Adventure and Execution', covers all aspects of the films production. With behind the scenes footage from the Australian shoot, insights into the production of the movie, the visual effects and the history behind bringing the Marvel character to the silver screen. This is a very good behind the scenes feature that offers a fascinating insight to how a big budget, comic book movie is made.
Sin and Salvation: Comic book origins of Ghost Rider (46.08 mins)
Creators Roy Thomas and Mike Ploog, writers Howard Mackie and J.M. DeMatteis, artists Mark Texeira, Clayton Caain, Marvel editor-in-chief Joe Quesada and editor Axel Alonso take you through the evolution of the character from his 1960s origins through to his present form. Split into four sections covering the 70s, 80s, 90s and 2000 and beyond, the documentaries cover the three different versions of the character and how each writer reinvented him and the mythos of Ghost Rider.

---
The Usher Home | Hush, Hush... | The Big Story | The Usher Speaks
Stuck @ Home | Coming Soon | Links | Contact the Usher

2007