"Why did you leave us?"
Lois Lane
After five years the Earth had got used to not having a superhero to save them but a spaceship crashes into the Kent farm's field and Superman has returned. Heading back to Metropolis, Clark Kent (Routh) returns to his old job at the Daily Planet and discovers that everyone has moved on, especially Lois Lane (Bosworth). She is engaged to Perry White's (Langella) nephew Richard (Marsden), has a son called Jason (Leabu) and is about to collect her first Pulitzer prize for her article 'Why the world doesn't need Superman'. Someone else has also moved on and formulated new plans that could change the world but Lex Luther (Spacey) isn't going to make changes for the benefit of the people of Earth.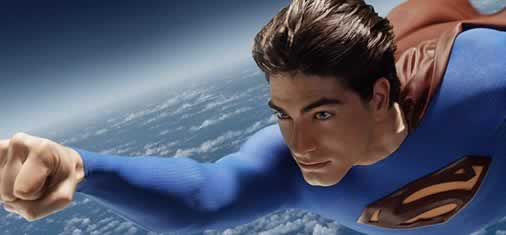 After nineteen years away from the silver screen the Man of Steel returns but does he have the powers to be super or have they been taken away by kryptonite?
After the disaster that was 'Superman IV: The Quest for Peace' back in 1987 Christopher Reeve hung up his cape and Superman headed to the small screen again. 'Lois & Clark: The New Adventures of Superman', 'Smallville' and various animated series, Krypton's last son was very busy but fans and DC Comics wanted him to return to the big screen.
The development of Superman's return had been just as long or even longer than the return of the Dark Knight but after Batman began again in 2005 with amazing results, fans couldn't wait to see what the Man of Steel's return was going to be like. After various actors and directors were attached to project, it took some wheeler dealing from Warner Bros. to get a director who had already established himself in the comic book genre as one of the best, Bryan Singer. With the first and second 'X-Men' movies, Singer proved that his Oscar winning, character driven background was equally well suited to breathing life into those uncanny mutants, so Warner Bros. and DC knew that they had chosen the right man to make you believe a man can fly again.
As he did with the 'X-Men' movies, Bryan Singer and his creative team have thrown their heart and souls into truly capturing the essence of this iconic character. Richard Donner's 1978 film is rightly considered one of the finest comic book adaptations to ever grace the silver screen and was always going to be a hard act to follow. So instead of starting the franchise again as Christopher Nolan did with 'Batman Begins', Singer decided to continue Superman story after the end of the second film and keep most things that these films set up such as Marlon Brando as Jor-El and most importantly the John Williams theme tune.
After discovering that he wasn't the only Krypton survivor and that astronomers might have discovered that his home planet might still be there, Kal-El left to see if there is anyone else left. Five years later, he returns to Earth and discovers that the world had got used to him not been around. As he makes a dramatic return as Superman and reveals his arrival to the world, he finds out that some people might not be that happy to see him back. They are the woman he left behind, Lois Lane and his arch-nemesis Lex Luther.
Singer and his 'X2' writers Michael Dougherty and Dan Harris use this plot outline to show how lonely Superman actually feels. Now knowing he is the last son of Krypton, he is struggling to find a reason or purpose for this life other than been seen as the planet's saviour of truth and justice. With Lois moving on with her life and his mother and friends at the Daily Planet doing the same, he is really feeling his solitude. This storyline is key to the film's success and what gives the movie its heart, as everyone knows that everyone needs someone to share their life with.
Stepping into and filling the rather large red boots left by the late, great Christopher Reeve was always going to be a enormous task for any actor but when you are an unknown the challenge becomes even greater. With many a big name actor been linked with the role, Bryan Singer's decision to cast an unknown in the role was always going to be a risky one but as Christopher Reeve did before him, it is Brandon Routh's turn to announce himself to the world and the good news is that he does a magnificent job. Where Reeve brilliantly mixed the bumbling Clark Kent with a Superman that was the embodiment of good, Routh's interpretation of the character reflects the more modern age and the trails and tribulations that the character is going through. He has to produce a more dramatic performance, with Superman been persona that the world sees and Clark Kent been the man he really is. As a breakout performance in a major motion picture, Brandon Routh makes a real impact but whether he can play anyone else but the Man of Steel we will have to see.
The rest of the cast are equally as strong. Bryan Singer and his creative team have taken the brave decision of casting up and coming actors and only one really big star. Kate Bosworth has proved that she is a talented young actress in films after starring in 'Wonderland' and 'Beyond the Sea' and is no stranger to popcorn movie fair with hits like 'Blue Crush' and 'Win a Date with Tad Hamilton!' Margot Kidder made the role of Lois Lane her own and was always going to be a hard act to follow but she tries to bring something new to the character. With Bryan Singer thinking about possible sequels, he has cast both Superman and Lois quite young but while Kate Bosworth does a good job, she does feel a little too young for the part.
The big, established star of the show is Kevin Spacey as Superman's arch-nemesis Lex Luther. The brilliant Gene Hackman played the evil genius in a quite comedic way but Spacey's approach verges on madness. Purely motivated by power and greed, his superior intellect and complete lack of conscience mean that he is much more of a threat to the world and Superman than Hackman's interpretation ever was.
The supporting cast is also very good but slightly underdeveloped, even with the film's overlong 154 minute running time. Both Frank Langella and Sam Huntington are underused as Perry White and Jimmy Olsen. Parker Posey is crying out for more screen time as Lex Luther's moll Kitty Kowalski and why comedic actor Kal Penn was cast as a henchman, anyone can guess.
The action sequences are absolutely stunning and mix in well with the character and plot development. As with the first two movies we get to see Superman saving the day on more than one occasion but you have not seen the Man of Steel like this before. From the stunning space shuttle disaster to the dramatic finale, the visual effects are quite simply stunning and you will believe a man can fly.
Successfully re-igniting a franchise was always going to be a difficult but 'Superman Returns' succeeds magnificently. While it might not have the same impact as 'Batman Begins' because of the lack of character development for some of the supporting characters, its continuing saviour/Christ comparisons and duration of the film, it is a movie that is made real dedication to the character and the source material. This is how movies should be made and Bryan Singer proves again that he is a brilliant director of superhero movies. Superman has returned.


PICTURE & SOUND
Presented in Widescreen 2.35:1 Anamorphic with a Dolby Digital 5.1 soundtrack, the transfer is good.
BONUS FEATURES
Requiem for Krypton: Making Superman Returns (2hrs 53.42 mins)
Director Bryan Singer, screenwriters Michael Dougherty and Dan Harris, producers Gilbert Adler and Jon Peters, executive producer Chris Lee, director of photography Newton Thomas Sigel, costume designer Louise Mingenbach, production designer Guy Hendrix Dyas, visual effects supervisor Mark Stetson and stars Brandon Routh, Kate Bosworth, James Marsden, Parker Posey, Frank Langella, Tristan Lake Leabu, Sam Huntington, Eva Marie Saint and Kevin Spacey take you behind the scenes of the return of the Man of Steel to the silver screen. Split into five parts entitled 'Secret Origins and First Issues: Crystallizing Superman', 'The Crystal Method: Designing Superman', 'An Affinity for Beachfront Property: Shooting Superman', 'The Joy of Lex: Menacing Superman' and 'He's always around: Wrapping Superman', the documentary covers every aspect of the film's pre-production and production. Starting July 6th 2004, we see the concept drawings, storyboards and set designs and then go behind the scenes of the production. Here we see the Kent Farm, Daily Planet, Fortress of Solitude, Mansion, boat, hospital, jet and seaplane sets, and watch the cast and crew work to bring Superman back. This is an exceptionally good behind the scenes documentary but it is missing the post-production parts so we do not discover how they created the visual effects.
Resurrecting Jor-El (4.01 mins)
See how the original 1978 footage of Marlon Brando as Jor-El is transformed using CG to say the words needed to convey the information in the Fortress of Solitude.
Deleted Scenes (14.04 mins)
Entitled 'The date', 'Family photos', 'Crash landing/X-Ray Vision', 'Old newspapers', 'Are you two dating?', 'Martinis and wings', 'I'm always right', 'Jimmy the lush', 'Language barrier', 'Crystal feet' and 'New Krypton', these deleted scenes suffer from the lack of a commentary track or introduction to reveal why they were removed. Trailers View the teaser, theatrical and EA Superman Return video game trailers
OVERALL
The two-disc edition of Superman Returns is a little strange. While the almost three hour documentary on the production of the film is exceptionally good, you get the feeling that this is just a stop gap until a special edition is released in the future. The lack of commentary track, missing documentaries on the visual effects and a few major deleted scenes (a pre-credit sequence with Superman visiting the remains of Krypton), this is not the release that major fans would have wished for. It is still a very good DVD package all the same.
DVD


Superman II
---
The Usher Home | Hush, Hush... | The Big Story | The Usher Speaks
Stuck @ Home | Coming Soon | Links | Contact the Usher

2006