"The Gardener?"
Kenya (Lathan) is a corporate lawyer on the fast track to partner but because she is concentrating on her career her love life has suffered. With her friends and family constantly trying to set her up, she finally agrees to a blind date but when she meets Brian (Baker), a free-spirited landscaper who is the complete opposite of her. At first she thinks it is a completely terrible idea but as she gets to know him and she starts to see there is more to life than just work.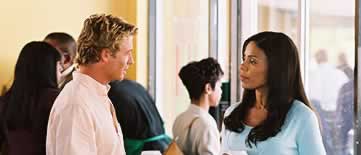 Movies about interracial relationships in the US are still seen as raising social issues and having a message of equality but does 'Something New' have anything new to say?
While relationships between different races in Europe are very common and not really that controversial, in the US, this is still a social issue. Movies over the years have tried to approach the subject in hard hitting dramas and romantic comedies but the problem of a white person been romantically involved with a person of colour continues to be a taboo issue in American.
'Something New' approaches the issue from a more light hearted approach but still tries to raise the problems for interracial couple in the US. Seen from the African-American perspective, the story revolves around career minded Kenya, who has forsaken her love life for progression on the corporate ladder. When her friend sets her up on a blind date with a white, landscape gardener called Brian, she instantly dismisses any chance of a relationship. Instead she hires him to sort out her overgrown garden in her new house but as they get to know each, a spark starts to form.
As the romance develops, the pair gets to know each other and Brian's free spirit and relaxed outlook on life starts to rub off on Kenya. Even though each of them is getting closer, the pressure from her friends and family about Brian starts to come to bear. The film then looks at the problems that can occur when someone from the outside enters a new culture and the good news is that it takes serious look at the problems.
Bringing this story to life are two good performances from our lead actors. Sanaa Lathan is talented actress who is making herself known in Hollywood and this is a role that should definitely get her noticed. She plays Kenya as a beautiful, talented and skilful professional is making her way in the corporate world and the problem she has to face been a woman and a person of colour. Aussie actor Simon Baker is also making inroads into Hollywood and this role will get him noticed again. He plays Brian as the average guy who loves life and lives it to the full. The supporting cast is also good with Blair Underwood and Alfie Woodard bringing some class to the production and 'Scrubs' star Donald Faison providing the laughs.
'Something New' might not push the envelope when it comes to interracial relationships but it does show that even when both parties have good jobs, live in good areas and have money, there are still problems with mixed relationships in the US. Well acted and nicely written, this is a romantic drama will resonate with its intended, female audience.


PICTURE & SOUND
Presented in Anamorphic Widescreen 1.85:1 with Dolby Digital 5.1, the movie is presented well.
BONUS FEATURES
The Do's and Don'ts of Dating (4.53 mins)
Sanaa Lathan, Simon Baker, Blair Underwood, Alfre Woodard, Donald Faison, Taraji P. Henson, Golden Brooks and Wendy R. Robinson talk about what you should and shouldn't do on a date.
The Making of Something New (11.12 mins)
Director Sanaa Hamri, writer Kriss Turner, producers Stephanie Allain and Preston K. Holmes and Sanaa Lathan, Simon Baker, Blair Underwood, Alfre Woodard, Donald Faison, Taraji P. Henson, Golden Brooks, Mike Epps and Wendy R. Robinson take you behind the scenes of the making of the movie. Here we find out about the origins of the story, highlighting the fact that the statistic of 42.4% of black women are never married was the main influence on the writing of the script. We also find out about the casting of the picture, the garden and the relationship between Kenya and Brian.
OVERALL
For a Universal release, the DVD treatment of 'Something New' is very disappointing. With only two short featurettes but no commentary or even deleted scenes, this is a lacklustre effort that will leave fans of the film very disappointed.

Jungle Fever
---
The Usher Home | Hush, Hush... | The Big Story | The Usher Speaks
Stuck @ Home | Coming Soon | Links | Contact the Usher

2006