"We didn't plan for this one"
After witnessing the murder of a LA district attorney, surfer Sean Jones (Phillips) is talked into giving evidence against crime lord Eddie Kim (Lawson) by FBI Agent Nelville Flynn (Jackson). Fearing that his witness will be killed before he gets him back to LA, Agent Flynn takes him on the redeye flight from Honolulu to Los Angeles but Eddie Kim as men everywhere and they when they discover the flight that Sean is on, a crate is loaded into the cargo hold. When the plane reaches 35,000 feet, the create opens and hundreds of snakes slither out.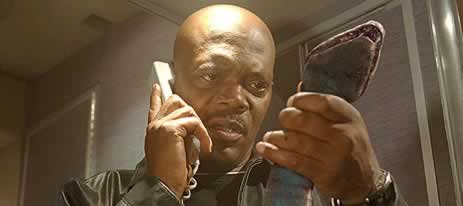 A time title can have hidden meanings, be a grand statement or be emotionally charged but sometimes, just sometimes a title tells you exactly what to expect and 'Snakes on a Plane' is a classic example.
Imagine if you take a big dollop of 80s/90s high concept action flick, throw in a 50s/60s B-Movie plot, add a sprinkle of new millennium special effects and then serve with a large helping of Samuel L. Jackson and you have a movie that is destined to become a real crowd pleaser and maybe even a cult classic.
The idea is very basic but quite ingenious. As airport security becomes more stringent, making it almost impossible to get any kind of weapon onto a plane, crime lord Eddie Kim comes up with the idea of putting a crate full of deadly snakes on a plane to bring down the flight and kill the FBI's key witness against him. While this might seem extremely far-fetched and it is, the explanation as to how the snakes got on the plane and why they would go on a killing frenzy is very good, making the film even more enjoyable.
To be honest it doesn't matter how the snakes got on the plane but what they do when they are let lose. A film like 'Snakes on a Plane' is all about how the victims meet a grizzly end but with the only weapon been a snakes bite, the filmmakers have to be very inventive and the good news it that they have been. Firstly with only two obvious exceptions, everyone is a potential fatality. From children to old ladies and from dogs to babies, no one is safe from the attack of these venomous, slithering reptiles. This makes the guessing game of who is going to die next a good one as the snakes attack in a frenzy.
The victims, or the cast it is more commonly known, are there just to keep you guessing. Nathan Phillips is the witness under Agent Flynn's protection and he handles the action quite well during the finale of the movie. Former 'ER' favourite Julianna Margulies finally starts to make a cinematic impact after leaving the hit show, as head air steward Claire. Sunny Mabrey shines as the beautiful and slightly stereotypical airhostess Tiffany. Rachel Blanchard has fun as spoilt little rich girl Mercedes. She even has the Chihuahua in a handbag accessory. Flex Alexander has fun as rap star Three G's, as does David Koechner as the sexiest pilot Rick. Bobby Cannavale is slightly underused as Agent Hank Harris but Todd Louiso perfectly cast as snake expert Dr. Steven Price.
Running the show is the performance of the immortally cool Samuel L. Jackson. Dealing out snake death with ease and throwing in some brilliant one-liners to compliment the killing action. This is a role that some people might ask why an actor of his calibre is involved in a film like this but this is a movie that the actor wanted to do and you can tell by the quality of his performance. You have to applaud big name actors who get involved in a project that they like or feel passionate about as they always tend to throw everything into the film, even more than they do when they are just doing it for the paycheque.
'Snakes on a Plane' is what going to the movies is all about. This is pure escapism filled with killings, cheap frights, gore, comedy and even some nudity thrown in for good measure making it the kind of action horror movie that fans will adore. While it may have some big plot holes in parts and may be slightly over the top for some but if you take the film for what it is, a homage to the classic B-Movie, you'll have bundles of fun. Just sit back and enjoy the fright.


Audio commentary from star Samuel L. Jackson, director David R. Ellis, producer Craig Berenson, associate producer Tawny Ellis, VFX supervisor Eric Henry, stunt co-ordinator & second unit director Freddie Hice
Deleted scenes with optional audio commentary from director David R. Ellis, producer Craig Berenson and associate producer Tawny Ellis Gag reel
'Pure Venom': a behind the scenes documentary
VFX featurette
'Snakes On A Blog': documenting the fan-based buzz
'Meet The Reptiles': the snakes featured in the film
'Snakes On A Plane (Bring It)' music video
Theatrical trailer
Teaser trailer
TV spots

---
The Usher Home | Hush, Hush... | The Big Story | The Usher Speaks
Stuck @ Home | Coming Soon | Links | Contact the Usher

2006