"Did you get my present?"
After moving to Los Angeles, Mirabelle's (Danes) career and life hadn't really taken off like she dreamed it would. Living alone and working in the quietest departments in Saks, selling formal gloves she thinks thing will never change until two men come into her life. First she meets Jeremy (Schwartzman), a slightly strange, clueless but sweet guy who instantly adores her. Then she meets Ray Porter (Martin) a rich, older man who makes Mirabelle feel like she has never felt before but the question she has to ask herself is whom she will be happier with.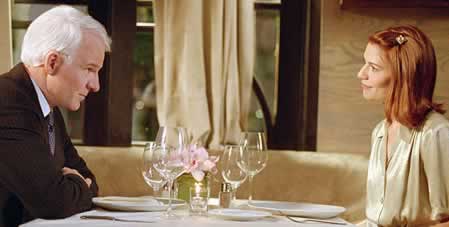 As his career becomes filled with 'Cheaper by the Dozen' and 'Bringing Down the House', it becomes very easy to forget that Steve Martin is in fact a very talented artist but 'Shopgirl' should change all that.
Based on his own novel and adapted into a screenplay by the star himself, Steve Martin finally gets the chance to show why he was considered one of the most gifted artists of his generation. Much like his earlier work 'LA Story', this is another story set in the city he loves about a girl who hasn't quite fulfilled her potential and has become stagnant in both her working and social life. This all changes when she meets two very different men.
Jeremy Kraft is a man with a complete lack of direction. He lives in a pigsty of an apartment, has no money and really doesn't know how to take a woman out on a date but there is something about him that is endearing and trustworthy. Jeremy is a man of ideas but he just needs someone to believe in him so that he can kick start his life. The character is brought to life by the brilliant Jason Schwartzman, who provides most of the comedy in the piece. This is a character that Steve Martin himself would have probably have played in his younger days but this is a role that allows Schwartzman the chance to really shine.
Ray Porter is a successful hi-tech businessman, with more money than he can spend. With a house in LA and one in Seattle, the travels between the two on a private jet and of course, just any other wealthy person in LA he is seeing a shrink. He is a man who is looking for a younger woman to have fun with and no strings. This is a straight role for Steven Martin and one that shows he is an actor who does always need to be the dad or that wild and crazy guy.
It is Claire Danes' performance that is the lynchpin of the story however. As Mirabelle Buttersfield she creates a character that is in flux. She headed to LA to start herself but unfortunately when things don't work out the way she planned and instead of a successful artist she works at Saks in the quietest department in the entire store. For Danes this is a character that allows her performance to grow, as Mirabelle awakens to life and finally allows her life to start. It is also a role that shows she is as talented as we all know she is.
'Shopgirl' is a lighthearted, character driven romantic comedy that you cannot help but enjoy. With excellent performances from the three main cast members and some genuinely funny and touching moments, this is a movie that will bring a smile to your face.


PICTURE & SOUND
Presented in Anamorphic Widescreen 2.35:1 with Dolby Digital 5.1, the movie is presented well.
BONUS FEATURES
None
OVERALL
The lack of any extras for the DVD release of 'Shopgirl' is inexcusable. Films should not be released on DVD without any extras as it just shows a laziness from the filmmakers behind the project. 'Shopgirl' fans will be very disappointed.
DVD

---
The Usher Home | Hush, Hush... | The Big Story | The Usher Speaks
Stuck @ Home | Coming Soon | Links | Contact the Usher

2006