"Let them Eat Cake"
With Austria and France forging diplomatic relations, it was decided that Marie Antoinette (Dunst) would marry Louis XV's grandson (Schwartzman) and take her place at Versailles. Aged just fifteen, much was expected of the young princess but what greeted her was a loveless marriage and a life in court. When the king (Torn) dies and her husband is crowned Louis XVI, she becomes consumed by the decadence of rule, much to the annoyance of French people.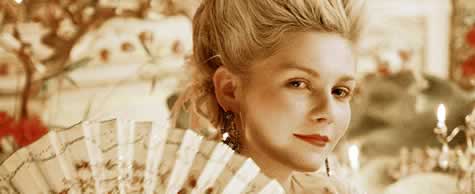 After winning an Oscar for her last movie, Sofia Coppola can have her cake and eat it but after making her name in low budget indie filmmaking, can she movie to the next level?
After the success critical and commercial success of 'The Virgin Suicides' and 'Lost in Translation', it is time for Sofia Coppola to move up in the Hollywood echelons and with it bigger budgets. As an Oscar winning screenwriter, she has more influence and clout and add to this the fact that he father is Francis Ford Coppola and the start of another illustrious career for the Coppola family is about to take off. Instead of sticking to the quirky and fun character based comedy dramas that made her name however, her next venture is all the more ostentatious, the story of France's most famous Queen, Marie Antoinette.
Recreating 18th Century France is an immense task for even the most accomplished director, so for Sofia Coppola to tackle such an audacious project has to be applauded and for the most part she succeeds. The film looks stunning and actually filming at Versailles makes the movie look completely authentic. Coupled with some truly extraordinary costume, hair and makeup design, she confidently takes us back to that time of decadence in the French court.
The performances also complement this with the extremely talented Kirsten Dunst leading the ensemble as the extravagant Queen. Expertly cast, Kirsten Dunst show again how good she can actually be when given a character she can really get her teeth into. She looks absolutely stunning as Marie Antoinette, coming alive in the costumes, wigs and makeup that the queen adorns. There is an understated performance from Jason Schwartzman as the shy Louis XVI completely suites the character. Judy Davis is excellent as Comtesse de Noailles, the woman who introduces Marie to the pomp and circumstance of Versailles. There is also a good turn from Steve Coogan as Austrian Ambassador Mercy.
While the movie looks stunning and is superbly acted, there is one mayor flaw and that is the story. Most of us know the story of the French revolution and the affect it had on France and more importantly the Royal family but this movie is told from the prospective of Marie Antoinette and that is the problem. The film essentially completely takes place in Versailles with the outside world not really having any affect on the decadence of the palace until the final scenes. This is all well and good, as it reveals how little the royals actually did but seeing them sit around and enjoy themselves really doesn't make for interesting drama. With one extravagance after another, you simply lose interest and any sympathy for the character even though this is probably exactly what happened.
'Marie Antoinette' is a visually splendid and beautifully played but lacks the substance that would have made it a period drama classic. It still proves that Sofia Coppola is a superbly talented filmmaker and one that has a bright future. She can definitely have as much cake as she as wants.


PICTURE & SOUND
Presented in Widescreen 1.85:1 Anamorphic with a Dolby Digital 5.1 soundtrack, the transfer is good.
BONUS FEATURES
The Making of Marie Antoinette (25.28 mins)
Writer/director Sophie Coppola, executive producer Francis Ford Coppola, costume designer Milena Canonero, director of photography Lance Acord, production designer K.K. Barrett, author Lady Antonia Fraser and stars Kirsten Dunst, Jason Schwartzman, Steve Coogan, Marianne Faithfull and Judy Davis take you behind the scenes of 'Marie Antoinette'. Recorded during the filming at Versailles, the cast and crew talk about filming in the palace and bringing the story of the most famous queen in France's history.
Deleted Scenes
Entitled 'Second Opera' and 'Return from Petit Trianon', these deleted scenes are accompanied by text introductions from director Sofia Coppola. Marie Antoinette
Theatrical and Teaser Trailer
View the cinematic previews that showed in movie houses and on the Internet
Cribs of Louis XVI (3.59 mins)
Jason Schwartzman takes you on a tour of his crib, the palace of Versailles.
Trailers
Previews of 'Spider-Man 3', 'Stranger than Fiction', 'Running with Scissors', 'Surf's Up' and 'Catch and Release'
OVERALL
The DVD treatment for 'Marie Antoinette' is pretty good but not as filled to the brim as some fans may have hoped. The making of… featurette is very good however and the 'Cribs' segment is very funny. A commentary track would have good however but instead we have an average package.
DVD


---
The Usher Home | Hush, Hush... | The Big Story | The Usher Speaks
Stuck @ Home | Coming Soon | Links | Contact the Usher

2006