"My life is on that laptop"
When Will (Law) and Sandy's (Freeman) new architectural office building gets broken into twice in the same month, they decide to take it in turns watching the building each night. After a few nights the thieves return and Will sees a young acrobatic freerunner trying to break in and he gives chase. As he following him to the poorer side of King's Cross, he discovers that the boy is returning home to his mother. Wanting to get his laptop back, Will goes to see his mother but after talking to Amira (Binoche) finds himself wanting to help her and not get her son in trouble.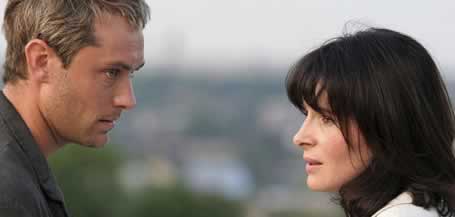 When Oscar winning director Anthony Minghella makes a movie people are bound to take notice but can his urban tale of modern life be as good as his epics?
British director Anthony Minghella's career came to prominence after 'The English Patient' won nine academy awards. He followed this success with the critically acclaimed 'The Talented Mr. Ripley' and 'Cold Mountain', becoming known as a man who could helm an epic and a huge budget but for 'Breaking and Entering' he brings us a modern, character driven tale which is very different.
From his own original script, Minghella brings us a story of immigration and modern city living. Set in London's King Cross, an area of regeneration and low cost housing, we have a clash of cultures as Bosnian refugees and asylum-seekers come up against developers wanting to transform the area into an affluent, modern urban development. Of course his generates mistrust and crime but this affects both sides of the divide.
Architect Will, played by Jude Law, is the man behind the redevelopment and he is so confident in the area that his opens his new deign offices in King's Cross. With the latest equipment and computers, it is bound to be a target for local thieves and they employ an ingenious approach to breaking and entering. Miro (Rafi Gavron) and his cousin are freerunners, urban gymnasts who know the area and the city inside out and they use these skills to break into Will and Sandy's, played by the always excellent Martin Freeman, new office. After they have been broken into twice, Will catches Miro returning for a third time but this time his chases him and then follows him back to his house in a run down housing estate. Here Will meets his mother Amira, played by the wonderful Juliet Binoche, and they strike up a relationship as Will's home life becomes more and more problematic.
This plot has the possibilities for both social and character driven drama, with the title 'Breaking and Entering' having multiple meanings and not just the crime. It also means breaking and entering into people's loves and lives, with Will breaking into Amira life and breaking up his relationship with his girl friend Liv, played by Robin Wright Penn and his stepdaughter. This may sound good but the story just doesn't really go anywhere.
While the characters are well performed by the excellent ensemble cast, it is the storyline itself that just isn't that engaging. This is another film set in London, which all bigger budget British based films tend to be, that deals with rich professionals that 80% of the movie watching public can't really content with. The Bosnian characters are also far too stereotypical as Minghella brands them with a criminal brush and that the police see them as the cause of all the problems in the King's Cross area. You might have a little sympathy for Amira but even she falls into the stereotypical trap.
'Breaking and Entering' is a superbly acted and beautifully shot but the storyline is neither engaging or appealing. You do not want to invest in these characters and you will struggle to connect with any of them. Anthony Minghella is a talented filmmaker but this is a very average blip on his CV.


PICTURE & SOUND
Presented in Widescreen 2.35:1 Anamorphic with a Dolby Digital 5.1 soundtrack, the transfer is good.
BONUS FEATURES
Commentary by writer/director Anthony Minghella
The man behind the movie offers an insightful and informative commentary for 'Breaking and Entering'. He talks about how he came up with the idea for the film, its development and his reasons for setting around the King's Cross area of London. The award winning director also talks in depth about the characters and the actors bringing them to life to provide a good commentary, especially for a single person one
Lie. Cheat. Steal. Love: Making Breaking and Entering (12.50 mins)
Writer/director Anthony Minghella, producers Timothy Brickwell and Sydney Pollock, production designer Alex McDowell and stars Jude Law, Juliette Binoche, Robin Wright Penn, Martin Freeman, Rafi Gavron and Poppy Rogers talk about the making of 'Breaking and Entering'. With behind the scenes footages and interviews with the cast and crew, the feature reveals the message of the film and what it was like filming in London.
Deleted Scenes (8.48 mins)
Entitled 'Miro returns home', 'Opening Party', 'Will and Wei Ping', 'The sorrow demons', 'Miro and Zoran on the roof' and 'Miro breaks into the penthouse', these deleted scenes have optional commentary by writer/director Anthony Minghella.
Theatrical Trailer
Watch the trailer that previewed the movie in cinemas and on the Internet.
Trailers
Previews of 'Factory Girl', 'Days of Glory', 'Miss Potter' and 'Slingshot'
OVERALL
While the featurette may be short, the deleted scenes and the commentary track make this a decent DVD package. Fans should be very pleased.
DVD


---
The Usher Home | Hush, Hush... | The Big Story | The Usher Speaks
Stuck @ Home | Coming Soon | Links | Contact the Usher

2006