"That's an extra £300"
After been dumped by her fiancÚ Jeffrey (Sheffield) two years earlier, Kat (Messing) has to return to England for the first time for her sister Amy's (Adams) wedding. No wanting to look depressingly single and wanting to rub Jeffery's face in it, Kat hires a very handsome male escort to accompany her. Her plan doesn't exactly work out the way she wanted it to however.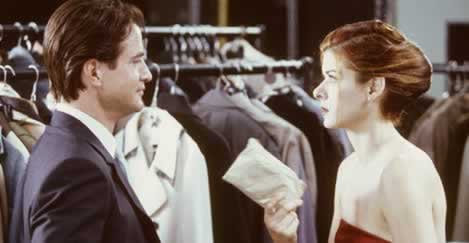 The romantic comedy is becoming the backbone of the British film industry but does 'The Wedding Date' have what it takes to be successful in the genre?
Combining elements from 'Four Weddings and a Funeral', 'Notting Hill' and 'Pretty Woman', 'The Wedding Date' isn't the most original but there is still a lot of fun to be had for the target audience, women. While this is the kind of film that boyfriends and husbands will be reluctantly dragged to, this isn't a completely girly experience, as there are gags and situations that will generate amusement in both of the sexes.
The plot of the film is nothing new. Quite simply put it is 'Pretty Woman' in reverse. Now it is a male 'escort' who discovers there is life outside of the business and that true love can save him from a life of depravity. This is then transported into your usual British romantic comedy filled with upper class twits from London (the only place in Britain according to Hollywood), people with double barrel names and extravagant countryside weddings.
Debra Messing and Dermot Mulroney are the American leads in the British cast. As everyone knows, Debra Messing is a gifted comedic actress and the role of Kat plays on this fact, the problem is that she is very similar to Grace from her hit TV show 'Will & Grace'. This shouldn't put you off however because it is these qualities that make the character so endearing. Dermot Mulroney as Nick is employed as the eye candy for the ladies but he is the 'escort' with a heart and he just wants to be loved. The problem with the character is that we don't really learn that much about him or his background, we just get women longingly staring at him.
The British cast are fine. Jack Davenport is his usual floppy haired self, Sarah Parish is the loud, straight talking, life and soul of the party best friend but Jeremy Sheffield is far too smarmy as the ex, making you wonder what Kat saw in him in the first place.
'The Wedding Date' is an enjoyable rom-com that will entertain women a lot more than the men but this is the film's target audience. With a few good one-liners and a British take on 'Pretty Woman', this will keep you entertained and keep husbands and boyfriends in their better half's good books if you take them to see this.
For the target audience


Audio commentary, Deleted scenes and A date with Debra

Pretty Woman
Four Wedding and a Funeral
---
The Usher Home | Hush, Hush... | The Big Story | The Usher Speaks
Stuck @ Home | Coming Soon | Links | Contact the Usher

2005