"He's sucking his thumb again"
At seventeen years old, Justin (Pucci) really doesn't know what he is doing. His father is becoming more and more disappointed with him, his teacher knows that he has so much more to contribute in class, his mother is getting more and more distant, his orthodontist thinks he understands his problems and he doesn't know were he is with the girl he really likes. Not knowing what to do about anything, Justin just shuts himself away and sucks his thumb.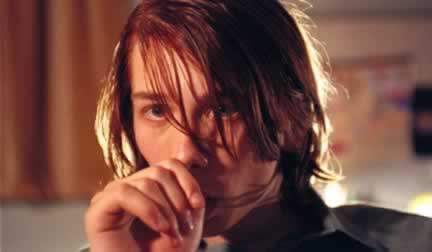 Independent film has always been the breeding grown for fresh talent and human stories and 'Thumbsucker' is no exception to this rule.
Based on the novel by Walter Kirn, the main theme of the movie is a teenager coming of age, standard fair for many a film over the years but 'Thumbsucker' is very different. Justin isn't your typical complicated teen. While he still has the usual problems associated with growing up like peer pressure, high school and girls, Justin has been hiding away all his life and now he is about discover what is out there.
The film is about awaking up to life and embracing it, instead of shying away. When Justin shies away however, he reverts back to his early childhood and embraces a habit that he has never been able to give up, sucking his thumb. When things get far too much for him, he finds comfort in sucking his thumb but this is a habit that he is embarrassed of and one that his family, especially his father, find just as embarrassing.
The thumb sucking might be the underlying theme of the film but in fact it is only the embodiment of his fear and a way of blanking out all of his troubles. Justin problems are the same as any other teenager but he chooses to deal with them all at once after deciding to forgo his one comfort in life, his thumb. He needs to forge a relationship with his parents, dedicate himself to his studies and discover love and sex for the first time. Along the way he learns the lessons that will start him on the path to adulthood and his is the heart and soul of the movie.
An excellent coming of age story would be nothing without an outstanding ensemble cast to bring it to life. Writer/director Mike Mills has gathered together some big names and some accomplished character actors to breath life into the characters. Vincent D'Onofrio and Tilda Swinton are excellent as Justin's parents Mike and Audrey, two people who are still finding themselves and struggling to be parents, even not having Justin and his younger brother call them Mom and Dad. It is easy to forget that Vince Vaughn is an actor of talent and as English teacher Mr. Geary he gets that chance to shine. Keanu Reeves throughout his career has tried to appear in smaller budget, character driven pieces has might finally give him the chance to prove that his can actually act and he might have actually found one. As new age orthodontist Perry Lyman, he creates a character that grows as much as Justin throughout the film.
It is the young actors that make the biggest impact however. Kelli Garner is outstanding as the object of Justin's affections Rebecca. She is just as troubled as Justin but goes about changing her life in a very different way. This is a breakout role for the young actress and one that will get her noticed. The star of the show however is Lou Pucci as Justin. This is a complicated and engrossing role and one that most men and teenagers will be able to relate to. He portrays Justin's problems with the utmost reality, producing a role that could be a defining one for coming of age movies.
'Thumbsucker' is the epitome of coming of age movies for the new millennium. It captures all the doubts and fears that we all go through at that age and however old you are you cannot but help connect with Justin in some way. This is one of those movies that will stay with you for a very long time.


PICTURE & SOUND
Presented in Anamorphic Widescreen 2.35:1 with Dolby Digital 5.1, the movie is presented well.
BONUS FEATURES

Audio commentary with director Mike Mills
Slightly nervous about doing his first audio commentary, the screenwriter/director Mike Mills provides an informative and insightful commentary for 'Thumbsucker'. He outlines what drew him to the story and the seven-year journey to the silver screen. He talks about the family dynamic and the characters of the piece. He also reveals how the film was shot chronologically, the chemistry between Jason and Rebecca and how the Polyphonic Spree provided the soundtrack. This is a good commentary from a debutant.
Behind the scene documentary (21.49 mins)
Director Mike Mills, producer Bob Stephenson, author Walter Kirn and stars Lou Pucci, Tilda Swinton, Kelli Garner, Vincent D'Onofrio and Keanu Reeves the group talk about bringing 'Thumbsucker' to the silver screen. With behind the scenes footage, we see how the book was adapted for cinema and what attracted the director and actors to the story. The featurette also looks at the characters and what the actors bring to the roles.
Interview with writer/director Mike Mills (41.35 mins)
The director is joined by 'Thumbsucker' author Walter Kirn to talk about adapting the book into a screenplay. The pair talks honestly about the movie, as the director reveals what attracted him to the book and how he saw Justin's coming of age story. This is an interesting conversation and a fascinating insight into low budget filmmaking.
DVD ROM
Insert the DVD into your PC and read the director's Blog
Trailers
Previews of 'Lords of Dogtown', 'Ringers: Lord of the Fans', 'Saving Face' and 'Stealth'
OVERALL
For a low budget film, the DVD transfer is good. The featurettes and interviews offer an insight into low budget filmmaking and the commentary track is very good. Fans of the movie should be very pleased with this DVD.
DVD

---
The Usher Home | Hush, Hush... | The Big Story | The Usher Speaks
Stuck @ Home | Coming Soon | Links | Contact the Usher

2005