"You have to save her Ray"
At the dawn of the industrial revolution and on the eve of the Great Exhibition at the magnificent Crystal Palace, Ray Steam (Paquin) receives a mysterious package from his Grandfather (Stewart) containing his most precious procession, the invention that could change the world, 'The Steam Ball'. When armed men come to take it, Ray escapes and travels to London to find the one man who can help him, Robert Stephenson but when he gets to the capital he discovers that the man chasing him is not who he is expecting it to be.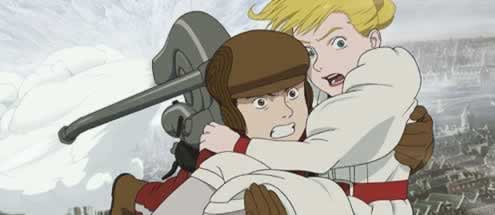 As the major Hollywood studios have completely given up on traditional 2D animation and thrown all its endeavours into computer animated wizardry, it is now up to the rest of the world to keep this tradition alive and no one is doing it better than the Japanese.
After directing one of the most influential Anime features of all time, the groundbreaking 'Akira', Katsuhiro Ôtomo is a legend in the genre. The film was a worldwide smash and redefined how the west saw the animated medium, changing from its family oriented status to a medium of no folds barred action and extreme violence. It was the detail and style of the piece that made audiences sit up and notice.
Katsuhiro Ôtomo's latest is a slight change in direction. Gone is the excessive and stylised violence of his previous Manga influenced fair to be replaced by more family driven action that everyone can enjoy. Here we have the story of a child growing up at the dawn of the industrial revolution, who is drawn into battle between two pioneers in the field of steam. This is science gone amok with grandiose and fantastical machines powered by steam raising havoc during the Great Exhibition in 1851.
The Steam Castle is the most advanced machine on the planet and it will change the worldview on how modern warfare and science are viewed for decades to come. This is a building like nothing you have ever seen and the weapons and armoury inside is enough to invade a country. It is like science fiction for the steam age, as Ôtomo and his creative team run riot to create some truly imaginative creations.
For those of you who have given up on tradition 2D animation because you think it looks dated or not as visually stunning as something computer generated, then you haven't seen the latest wave of animation coming from Asia. Where Disney used to blend CG with tradition, hand drawn animation, Asia filmmakers have taken that concept and made it into a complete art form. The look of this movie is quite simply astonishing and comparable to anything a computer can create. 19th Century London and Manchester are vividly recreated, in all their Victorian splendour and the Steam Castle and all its contraptions are beautifully drawn and realised.
All this visual splendour would be nothing without a good story and 'Steam Boy' is an excellent example of a boy's own adventure. Here we have an intelligent protagonist, who through no fault of his own is pushed into the role of hero and peacemaker, even though he is only a teenager. As soon as he makes that choice we are taken on a roller coaster ride that sees Ray take on steam driven claws, soldiers and flying machines before the final confrontation with the Steam Castle itself.
'Steam Boy' shows that the traditionally animated feature is not a dead art form and that Asian filmmakers are new masters of the genre. As a piece of family entertainment this is storytelling at its most adventurous, showing Hollywood that animation doesn't have to be about talking animals, toys or fairytale creatures.


PICTURE & SOUND
Presented in Anamorphic Widescreen 1.85:1 with Dolby Digital 5.1 and dts soundtrack, the movie is presented extremely well, as you'd expect from an animated movie.
BONUS FEATURES
Featurettes (88.12 mins)
Writer/director Katsuhiro Ôtomo, art director Shinji Kimuro, special effects director Takashi Hoshimoto, animation director Tatsuya Tomaru, digital composite director Mitsuhiro Sato, CGI director Hiroaki Ando, co-director Shiji Takogi, Japanese vocal performers Anne Suzuki and Manami Kanishi, voice director Rick Zieff, sound director Keiichi Momose and western vocal performers Anna Paquin, Alfred Molina and Patrick Stewart talk about bringing 'Steam Boy' to the world. Split into five parts entitled 'The Voyage of Steam Boy', 'Re-voicing Steam Boy', 'Interview with Katsuhiro Ôtomo, 'Multi-screen landscape study' and 'The Adventure continues (End Credits with Text)', we see the film's nine year journey to the silver screen. The featurettes show us Ôtomo's career and the influences behind his new film. We also see how the film became a blend of CG and traditional Cell animation techniques. The three western starts also talk about their roles and how they enjoyed working with a different kind of animation.
Production Drawings (5.40 mins)
See the original design sketches for Ray Steam's house, the Crystal Palace, London and the Steam Castle
Animation Onion Skins (4.26 mins)
Watch scenes in various stages of development from the traditional cell animation to adding the computer generated environments.
Theatrical Trailers (1.31 mins)
Watch the western promotional trailer for 'Steam Boy'
Trailers
Watch 'Astroboy', 'Cyborg 009', 'Memories' and 'Osamu Tezuka's Metropolis'
OVERALL
The two-disc director's cut of the movie is a good package for fans of Katsuhiro Ôtomo and Asian animation. The featurettes cover most aspects of the films production and the western voice over artists talk about the emerging strength of Japanese animation. The only shame is that a commentary track is not included but this aside fans should be very pleased.
DVD

---
The Usher Home | Hush, Hush... | The Big Story | The Usher Speaks
Stuck @ Home | Coming Soon | Links | Contact the Usher

2005