"We'll share the pants over the summer"
For Tibby (Tamblyn), Lena (Bledel), Carman (Ferrera) and Bridget (Lively), this summer was going to be the first one they have spent apart since birth. These lifelong friends needed something to keep them connected so while they are looking around a second-hand store, the girls stubble upon a pair of jeans that just happen to fit all of them. So as Lena heads to Greece, Carmen goes to visit her father, Bridget goes to Soccer camp and Tibby laments at the thought of working in the local supermarket for the summer, they promise to send each other the pants for a week each but can these jeans help them change their lives?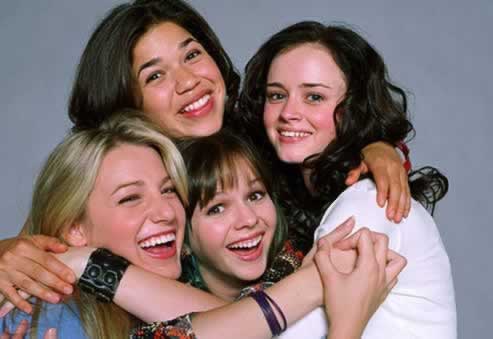 The story of four friends sharing a pair of jeans for the summer might not be the greatest premise for a movie but can this coming of age drama pull the heartstrings?
Based on the best selling novel by Ann Brashares, this is the story of four lifelong friends who each have reached a turning point in their lives. Tibby has always seen the world through very narrow eyes, with anyone who doesn't conform to her opinion or way of doing things been a suitable subject for her documentary film on losers. Lena is the most self-conscious girl you could ever meet. Carmen longs to be part of her father's life but he has moved on with his life since divorcing her mother. Bridget is full of life and breathes confidence but she longs for love. Throughout the summer each of them will discover something about themselves as they move into adulthood.
The film follows each of the girls as their individual stories unfold and show how wearing the travelling pants have changed the course of their summers. Tibby finally opens up to other people in the world as she makes friends with young Bailey. Lena finally starts to open up in Greece with the help of a local fisherman named Kostos. Carmen visits her Dad, only to discover that he is getting married and has found himself a new family. Finally, Bridget uses all of her flirtatious powers to get closer to Soccer instructor Eric. Each of these stories is a personal journey for the character as they take the steps into adulthood as these moments define their futures.
Bringing these characters to life are some excellent performances from four up and coming actresses. Amber Tamblyn brings a rebellious streak to Tibby, the prospective filmmaker who has a unique outlook on the world. This is a character that she can excel in, as she opens up to other possibilities after meeting Bailey (played wonderfully by Jenna Boyd). Alexis Bledel continues to make an impression as Lena. She plays the self-conscious, shy girl with a real sense of innocence and shows again that she is an actress to look out for. America Ferrera made a real impression in her debut picture 'Real Women Have Curves' and she continues that buzz as Carmen. As the girl who is struggling to understand why her father (played by 'The West Wing' actor Bradley Whitford) has never really been part of her life, she has to bring confrontation and a lot of emotion to the character. Blake Lively makes a real splash as Bridget in her first major role. As well as been extremely beautiful she is also a talented actress as Bridget's emotions start to emerge from an overly confident persona.
'The Sisterhood of the Traveling Pants' is a film that will appeal strong to its target audience, teenage girls. Slightly overlong and sentimental in parts, the performances of the four leads more than make up for this however to produce a movie that will become a firm favourite for the under twenties.
(For its target audience)

(for everyone else)


PICTURE & SOUND
Presented in Anamorphic Widescreen 1.85:1 with Dolby Digital 5.1, the movie is presented well.
BONUS FEATURES
Fun on Set (4.42 mins)
Director Ken Kwapis and stars America Ferrera, Amber Tamblyn, Alexis Bledel and Blake Lively talk about forming a real sisterhood both on and off screen. The director and his stars talk about working together as they take you behind the scenes of the movie.
Suckumentary (7.00 mins)
Watch 'Lives of Quiet Desperation: A Study of Losers' by Tabitha Tamka-Rollins, which she filled while her friends were away during the summer. She interviews people from the discount superstore, the Quick-Mart and we hear from her assistant, Bailey.
A Conversation with Ann Brashers (9.00 mins)
The author of the original novels is joined by director Ken Kwapis, producers Denise Di Novi and Debra Martin Chase and stars America Ferrera, Amber Tamblyn, Alexis Bledel and Blake Lively to talk about the Travelling Pants novels and recreating the sisterhood on the silver screen.
Deleted Scenes (7.18 mins)
Entitled 'Las Campeonas Cheers', 'Lena ad Papou's breakfast conversation', 'Lena happens upon Kostas', 'Single minded to the point of recklessness', 'Cousins on the prowl', 'Tibby screens a call', 'Bridget and her dad come to terms' and 'Pizza hangover', these deleted or extended scenes are accompanied by commentary by director Ken Kwapis.
Sisters, Secrets and the Traveling Pants: A Video Commentary (17.23 mins)
Stars America Ferrera, Amber Tamblyn and Alexis Bledel provide video commentary for selective scenes from the move. Unfortunately Blake Lively can't join them but she does talk to the girls on the phone. The trio comment on the scenes 'Finding the pants', 'Soccer Camp', 'The Store', 'Greece', 'Carmen's meal with her Dad' and 'The wedding'.
Theatrical Trailer (2.19 mins)
Watch the preview that preceded the cinematic release.
OVERALL
Warner Bros. has done a good job with the DVD transfer of 'The Sisterhood of the Travelling Pants'. The featurettes are fun and informative, the inclusions of Tibby's documentary and an interview with the author of the books are very welcome but it is just a shame that video commentary isn't for the full film. Fans of the film should be very pleased with this offering.
DVD


Driving in Cars with Boys
---
The Usher Home | Hush, Hush... | The Big Story | The Usher Speaks
Stuck @ Home | Coming Soon | Links | Contact the Usher

2005