"You are the partner I want to dance with"
John Clark
John Clark (Gere) has a perfect wife and family, a respected job and a comfortable lifestyle but he isn't happy. His kids are growing up and don't need him any more, his job is becoming monotonous and due to work, he hardly ever sees his wife, John needs something in his life. Riding the train home every night, he sees a beautiful woman stood at the window of a ballroom dance studio looking as unhappy as he feels. As the days pass he becomes more and more curious about her but when impulses take over he finds himself in the dance studio signing up for ballroom lessons.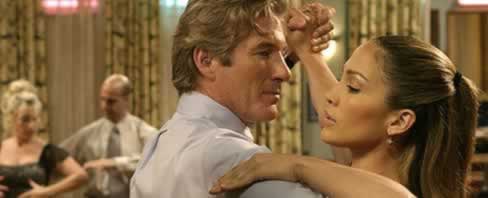 Hollywood's relentless passion for remaking hit foreign movies continues as their ideas well carries on drying up but can 'Shall We Dance?' get your feet moving?
Based on the 1997 Japanese movie, Hollywood remake of the story of a man escaping his mundane office job takes that premise and adds a huge dollop of Tinseltown sentimentally. The film starts well, introducing you to a collection of characters that have come to ballroom dancing for their own personal reasons. We see them start their lessons with the obligatory falls, gaffs and questioning of each other's sexuality when two men have to dance together but as time passes they get better. This part of the film is filled with comedic elements and draws you into the characters and their reasons for taking the lessons but then the Hollywood sentiment hits.
The last half hour of the movie is cringe worthy. You will not believe the about of sugary sweetness that is dowsed all over you, to the point that it makes you feel quite ill. All the good work and character development is gone as soon as ballroom dance competition finishing and sentimentally takes over. The fun is gone as the reasons for John's unhappiness are revealed and the inevitable happy ending is telegraphed as soon as he talks to his wife.
The performances from the cast are good however, for two thirds of the film that is. Richard Gere embraces his age by playing a father and having a wife that is actually the same age as him. As John Clark we see a man stifled by his own success and jobs both he and his wife have. As they are both successful, they don't spend enough time together and some of the spark has gone. Gere plays this well, portraying the reality of the modern working marriage very honestly, revealing the characters frustration and his longing for friendship and diversity in his life. Jennifer Lopez gives one of her best performances since 'Out of Sight' as failed ballroom dancer Paulina. A gifted dancer in her own right, this is a role that doesn't require much acting on her behave and she doesn't really have that much to do expect dance and look beautiful. Could this be the kind of role she was meant to play? Stanley Tucci is as good as ever as Link, the passionate dancer who was embarrassed about his dancing and his baldness. Susan Sarandon plays John suspicious wife Beverly well, but she could have done with more screen time and character development and Richard Jenkins supplies the comic relief as private detective Devine, who is hired by Beverly to find out what John is up to.
'Shall We Dance?' starts well but suffers from a dramatic fall at a pivotal moment. Sentimentally and sugary sweetness drown all the good work that has gone before, completely ruining what was an nice movie up until then. By the end you will not care if Jennifer Lopez ever gets her confidence back to step onto that competitive dance floor and head for the Mecca of ballroom dancing, Blackpool (I kid you not)


Audio commentary from director Peter Chelsolm, Deleted scenes with optional commentary by Peter Chelsolm, 'Beginner's Ballroom' featurette, 'Behind-the-scenes of Shall We Dance', The music of 'Shall We Dance' & Pussycat Dolls Music Video - 'Sway'

Shall We Dance (1997)
---
The Usher Home | Hush, Hush... | The Big Story | The Usher Speaks
Stuck @ Home | Coming Soon | Links | Contact the Usher

2005

.