"Don't throw like a girl"
Dirk Pitt
Master explorer Dirk Pitt (McConaughey) has been searching for a lost Confederate Ship that disappeared at the end of the American Civil war for years and he finally thinks he might have tracked it down. The problem is that the trail leads to Mali; a country gripped by its own civil war and its Warlord leader General Kazim (James) doesn't like any foreigners crossing his boarders. Now Pitt and his long time friend Al Giordino (Zahn) have seventy-two hours to sneak into Mali and investigate but a missing ship isn't all that they will find.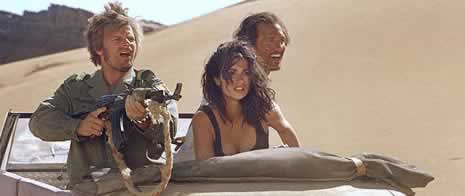 Best selling author Clive Cussler's adventurer Dirk Pitt returns to the big screen but could this be the start of a new franchise?
Cussler's Dirk Pitt adventures have been best sellers for decades but after the failure of 'Raise the Titanic' in 1980, the hero has had to exist on the written page, until now. 'Sahara' is the first of what Paramount Pictures hope will become their new action adventure franchise, a modern day 'Indiana Jones' or a much better 'Tomb Raider'. The good news is that everything is here to make that wish come true.
Even though he might have one of the silliest names in literacy circles, Dirk Pitt has all the hallmarks of a classic hero. Ex-Navy Seal and scholar, Pitt works for NUMA (National Underwater and Marine Agency) who travel the world, searching the seas for missing treasures that have been lost in the depths. This adventure sees him chasing a missing Confederate armoured ship that disappeared at the end of the American Civil War. The ship has been an obsession of Pitt's for years and finally he has found a clue that should lead him to its whereabouts. A single Confederate gold coin found in Mali, could be the piece that finally solves the puzzle.
The film isn't all about finding treasure however; there are also interwoven stories of African Civil War and a plague that is spreading through the Mali population. This is what makes the story more watchable as the three stories combine to make an adventurous plot.
Playing Dirk Pitt is the much-underrated Matthew McConaughey. Once the golden boy of Hollywood, McConaughey rises to the challenge of playing a physical and charismatic role with each and the part could easily propel him into the big leagues again. Steve Zahn plays Steve Zahn again in this movie, making you wonder if he can play anything else but his character Al does provide some good comic relief. The beautiful PenÚlope Cruz plays Eva Rojas, WHO (World Health Organisation) doctor investigating a new plague that is starting to spread from Mali. This is another high profile role for the gifted actress and she brings a bit of class to the role.
The support is also good. William H. Macy is as good as ever as Admiral James Sandecker, bringing some class to the production. Delroy Lindo makes a return to the big screen in a pivotal role. British actor Lenny James is good as General Kazim and Lambert Wilson plays the sleazy businessman with ease.
'Sahara' is a good popcorn movie with slight more plot than you might be used to from a Hollywood flick. The cast is good and the film has a real sense of fun as well as adventure, making the escapades of Dirk Pitt a welcome addition to the action adventure genre.


PICTURE & SOUND
Presented in Anamorphic Widescreen 2.35:1 with Dolby Digital 5.1 surround sound, the movie is presented extremely well.
OVERALL
The complete lack of any bonus features for a movie of this budget is appalling. As Paramount want this to be a new action franchise, they should have pulled out all the stops to make this an extras packed DVD set, that would have created even more fans for the movie. Instead we have a 'vanilla' disc that just doesn't do the film justice.
DVD


Raiders of the Lost Ark
---
The Usher Home | Hush, Hush... | The Big Story | The Usher Speaks
Stuck @ Home | Coming Soon | Links | Contact the Usher

2005