"Ladies and Gentlemen... Ray Charles"
After going blind at the age of seven, Ray Robinson was taught by his mother to take care of himself. Learning the piano and becoming an accomplished singer and pianist in the early 1950s, he overcome prejudice and his blindness by sheer determination and talent. The record deals came but it wasn't until his contract was acquired by Ahmet Ertegun (Armstrong) Atlantic Records that his musical genius was allowed to flourish and the world would start to know the name of Ray Charles (Foxx).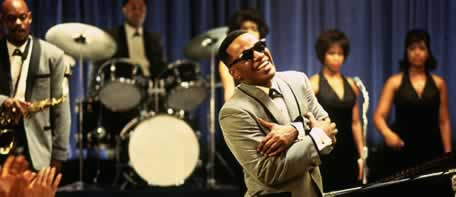 Once in a while you see a performance by an actor or actress that can be classed as truly great and when you watch 'Ray' you will witness one of those performances.
Autobiographical films can be very hit or miss. The casting can be off, the facts might not be as truthful as you would want or you might only see a snippet of the person's life but once in a while Hollywood can get it right. Based on the early career of Ray Charles, from his first job as a pianist in a Seattle club to a pivotal point in his life that would change the rest of his life, this is a no holds barred look at the career of one of music's true talents. Unlike many biopics this shows all sides of Ray's persona, not just the one we witness on stage or in the recording studio. We witness his home live, his infidelities, his struggles with racism and his addiction to heroin. We also discover the childhood event that would shape the rest of life and explain why he was so driven. For music fans, the material is completely riveting, highlighting the fact that an excessive, self-destructive lifestyle wasn't just the realm of Rock and Roll.
At the core of the movie is the performance of Jamie Foxx as Ray Charles. The word extraordinary is used far too often when it comes to describing the acting of some individuals but this time there is no other word to describe Foxx's portrayal of legendary entertainer. It has been a very long time since an actor has captured the character he or she is portraying so exactly. As Ray Charles was such a public and well-known figure it is easy to see how good Foxx's performance actually is. It is like been transported back in time to witness the actual events that shaped his life by actually watching a young Ray Charles. He has captured everything exquisitely with his voice, movements and mannerisms are all matched perfectly after spending a lot of time with the performer before he sadly passed away in 2004. He has been an actor of promise for a long time and his performance in 'Collateral' in 2004 really showcased his talents but this is something else.
There is also some excellent support for Foxx. Kerry Washington and Regina King play the women in Ray's life Della Bea Robinson, his long suffering wife and Margie Hendricks, Ray's lead backing singer and lover while his was on the road. These are two very strong performances of two very different women. Bea is the church-going homely type and mother to Ray's two sons and Margie is Ray's lover and inspiration. Clifton Powell is also good as Ray's right hand man Jeff Brown and there is also a powerful performance from Sharon Warren as Ray's mother Aretha Robinson.
While Ray Charles might have been a very public figure, there is a lot to his early life that you might not have known and this is what makes 'Ray' a very interesting biopic. The film does seem to drag abit in the second act but there are moments to treasure as well as shocks and laughs as we see his early career unfold before our eyes. Co-writer/Director Taylor Hackford has done an excellent job and by taking an honest and very frank approach to the movie, highlighting Ray's flaws as well as his genius. It is the performance of Jamie Foxx however that the film will be remembered for as this is one of the great acting performances of all time.


PICTURE & SOUND
Presented in 1.85:1 Anamorphic Widescreen with a Dolby Digital 5.1 surround soundtrack, this is an excellent transfer. Taylor Hackford's visual spectacle is vividly transferred to DVD, capturing the Technicolor feel of 50s America. The sound is also first class, especially during the fantastic musical scenes, where the movie and sound really come into their own.
BONUS FEATURES
Disc 1
Extended Version
As well as the theatrical version of the movie, the DVD includes an extended edition that includes about twenty-five extra minutes of footage. These deleted or extended scenes can be viewed separately on disc 2 but her they are branched back into the movie (sometimes with a slight pause), with a musical note showing you when a new scene has been inserted. Some of the scenes are a welcome addition to an already remarkable movie but some should have stayed on the cutting room floor.
Commentary by director Taylor Hackford
This passionate and informative commentary track from the director summarises the fifteen-year odyssey of bringing the remarkable life story of Ray Charles to the silver screen. Covering all the major aspects of the film's production, and mentioning nearly every department that worked on the movie, it is very obvious that this is a labour of love for Taylor Hackford. He explains the various story elements, which where completely true and which where elaborated on for the movie, and how big a contribution Ray Charles actually made to the film before his death. Even though this is just the director talking (it is a shame that Jamie Foxx didn't join him), this is extremely interesting throughout as you can help but be enthralled by a man who feels so passionate about his film.
Cast and Filmmakers
Text biographies for actors Jamie Foxx, Kerry Washington, Clifton Powell, Harry Lennix, Terrence Dashon Howard, Richard Schiff, Aunjanue Ellis, Bokeem Woodbine, Sharon Warren, Curtis Armstrong, Regina King and Larenz Tate and also director Taylor Hackford, writer James L. White, and producers Stuart Benjamin, Howard Baldwin and Karen Baldwin.
Disc 2
Deleted Scenes (27.43 mins)
Entitled 'Ray tames the Marines', 'Dancing Al warms 'em up', 'How 'bout a little Charles Brown', 'Ray and Oberon share a joint', 'Ray takes control', 'Ray hold hand much more', 'Ray's gonna burn in hell', 'Ray stops the show, fires the trumpeter and lies to Ahmet and Jerry', 'You're high ain't you', 'Ray adlibs about Jack Laurderdal', 'Ray breaks a promise to Bea', 'Ray shines on Governor Jimmy Davis', 'Ruth bows out' and 'Ray has a vision', these fourteen deleted scenes are accompanied by optional commentary by director Taylor Hackford. Most of these scenes make into the extended version on disc one.
Extended Music Scenes (4.28 mins)
You can now watch the full, unedited scenes for the songs 'What kind of man are you?' and 'Hit the road Jack' and marvel at the remarkable performances by this extremely talented cast.
Stepping into the Part (10.30 mins)
Director Taylor Hackford, co-producer Ray Charles Robinson Jr, Quincy Jones, Larenz Tate and Jamie Foxx talk about bring the life of Ray Charles to the silver screen. Accompanied by footage of the legendary musician working with Jamie Foxx at RPM Studios in July 2002, the featurette reveals how much preparation and dedication the actor made to the role and how Ray Charles himself influenced his performance.
Ray Remembered (4.03 mins)
Director Taylor Hackford, Jamie Foxx, Quincy Jones, Al Green, Sharon Warren and Reba McEntire talk about Ray Charles's influence on the world of music and what he meant to them personally.
A look inside Ray (3.20 mins)
Director Taylor Hackford and star Jamie Foxx talk about the movie's fifteen-year journey to the silver screen. The director talks passionately about the film and the performance of Jamie Foxx and the star reveals how he approached the role and what it was like working with the musical genius himself, before he sadly passed away.
Theatrical Trailer (2.49 mins)
Your chance to watch the promotional trailer of 'Ray'
Previews
Trailers for 'Cinderella Man', 'Friday Night Lights', 'The Motorcycle Diaries' and 'Vanity Fair'
OVERALL
Universal have done an excellent job in transferring 'Ray' to DVD. The featurettes maybe slightly short but the inclusion of an extended version of the film and an excellent commentary track by the director, more than make up for their shortcomings. For fans of the film this is a must purchase and for those of you who missed the theatrical release it is your chance to watch one of the great actor performances of our time.
DVD


---
The Usher Home | Hush, Hush... | The Big Story | The Usher Speaks
Stuck @ Home | Coming Soon | Links | Contact the Usher

2005