"I'm a racehorse!"
Stripes
Accidentally left behind by a travelling circus in Kentucky, a young zebra foal, is taken in by Nolan (Greenwood) and Channing (Panettiere) Walsh. Naming him Stripes (Muniz), the young zebra grows up on the farm next to the Kentucky Open racecourse. Seeing the thoroughbred horses training for the big race, Stripes dreams of becoming a racehorse. With the help of Channing and the rest of the animals on the farm, Stripes is about to discover if he does have the speed and the heart to reach the finishing line.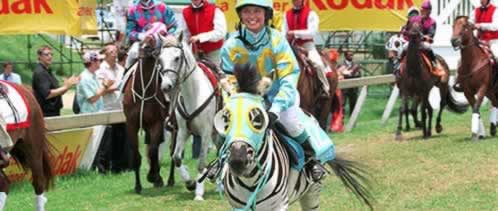 Combining talking animals and human characters may not be the most original idea, but there is something you can't help but like about 'Racing Stripes'.
The little zebra that could, will have you cheering for him to make it in the big race, even when you know the outcome is inevitable because the film has one big thing going for it, the characters. While the story might not be the most original, it is the inhabitants of the Walsh farm that make the movie so watchable for both kids and adults alike.
The filmmakers have gathered together an excellent vocal cast to bring these characters to life. Frankie Muniz is Stripes, the plucky zebra who dreams of being a racehorse. Dustin Hoffman is Tucker, the Shetland pony who just happens to be a master trainer. Whoopi Goldberg is Franny, a motivational goat. Joe Pantoliano is Goose, a New Jersey Pelican on the run from the mob and a wannabe hitman. Joshua Jackson is Trenton's Pride, Stripes' main rival and Mandy Moore is Sandy, Stripes' love interest. The comedic stylings of David Spade and Steve Harvey bring flies Buzz and Scuzz to life. What makes these performances so good is that each of them create a vocal character and are not just their off screen persona transferred into an animal.
The human characters are really secondary to the animal performers but the main players Bruce Greenwood and Hayden Panettiere, do a good job as Nolan and Channing Walsh. Greenwood is an underestimated actor who deserves a lot more acclaim than he gets and Hayden Panettiere is another good up and coming actress that will make waves on the teen scene.
'Racing Stripes' is a very good family movie that will appeal to everyone, whatever their age. With cute animals and a sporting, against the odds story that will have everyone cheering, this is wholesome entertainment that you can bet you are going to like.


PICTURE & SOUND
Presented in Anamorphic Widescreen 2.40:1 with Dolby Digital 5.1 surround sound, the movie is presented very well, highlighting the quality animation of the talking animals.
BONUS FEATURES
Commentary Track
Director Frederik du Chau provides an informative and fun track that takes you behind the scenes of the making of 'Racing Stripes'. With his extensive background in animation the director talks extensively about the visual look of the movie, commenting on the colour pallet and set design of the film. He also chats about working with animals and the all-star vocal cast that provides the voices for the Walsh farm inhabitants. This is a good commentary from a director who clearly feels passionate about his film.
Alternate Ending (1.26 mins)
Watch a different ending to the movie that introduces a new character to the Walsh farm.
Barnyard Outtakes (8.13 mins)
See more of Buzz and Scuzz, Lightening, Goose and Reggie as they bring their own kind of comedy to the movie.
How to make Animals talk (5.43 mins)
Director Frederik du Chau, editor Tom Finan, visual effects supervisor Dion Hatch, computer graphics supervisor and vocal stars Frankie Muniz, Dustin Hoffman, Whoopi Goldberg and Jeff Foxworthy reveal how the Walsh farm animals actually talked in 'Racing Stripes'.
Animal Acting (9.43 mins)
Animal training supervisor Karl Lewis Miller, barnyard supervisor Caroline Girdlestone and their skilled team of animal coordinators introduce you to the animal actors that played the roles of Stripes, Lightening, Goose, Reggie and all your other favourites.
Additional Scenes (2.38 mins)
Entitled 'Stripes at play', 'Tucker's bad joke', 'Sir Trenton's Pep talk', 'Miss Dalrymple's press conference' and 'Woodzie's risky business', these deleted or extended scenes are fun but with a commentary or introduction, you don't know why they were cut.
Buzz and Scuzz's flying fiasco
An interactive game where you have to remember a sequence of moves to help Stripes win the race
Interactive Comic Book (6.31 mins)
Watch a comic book prequel to the movie as you read or listen to what happened to before the movie started and how Stripes came into the world.
The Music of Racing Stripes with Sting and Bryan Adams (4.01 mins)
The two superstar composers and artists talk about writing music and songs for 'Racing Stripes'.
Trailer (2.24 mins)
Watch the theatrical trailer for the movie
OVERALL
Fans of 'Racing Stripes' will be pleased with this DVD. There is much to enjoy here for the younger viewer and a commentary track for the older watcher. The inclusion of a Buzz and Scuzz track would have improved matters but you can't have everything.
DVD


Babe
---
The Usher Home | Hush, Hush... | The Big Story | The Usher Speaks
Stuck @ Home | Coming Soon | Links | Contact the Usher

2005