"You're thinking boobs and I'm thinking breasts"
After the death of her husband Mrs Laura Henderson (Dench) is a widow with an awful lot of money and nothing to do. Driving through the West End of London, she spots a theatre up for sale and sees this as the investment she as been waiting for and the perfect opportunity to have some fun. Hiring renowned theatre manager Vivian Van Damm (Hoskins), the pair come up with the idea of the Windmill Theatre running continuous revuedeville. When the other theatres follow suit, the Windmill has to do something different to standout again and Mrs Henderson has the perfect idea but it isn't quite what 1930s London is used to. A nude revue.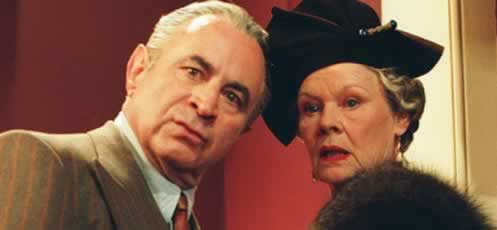 Combining quirky humour with keeping the British end up during World War II, can 'Mrs. Henderson Presents' become another heart-warming tale that the British film industry does so well?
Acclaimed director Steven Frears brings together an excellent ensemble cast to make a movie that successfully combines musical theatre, comedy and drama and produces a film that you cannot help but like. The combination set against the perils of World War II, has everything that British audiences enjoy and it could easily become a firm favourite.
At the heart of the movie are the excellent performances from Judi Dench and Bob Hoskins. As Mrs. Henderson, Dench creates a loveable upper class widow with a new and free outlook on life. Dench has a real passion for the character and this is reflected in her performance, adding a sense of fun to the role and coming into her own during the more dramatic elements. Bob Hoskins has a similar passion. As Vivian Van Damm we see a little more of him than we should do, but this shouldn't put you off his captivating performance. As the Theatre manager with an eye for the younger ladies, he becomes the heart of the Windmill and the voice of reason against Mrs. Henderson's flights of fancy. It is their screen chemistry that drives the film, as the two bounce off each other during their constant arguments and disagreements on how the theatre should be run.
The supporting cast is also extremely good. Kelly Reilly plays Maureen, the lead nude of the troop who was found quite accidentally by Van Damm. This could be another break out role for the actress and one that will get her noticed by Hollywood even more. Pop Idol winner Will Young makes his motion picture debut as Bertie, the lead male vocal performer at the Windmill. We already know that he can sing but he is can also turn his skills to the thespian pursuits. He definitely has a future in musical theatre.
'Mrs. Henderson Presents' is a film that you can help but enjoy. Capturing the time perfectly as the War took hold, the power of theatrical entertainment at a time when it was most needed. With exemplary performances and a story that is both touching and funny, this is a fine example of a British film that we should treasure.


PICTURE & SOUND
Presented in Widescreen 2.40:1 Anamorphic with a Dolby Digital 5.1 soundtrack, the transfer is good.
BONUS FEATURES
Director's Commentary
Director Steven Frears provides a whimsical and pleasant commentary for 'Mrs Henderson Presents…' The director talks about the influences behind the film, highlighting the fact that it was based on true events. He talks extensively about casting, working with Dame Judi Dench and Bob Hoskins and how good he though Will Young was in the picture. This is a good commentary track from an excellent British filmmaker who is always worth listening to.
Making of… (24.08 mins)
Director Steven Frears, producer Norma Heyman, production designer Hugo Luczyc-Wyhowski, hair/makeup design Jenny Shircore, costume designer Sandy Powell, choreographers Debbie Astell and Eleanor Fazan, screenwriter Martin Sherman and stars Judi Dench, Bob Hoskins, Will Young, Kelly Reilly, Christopher Guest and Camille O'Sullivan are joined by original Windmill girls Doris Barry and Linda Carroll to talk about bringing 'Mrs Henderson Presents…' to the silver screen. Covering the cast, the look, the choreography and the Windmill girls, the featurette takes you behind the scenes of the hit British movie.
Production Photography
View publicity shots from 'Mrs Henderson Presents…'
Theatrical Trailer and TV Spots
View the cinematic trailer and two television promotions for the movie
Trailers
Previews of 'Oliver Twist', 'Breakfast on Pluto', 'Walk the Line' and 'The Family Stone'
OVERALL
The British hit movie comes to DVD with some good extras that should keep fans very happy. The commentary track and making of… featurette are very good and they really accompany the film well. Fans should be very pleased with this DVD release.
DVD


Topsy-Turvy
---
The Usher Home | Hush, Hush... | The Big Story | The Usher Speaks
Stuck @ Home | Coming Soon | Links | Contact the Usher

2005