"Always protect yourself"
Frankie Dunn
Determined female boxer Maggie Fitzgerald (Swank) thinks she has the heart to be a world champion but she needs a trainer. Frankie Dunn (Eastwood) has just lost his prizefighter to another manager and he thinks he might never get the chance to take someone to a title fight. When friend Eddie 'Scrap-Iron' Dupris (Freeman) introduces him to Maggie. He reluctantly takes her on and some realises that she might have real potential.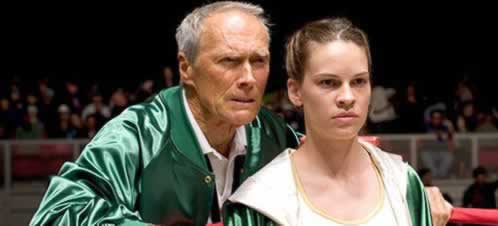 While some may argue that critics have to like the veteran actor/director's movies as a matter of course and this could be just another film made to win awards but what Eastwood has produced here is a great sports movie that also highlights the human spirit. Interest in female boxing is increasing and this film shows that the dedication and determination is just as strong, whatever the gender.
What drives the movie is the performances of Clint Eastwood and Hillary Swank as Frankie and Maggie. Here are two people driven by their love of boxing but it also replaces the things that are missing in their lives. For Frankie, he uses it to forget about his estranged daughter who refuses to have contact with him. For Maggie boxing is a way of escaping the trappings of her self centred family and that she has grown up without a father. Now the pair has a common purpose with the sport but they also fill each other's voids, making an unbreakable bond. It is this relationship between the characters that drives the film and makes it so watchable. It is easy to forget what a great actor Clint Eastwood is. He might be more know for his disgruntled hero roles and also his talents behind the camera in his later years but this is a true return to form for the veteran. Frankie is a hard-nosed, opinionated trainer who, against his better judgement, decides to take Maggie on. Clint plays the role superbly, making the character very believeable and real. The same can be said about Hilary Swank. Since winning the Oscar for 'Boys Don't Cry' in 1999, people have been waiting for her to live up to the hype and with Maggie Fitzgerald she finally achieves this. Gaining weight and packing on the muscle, Swank transforms herself into a contender and a very believeable one at that. This is a role that really showcases her talents to the full as she creates a genuinely nice character that you really want to succeed.
With the film mainly about the two main characters and their relationship, the supporting cast don't get as much screen time. Morgan Freeman is as good as ever as Eddie 'Scrap-Iron' Dupris and the narrator of the piece. This is the only other character that gets any real development and he gets his chance to shine as he plays opposite Clint Eastwood. His voice over is too reminiscent of 'The Shawshank Redemption' however and does get slightly annoying until you find out the reasons behind it. The other characters don't really get much of a look in with only Jay Baruchel as Danger having any real development.
The boxing scenes are very well choreographed and realistic, never too over the top and not afraid to show the bloodiness of the sport. Clint handles the action extremely well, using multiple angles and taking you into the action, giving the film more of a 'Raging Bull' feel than a 'Rocky'. Hilary Swank excels in the ring and you never doubt her ability as a boxer, adding even more realism to the film.
Just as you are getting into the swing of the film a dramatic turn of events occurs and pushes the movie into a completely new direction. As first you may think this is a desperate attempt to win those golden statues but after a while you become totally engrossed again. Now the subject matter asks some serious questions about friendship, loyalty and love changing the film from a sports movie to a social drama. As you'd expect Eastwood and Swank rise to the task and provide some genuinely emotional cinema that could have you reaching for the tissues.
'Million Dollar Baby' is one of Clint Eastwood's best films, both in front and behind the camera. Both his and Hilary Swank's performances are first rate and it has a story that will have you cheering and crying. Knockout cinema.


'Born To Fight': an in-depth look at women in the ring
'Producer's Round 15': producers Al Ruddy, Tom Rosenberg and Paul Haggis tell the story of how the book by F.X. Toole "Rope Burns" made it to the screen
'James Lipton Takes On Three': in-depth interviews with director Clint Eastwood and stars Morgan Freeman & Hilary Swank the day after the Oscars

Raging Bull
Rocky
---
The Usher Home | Hush, Hush... | The Big Story | The Usher Speaks
Stuck @ Home | Coming Soon | Links | Contact the Usher

2005