"You will have to prise the pompoms from our dead hands"
After inadvertently seeing the murder of a key witness, cheerleaders Anne (Milian), Teresa (Garcés), Evie (Keena), Heather (Ferlito) and Barb (Garner) are taken into protective custody by the Texas Rangers. Roland Sharp (Lee Jones) takes on the detail but his almost militaristic methods of protection don't go over well with the girls and his cover as assistant cheerleading coach really doesn't go over well with him either.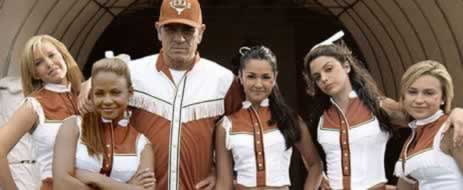 Once in a while a respected actor makes an error of judgement and appears in something that he or she would rather forget. For Tommy Lee Jones, this is one of those instances.
The premise of putting a hardened Texas Ranger in a house full of cheerleaders might have sounded like comic gold on paper but the realisation of 'Man of the House' is far from anything comedic. The whole film limps along from one cliché to another, constantly adding sugar until your teeth cannot handle anymore by the finale.
The clashing of generations and life choices has been the stalwart plot device of many a comedy over the years but very few have really stood out of the crowd. 'Man of the House' has only one redeeming feature, from a male prospective, and that is the beautiful cheerleaders. Without Christina Milian, Paula Garcés, Monica Keena, Vanessa Ferlito and Kelli Garner to look at there is absolutely nothing for the male audience member to enjoy. The rest of the film embarrassingly sees Tommy Lee Jones get in touch with his feminine side, as the girls show him how to treat a lady as he tries to woo Anne Archer's university professor character, Molly. This is comedy at its most basic and lacking in any realism, as Tommy Lee Jones's character looses his manliness without enough protests and far too easily.
On the plus side, Christina Milian, Paula Garcés, Monica Keena, Vanessa Ferlito and Kelli Garner are very watchable and do their best with the stereotypical roles they have been given. All the girls are a tad too clichéd, been rebellious, obsessed with all things girly and thinking that Cheerleading can change the world but this is how America would expect them to behave, so it isn't really their fault.
'Man of the House' is a very big negative blip on Tommy Lee Jones's career. Producing extremely average entertainment like this will never see he nominated for any awards again, never mind winning them. This is a film that only its target audience will enjoy and most of them will be off that cheerleading practice anyway.


PICTURE & SOUND
Presented in Anamorphic Widescreen 1.85:1 with Dolby Digital 5.1 surround sound, the movie is presented well.
BONUS FEATURES
Cheer Camp (4.50 mins)
Director Stephen Herek, cheerleading advisors C. Ladd Lebus and Brad W. Page and stars Christina Milian, Paula Garcés, Monica Keena, Vanessa Ferlito and Kelli Garner take you behind the scenes of the cheerleading camp for the production. Here we see what the girls had to go through to prepare for the shot as they learn routines, lifts and many other skills that they will need to become onscreen cheerleaders.
The Making of 'Man of the House' (9.42 mins)
Director Stephen Herek, producers Allyn Stewart and Steven Reuther, production designer Nelson Coates and stars Tommy Lee Jones, Cedric the Entertainer and Christina Milian, Paula Garcés, Monica Keena and Kelli Garner take you behind the scenes of 'Man of the House'. The featurette takes us on a tour of the University of Texas location and looks at Tommy Lee Jones and the girls for this fish out of water movie.
Trailers
Previews of Bewitched and Men in Black II
OVERALL
A very average movie gets a very average DVD treatment from Sony. The two featurettes are ok but this is all you get. A commentary track with the girls would have added to the value greatly but fans of the film will be very disappointed with this package.
DVD


Bring It On
---
The Usher Home | Hush, Hush... | The Big Story | The Usher Speaks
Stuck @ Home | Coming Soon | Links | Contact the Usher

2005