"I just thumbs up from my Pappy"
Kronk
After finding his true calling as a short-order cook after unsuccessful spell as a henchman for empress wanabe Yzma (Kitt), Kronk (Warburton) still has a problem. All of this life he has wanted one thing, his Pappy (Mahoney) to be proud of him but with a great job, a big house or a family Kronk feels that his father will never give him a thumbs up.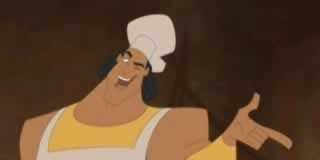 Disney continues in its policy of producing direct to video/DVD sequels to its animated features but can the sequel to 'The Emperor's New Groove' capture the fun of the original?
While sequels to classics such as 'The Jungle Book', 'Cinderella', 'Bambi', 'The Lion King' and other much loved animated features are complete travesties and just Disney cashing in on their hit movies. Usually they have lesser standard animation and new actors providing the voices as the stars wouldn't return of a substandard version of the original but 'Kronk's New Groove' is different.
'The Emperor's New Groove' wasn't a big hit when it was released in 2000 and is one of the movies that contributed to the death of traditional animated films at Disney but this wasn't a fair statement. The original was a buddy movie, filled with comedy and a cult animation in the making and the good news is that 'Kronk's New Groove' recaptures these aspects that made the original different from your usual Disney animation.
The major plus point for this direct to video/DVD sequel is that all of the vocal cast return. The original never really had a superstar cast in the first place and this is a major advantage to the movie. While this movie concentrates on Yzma's ex-henchman Kronk, there are appearances from Pacha (John Goodman), Emperor Kuzco (David Spade), ChiCha (Wendie Malick) and the irrepressible Yzma voiced by the legendary Earth Kitt. This is all about Kronk however and the hilarious Patrick Warburton returns as the good-natured huge guy who has a passion for cooking and animals. He has a fantastically dry voice that is just plain funny and with Kronk he creates a character that is instantly likable and one that is easy to get behind.
'Kronk's New Groove' is just as much fun as the underrated original. With a funny story, a song and dance moment with the immortal Eartha Kitt and all of your favourite characters returning, this film has all of the humour and character that made the first film as watchable as it was. For fans of the original, this is a must buy, as Kronk has just as much groove as Kuzco ever had.


PICTURE & SOUND
Presented in Anamorphic Widescreen 1.85:1 with Dolby Digital 5.1 soundtrack, the movie is presented well, as you'd expect from an animated feature.
BONUS FEATURES
Games & Activities
Kronk's Brain Game
An interactive game that requires you to help Kronk get ready for another visit from his father. Help our hero complete his chores to he can get thumbs up from his Pappy.
Pyramid Scheme
An interactive game where you play as either Kronk, Yzma or Roody and help them reach the top of the pyramid.
How to cook a movie (7.54 mins)
Directors Saul Andrew Blinkoff and Elliot M. Bour, producer John A. Smith, writer Tom Rogers, animation director David Block, art director Mary E. Locatell and vocal stars Patrick Warburton and Eartha Kitt talk about following up 'The Emperor's New Groove'. This fun featurette is aimed at younger viewers at we hear from the filmmaker's as to what is needed to cook up a sequel to a Disney classic.
Sneak Peeks
Previews of 'Lady and the Tramp', 'Cinderella', 'Herbie: Fully Loaded', 'Bambi 2', 'Lilo & Stitch 2' and 'Chicken Little'
OVERALL
For a direct to DVD release, Disney hasn't done a bad job with the package. The interactive games are fun and the featurette covers everything you need to know about the movie's production. The only real thing missing is a commentary track but this doesn't curtail your enjoyment.
DVD


The Emperor's New Groove
---
The Usher Home | Hush, Hush... | The Big Story | The Usher Speaks
Stuck @ Home | Coming Soon | Links | Contact the Usher

2005