"This is the most alive spirit I have ever felt"
Still not coming to terms with the death of his wife, David (Ruffalo) moves into a new apartment to continue closing himself off to the world. As he gets himself settled in he is confronted by Elizabeth (Witherspoon) and she informs him that it is her apartment and she rented it first but as he follows her into the next room, she disappears. Thinking he must be hallucinating because he has had too much to drink he continues to try and make the apartment his own but Elizabeth returns only for her to talk through a table.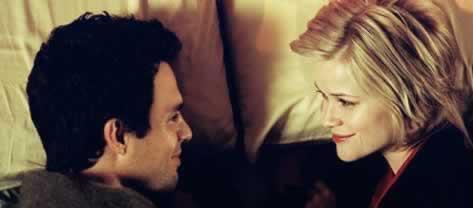 High concept romantic comedies were all the rage in the 1990s but is the new millennium audience ready to see someone falling in love with a ghost again?
The idea of someone finding love with a spirit is nothing new in movies but 'Just like Heaven' has two major things going for it, Reese Witherspoon and Mark Ruffalo. After success with 'Mean Girls' and 'Freaky Friday', director Mark Waters moves to an older age category for a high concept romantic comedy that you cannot help but enjoy. The main reason for this is the presence of Reese Witherspoon and Mark Ruffalo in the lead roles.
Both Witherspoon and Ruffalo are actors that are impossible not to like. Reese Witherspoon is a woman that everyman with love to have a relationship and every woman would like to be friends with. The same can be said about Mark Ruffalo (the opposite way round of course) and this is what makes the film so much more watchable than it should have been. The two have a really good screen chemistry, making you hark back to the days of Doris Day and Rock Hudson, as they argue but slowly come to love each other. Both of them excel as Elizabeth and David, making the outlandish plot both touching and fun.
Their support is also good. Donal Logue is good as David's best friend and therapist Jack. Dina Water is also good as Elizabeth's sister Abby. Jon Heder steals every scene he is in as paranormal expert Darryl, but he is sadly underused. The same can be said about Rosalind Chao has Elizabeth's mentor Fran. The film is all about the performances of Ruffalo and Witherspoon however and this is what makes
'Just like Heaven' such a nice romantic comedy. The concept is far fetched but the characters and the cast make this a really great date movie that both men and women can enjoy.


PICTURE & SOUND
Presented in Anamorphic Widescreen 1.85:1 with Dolby Digital 5.1, the movie is presented well.
BONUS FEATURES
Filmmaker's Commentary
Director Mark Waters, editor Bruce Green and director of photography Daryn Okada provide an informative and fun commentary for 'Just Like Heaven'. The trio talk about the origins of the piece and the importance of casting the two lead roles. They also discuss the technical aspects of the film, talk about the San Francisco shoot and the heavenly look they wanted to create for the movie. The group have a lot of fun with the commentary, making it very easy to listen to.
The Making of Just Like Heaven (14.32 mins)
Director Mark Waters, producers Walter F. Parkes and Laurie McDonald, director of photography Daryn Okada and stars Reese Witherspoon, Mark Ruffalo, Dina Waters, Donal Logue, Ivana Milicevic and Jon Heder come together to talk about the making of 'Just Like Heaven'. The group talk about adapting the novel 'If only it were true' by Marc Levy and how they became involved in the film. They also discuss what it was like working with 'Freaky Friday' and 'Mean Girls' director Mark Waters and Reese Witherspoon talks about what it was like to play a ghost. This is a run of the mill making of… featurette but enjoyable all the same.
Meet the Cast (13.09 mins)
Director Mark Waters, producers Walter F. Parkes and Laurie McDonald and stars Reese Witherspoon, Mark Ruffalo, Dina Waters, Donal Logue, Ivana Milicevic, Ben Shenkman and Jon Heder talk about the characters Elizabeth, David, Darryl, Abby, Katrina and Brett. Each of them talks about the character and what they brought to the part.
Gag Reel (4.58 mins)
Watch Reese Witherspoon, Mark Ruffalo and the rest of the cast making a hash of their lines and having fun on set.
Deleted Scenes (5.36 mins)
Entitled 'David and Elizabeth in the garden', 'David gets pulled over', 'David and Jack talk' and 'Alternative Ending', these deleted or alternative suffer from the lack of a commentary track or introduction which just makes you wonder why they were removed.
Previews
Trailers for 'Wallace & Gromit: The Curse of the Were Rabbit' and 'Pride & Prejudice'
OVERALL
DreamWorks have done a good job with the DVD treatment for 'Just Like Heaven'. The commentary track and featurettes are good but it would have been nice if they had included a visual effects featurette to show you how Reese Witherspoon became a ghost. Fans of the film should be pleased with the DVD however.
DVD


Ghost
---
The Usher Home | Hush, Hush... | The Big Story | The Usher Speaks
Stuck @ Home | Coming Soon | Links | Contact the Usher

2005