"People crash into each other for some kind of human contact"
Los Angeles, a city like no other. The car is king and no one every meets another as the population travel around city encased in metal, plastic and glass. Tensions are high as the different races, religions and cultures seldom mix, breeding mistrust and fear of anything that is different. It a car crash to bring people together and in the heat of that exchange dialogue is opened and people actually interact. LA is a city like no other.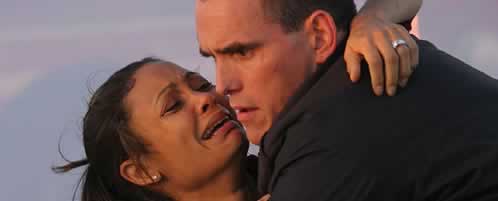 Interweaving stories of people's lives over a short time period is nothing new in movie but this small snippet into the social problems of Los Angeles is a captivating one.
Paul Haggis's feature film directorial debut is an impressive piece of cinema. The screenwriter of 'Million Dollar Baby' takes a look at the fragile balance that exists in LA between the races, religions and cultures that make up the population of the city. The film examines the increasing levels of mistrust, resentment, misunderstanding and fear that engulfs LA, as people to go about their lives.
Here we see thirty-six hours in the lives of a group of people whose paths cross in various different and dramatic ways. We have an Iranian shopkeeper, a Latino locksmith, a bigoted LAPD police officer, a fear filled District Attorney's wife, a preaching car-jacker, a TV director been discriminated against, a DA who'll do anything to win over the ethnic vote and a detective with family problems. All of these characters come from different backgrounds, social classes and areas of the city but all them have one thing in common, the mistrust of the people of LA.
While 'Crash' might seem like a statement on racism it is much more than that. The film is about the separation of the cultures and races within the city and lack of interaction that breeds misunderstanding and mistrust that escalated into fear. Here we see the upper class fearing every minority, black people who have money fearing the LAPD and how they are seen in the work, Iranians thinking everyone is against them, LAPD officers mistrusting their fellow officers over racial opinions and young black American's thinking everyone is against them and all white people are racists. Each story is treated extremely realistically with the minimum amount of cliché, portraying the city and its citizens as a population on the edge of collapse.
Bringing these stories and characters to live are some exceptional performances from the ensemble cast. Don Cheadle is one of the finest actors working in cinema today and his role as Detective Graham Waters proves this again. He is a well-respected member of the LAPD who sees the racial struggle on a day-to-day basis but his family problems keep encroaching into his job and life. Sandra Bullock leaves her usual rom-com persona behind to deliver a very honest and truthful performance as Jean Cabot, the wife of the District Attorney and a woman of wealth and status that has a mistrust of any ethnic minority. Ryan Phillippe and Matt Dillon are exceptional as two LAPD officers with very different views on how to interact with people of other races. Brendan Fraser plays the DA very well, thinking only about votes and not about the real problems of the city. Terrance Dashon Howard and Thandie Newton are excellent as a well to do black couple witness racism first hand and have two different reactions to it. Chris 'Ludacris' Bridges tackles his most dramatic role yet and shows great promise. With the rest of the cast been just as good it is hard to think of a better ensemble in resent years.
'Crash' is brilliantly acted and expertly written. Dealing with a subject matter like this was never going to be easy and the film hardly ever descends into clichés. While there are a few stereotypes here, they are dealt with realistically, giving reason for them and outlining their fears and objections. This is a film that highlights the problems but offers few solutions, stressing the problems that Los Angeles currently faces.


PICTURE & SOUND
Presented in Widescreen 2.35:1 Anamorphic with Dolby Digital 5.1 soundtrack, the transfer is extremely good.
BONUS FEATURES
Audio Commentary with writer/producer/director Paul Haggis, writer/producer Bobby Moresco and actor/producer Don Cheadle
This is a chatty and informative commentary track from a trio of filmmakers that are very involved and invested in the movie. The group talk about the reasoning behind the film, discussing its influences and the myriad of character that populate the movie. They also talk about the truth and honesty of the piece and what they were striving to achieve with the movie. This is a good commentary from three people who feel really passionate about the film.
DVD introduction by writer/producer/director Paul Haggis (0.18 mins)
The man behind the film gives a brief introduction to the DVD transfer.
Behind the Scenes (10.09 mins)
Writer/producer/director Paul Haggis, producer Cathy Schulman, screenwriter Bobby Moresco and stars Thandie Newton, Sandra Bullock, Don Cheadle and Brendan Fraser talk about their involvement in 'Crash'. A story about how strangers affect other strangers, the cast and crew talk about the realistic approach to the film and the honesty on how it treats relationships, racism and Los Angeles itself.
Music Video (4.21 mins)
Watch the promotional music video entitled 'If I…' by Kansascali, which includes footage from the movie.
Trailer (2.24 mins)
Watch the full, theatrical trailer for the movie
Trailers
Previews of 'The Aristocrats', 'The Business', 'Oliver Twist', 'In Her Shoes' and 'Nightwatch'
OVERALL
A character driven, ensemble piece is never going to be a bonus feature packed DVD and 'Crash' doesn't change that statement. The commentary track is good but the rest of the features are very standard and quite short. This aside, the DVD is really a showcase for the film and not how it was made and the DVD covers just enough to keep fans satisfied.
DVD


Magnolia
---
The Usher Home | Hush, Hush... | The Big Story | The Usher Speaks
Stuck @ Home | Coming Soon | Links | Contact the Usher

2005