"We can still get people out"
Trying to cope with the heartbreak of his wife's death, Justin Quayle (Fiennes) doesn't trust the British government's findings and decides to start his own investigation into how she died. What he discovers draws him into a web of deception, cover-ups and murder. As he digs deeper and gets closer to the truth, he realises that Tessa (Weisz) has discovered something that could expose how the drug companies and governments of developed countries are exploiting Africa and its people.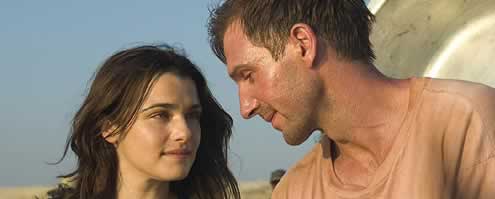 Fernando Meirelles made a real impact with the visually compelling 'City of God' but can the Brazilian's first English language movie make the same splash?
Based on the best selling novel by acclaimed author John le Carré, Meirelles takes his unique visual style and sense of story and character to Kenya, to tell a tale of the exploitation of Africa and its people. The director has an immeasurable skill as taking you into a story and letting the characters and what you have tell you run the pace of the movie. He also uses the camera as a witness or another character that follows the story along with the main players.
Utilising handheld filming techniques, Meirelles uses the camera to make the film more like a documentary of actual events than a fiction tale of deception and intrigue. He takes you into the heart of Africa, showing you its people, its problems and the people who are exploiting it. This is a movie with a lot to say and pulls no punches it in showing it and pointing fingers. With political, economic and social issues raised, the movie takes a long, hard look at how the developed world sees Africa as an opportunity and its own personal test bed for everything. This is certainly a film that will get you thinking and talking by staying long in the mind well after the final credits.
Bringing this story to life are two superb performances from the main players. Ralph Fiennes plays the good-natured Justin Quayle. He is a typically British, mild mannered member of the British High Commission in Kenya who has no real ambition or drive to move up the ladder. He would rather spend time in his garden than deal with the political or social injustices with the country he now lives in. This all changes when his wife is killed and his love for her drives him to find out what happened and the reasons behind it. This is another scene stealing performance from Ralph Fiennes, proving again that he is one of the best actors of his generation. It is Rachel Weisz that truly drives the film however. Shown in flashback as Justin recounts his memories or as revelations have been uncovered, it is Tessa Quayle that is plot device that drives the movie and Justin's quest for answers and justice. She has always been an actress to take notice of but this is a role that will push her into the more serious actress category and away from her usual Hollywood fair. The movie also has some good supporting performances from Danny Huston, Hubert Koundé, Bill Nighy and Pete Postlethwaite, who all drive the movie to its dramatic conclusion.
'The Constant Gardener' is a movie with a lot to say and pulls no punches in saying it. With outstanding performances from the two main players and their support and a director who takes you into the heart of the story, this is film that will stay with you for a very long time.


PICTURE & SOUND
Presented in Widescreen 1.85:1 Anamorphic with a Dolby Digital 5.1 soundtrack, the transfer is extremely good, capturing the pure essence of the Kenyan setting.
BONUS FEATURES
Deleted Scenes (10.33 mins)
Four deleted scenes showing more of Sandy's home life, more of Justin's investigations, a confrontation in the British High Commission and Kenyan life. Unfortunately these scenes are not accompanied by either an introduction or commentary track to say why they were removed.
Extended Scene: Harvma - Play in Kibera (9.42 mins)
Watch the full version of the informational play about AIDS prevention shown partly in the movie.
Embracing Africa: Filming in Kenya (9.29 mins)
Director Fernando Meirelles, producer Simon Channing Williams, Kenyan casting director Emily Mabonga and stars Ralph Fiennes and Rachel Wiesz talk about filming in Kenya. The cast and crew reveal how they actually choose to shoot in the same place as the book was set and not in South Africa as originally planned. They also discuss what it was like filming and working there and the extraordinary cooperation they receive from the Kenyan people themselves.
John Le Carré: From page to Screen (8.08 mins)
Director Fernando Meirelles, producer Simon Channing Williams, former British High Commissioner Sir Edward Clay and novelist John Le Carré himself talk about the adaptation of 'The Constant Gardener'. The author reveals how he feels about adaptation of his books by Hollywood in the past and how he feels that this is the best he as seen in a very long time. He also reveals how he came about the idea for the book and how film differs from the novel.
Anatomy of a global thriller: Behind the scenes of The Constant Gardener (11.35 mins)
Director Fernando Meirelles, producer Simon Channing Williams, novelist John Le Carré and stars Ralph Fiennes, Rachel Weisz, Danny Huston, Bill Nighy Donald Sumpter and Pete Postlethwaite take you to Kenya for the adaptation of 'The Constant Gardener'. The featurette looks at the implications and power of the story, the strength of the characters and the exploitation of Kenya and Africa by First World countries.
Trailers
Previews of 'Brick', 'Cinderella Man' and 'Law & Order'
OVERALL
Universal has done a decent job with the DVD transfer of 'The Constant Gardener'. The featurettes are a little short but informative but the lack of a commentary track for a film with such a lot to say is almost criminal. Fans however should be pleased and anyone who missed this marvellous movie on the big screen should catch it now.
DVD


---
The Usher Home | Hush, Hush... | The Big Story | The Usher Speaks
Stuck @ Home | Coming Soon | Links | Contact the Usher

2005