"I can't take my eyes off of you"
And so it is, two people meet on a crowded London street. The attraction is instant. They can't take their eyes off each other. A hospital visit, a walk, a conversation and a relationship is formed. And so it is, two people mistakenly meet in an aquarium, one thinks she is here to meet him for an afternoon of passion the other just wanted to look at the fish. A conversation starts, a connection grows and a relationship starts. Through association fuelled by passion, a tentative bond is formed that will bring them all, closer.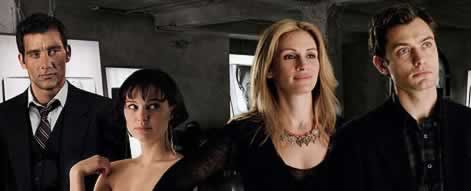 Character driven drama can be very hit and miss especially when strong emotions come into play but can director Mike Nichols' story of passion, lust and love draw you closer?
Based on the play by Patrick Marber, 'Closer' sees the veteran director bring us his best movie in a very long time. This is a powerful and emotional drama, spanning four years in the lives of two couples, intertwined through passion, love, jealousy and infidelity. Every emotion associated with a relationship is explored and laid to bear, as we witness four people's lives come together and fall apart.
What makes the film so watchable is how real the story is. This isn't an epic tale of love or a story of love overcoming great adversity or even an account of soul mates destined to be together, these are four average, everyday people coming into each other's lives. You instantly connect with them, following their trails and tribulations as their romantic lives become more complex and interwoven. From the initial meeting of Dan and Alice on a London street, we see a story of circumstance and events play out, that would have never have occurred would not have been for that initial, fateful meeting.
At the centre of the movie is the performance from the four leads. The whole film revolves around them, with no supporting characters to distract you from their characters. Our initial pair is Dan and Alice, played wonderfully by Jude Law and Natalie Portman. As Dan, Jude Law goes through the biggest transformation. When we are first introduced to him he is an underachieving writer, confined to the obituary section of a London newspaper. Over the course of the movie we see his character grow into a confident and published novelist, full of charisma. Dan is probably the most dislikeable character in the movie, coming across as very selfish and uncaring, dishing out the words 'I love you' with no real understanding of what it actually means. The role proves again that there is more to Law than just his pretty boy looks and he is an actor to be taken seriously. It is Alice who draws Dan out of himself with an injection confidence, but in doing so doomed their relationship from the start. When we first meet her, Alice is brimming with self-assurance, an enigma that any man would be instantly draw to but over the course of the movie we find out she is completely different. After been unfairly labelled as a commercial film actress due to her association with a rather big science fiction franchise, Natalie Portman proves again that she is an extremely talented actress. The role of Alice is probably the most complex of the piece as you only get to see her true self very briefly and you don't realise this until well after the event. The role is a tour-de-force for Portman and a true reflection of the talent she first showed us in 'Leon (The Professional)' all those years ago.
Joining the story later on are Larry and Anna, played by Clive Owen and Julia Roberts. Larry is an overly shy dermatologist, who likes to meet women over the Internet and has never really found true happiness. This is quite far removed from the usual heartthrob roles you usually equate Clive Owen with. He plays the vulnerable member of the four, the one who is the real innocent party, whose only crime was to fall in love with a woman he couldn't really trust. Owen really comes into his own when he discovers his relationship is falling apart and shows again what a good character actor he really is. Julia Roberts' Anna is probably the least developed of the characters in the film. Through no fault of her own, you never really see why the two men are drawn to her, apart from her good looks. While she may be a successful photographer, she is a woman who longs to be loved and when she has it she throws it away. Julia Roberts does here best with what she has but the character needs a little more to bring the best out of her.
'Closer' is a character driven drama that feels very real. Its stage play roots are abundantly clear as this is a story about four people and nothing more but each of them played to the best of the actors abilities. Uncompromising, sexual, funny and truthful, this is a look at modern relationships at their most frank and a true reflection of the perils and pitfalls of love. And so it is, just you think it should be and not a Hollywood fairytale.


PICTURE & SOUND
Presented in Anamorphic Widescreen 1.85:1 with Dolby Digital 5.1, the movie is presented extremely well.
BONUS FEATURES
Music Video: 'The Blower's Daughter' performed by Damien Rice (5.08 mins)
Watch the music video to the sublime track that forms the musical backbone of the film.
Trailers
Previews of 'Hitch', 'Spanglish', 'Are we there yet?', 'The Forgotten', 'Little Black Book' and Being Julia'
OVERALL
With only the inclusion of the music video for the wonderful Damien Rice track, the bonus features for the movie are in a word, lacking. This should not put you off renting or buying the DVD however as this is still a superb movie.
DVD


---
The Usher Home | Hush, Hush... | The Big Story | The Usher Speaks
Stuck @ Home | Coming Soon | Links | Contact the Usher

2005