"Lisa?"
Just about to clinch the biggest account of his career and on the verge of proposing to his girlfriend, Matthew (Hartnett) thinks he sees Lisa (Kruger), the love of his life who left him two years before, in a restaurant. Throwing everything to the wind, he desperately tries to find her, covering all their old haunts until he finally thinks he has located her apartment only to be greeted by another woman, also called Lisa (Byrne). Disoriented and confused, he confides in her, telling his story but as the two become closer Matthew starts to feel that something isn't right.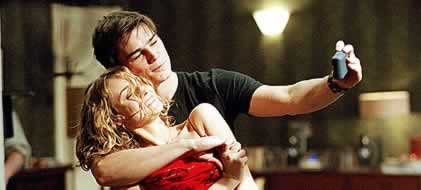 Obsession is a powerful thing and can be a stimulating, pulsating plot device. Wicker Park uses this emotion extremely well.
A remake of the 1996 French film L'Appartement starring Vince Cassel and Monica Bellucci, Wicker Park switches the story to Chicago and brings in Josh Hartnett and two up and coming actresses, Rose Byrne and Diane Kruger. The script than throws these three into a tale of betrayal, guilt and obsession that will keep you guessing until the very end.
Wicker Park succeeds in creating an interest in the viewer. You don't really know what you are watching as the story unfolds before your eyes. Is it a suspense thriller, a romantic drama or even a who-done-it? This is a script that throws in many different directions and keeps you guessing until the end. The story unfolds in a series of flashbacks, each coming from the three lead character's perspectives. As the plot advances, more of the backstory is revealed until we finally realise what has driven each of these characters to be in the situation that they are.
The script would be nothing without three fine performances from the leads. Josh Hartnett is predominately about looks more than he is talent but in this movie he shows that he might actually be worth watching. This is an emotional performance from the actor, as his character is torn between the life he has and the life he longs for. He is a man who can't life with what if and will do anything to find the woman he adores.
Diane Kruger continues to make waves in the profession as Lisa. While this is a much smaller part than everyone else, she still has to be believeable enough for her character to be the object of Matthew's passion, a woman that he would do anything to see again.
Matthew Lillard conjures up a rather restrained performance for he, proving that they might actually be more to his talents that been the best friend of a famous dog. As Luke he is the best friend character that, unbeknownst to him, plays a pivotal role in the relationship between three main characters. This is an assured performance that should get the actor abit more recognition.
Stealing the show is the very talented Rosie Byrne. Arguably more attractive than Diane Kruger (I made this argument for Troy as well), the actress dresses down and procures a timid persona that shifts dramatically as the film progresses. The performance shows the Australian actress's range and proves that she can handle the complex characters. This could be the start of a glittering career.
Wicker Park is a romantic drama that has enough intrigue and twists to keep both men and women entertained. With more than a nod to the style of Alfred Hitchcock, the plot is engaging and the characters are developed enough for you to care what final outcome will be. Obsession is powerful emotion and Wicker Park utilises it very well.


PICTURE & SOUND
Presented in 2.35:1 Anamorphic Widescreen with a Dolby Digital 5.1 soundtrack, the transfer is very good, as you'd expect from a modern movie. The picture quality brings out the Chicago/Montreal location, highlighting the cold and radiant look of the two cities used in the film. The sound has a strong emphasis on dialogue and never really sets your speakers alight but you wouldn't expect it of a movie like this.
BONUS FEATURES
Audio commentary with Josh Hartnett and director Paul McGuigan
This chatty and informative commentary comes from two people who feel passionate about the project. The pair explains what 'Wicker Park' actually is and how cold it was shooting in Chicago and Montreal. The director reveals many of the technical issues associated with the movie and the pair talk about the pacing of the film. Characters and casting are also discussed in a commentary that covers all the bases but never really grabs your undivided attention.
Deleted Scenes (12.32 mins)
Entitled 'The Jeweller', 'The Stairwell', 'First Flashback', 'God is in the details', 'Share a little something', 'We can see each other', 'Final run through', 'photograph', 'Phone call', 'Daniel' and 'Breakfast in Bed', these eleven deleted or extended scenes could have been easily added into the movie but with a commentary track or introduction, we don't know the reason why they were cut.
Gag Reel (1.42 mins)
A montage of mishaps and goofs mainly committed by Matthew Lillard and Rose Byrne
The Postal Service music video 'Against all Odds' (3.54 mins)
A haunting, promotional music video featuring a cover of a Phil Collins song (but much better)
Trailers
Previews of 'Racing Stripes', 'Inside I'm Dancing' and 'Raise Your Voice'
OVERALL
A good film gets an average DVD treatment. The absence of a making of featurette or any interviews with the cast will disappoint fans of the movie. The commentary track is fine but the lack of any explanation of the removal of the deleted scenes is frustrating, especially when some of the scenes were good. The film is still a decent rent however, even though fans may be disappointed with the bonus material.
DVD


L'Appartement
---
The Usher Home | Hush, Hush... | The Big Story | The Usher Speaks
Stuck @ Home | Coming Soon | Links | Contact the Usher

2004