"My name is David"
Bulgaria, 1952. Having been helped to escape from a communist concentration camp, 12 year-old David (Tibber) is given a loaf of bread, a compass, a sealed letter and instructions to head north to Denmark. Not knowing anything but the camp, David sees the world for the first time and as his journey begins he starts to realise that everyone might not be as cruel or untrustworthy as he as been lead to believe.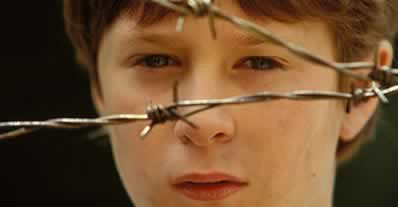 Seeing the world for the first time can be a terrifying thing but when you have escaped from one of the worst places on Earth, the world can be a very joyous place and 'I am David' shows you this through the eyes of a 12 year-old.
Adapted from the acclaimed novel 'North to Freedom' by Anne Holm, the movie takes you on a journey of self discovery that will touch the heart of even the most harden cynic. Told completely from the view point of David, we follow his daring escape from the Bulgarian concentration camp, his journey to and through Italy, onto Switzerland and beyond in a tale that will intrigue you from the start. It is easy to forget that it wasn't just the Nazis that imprisoned people for their beliefs. Stalin and his communist regime were just as cruel and monstrous. Eastern Europe was thrown into turmoil after the end of the Second World War with thousands of people taken from their homes and taken to concentration camps through Soviet occupied territory as the communism spread. This is where our story begins, as we find David about to escape from a camp in Bulgaria and taste freedom for the first time in his young life.
The main emphasis of the movie is David's journey and the people he meets on the way. Intermittently, through flashback we see the events that led to David's escape, seeing the people who helped him and looked after him after he was taken from his family at a very young age. Here we meet Johannes, played by Jim Caviezel, the man who looked out for David and told him stories of the outside world. These flashes reveal the true motivation of the movie and the reason for David epic journey to Denmark.
Key to the success of the film is the performance of Ben Tibber as David. It is very easy for child actors in lead roles to be far too cute or sickly sweet to make their performances credible but Tibber's David is far from that. He plays the untrusting, na´ve boy who never smiles superbly in what is a very difficult role. As the film follows David journey, Ben Tibber is in every shot, which is a heavy burden for even the most accomplished actor but he achieves this without any problems, drawing up into the character and his situation. Through his performance you witness the character grow in confidence, finally allowing people in and putting some of his many demons to rest.
With the film concentrating totally on David's journey, the supporting cast has very little screen time or chance of development. Jim Caviezel's role is little more than a slightly extended cameo that only appears in flashback or dream sequences. It is a pivotal role however, as it defines why David is like he is and exposes why the young man is so driven. Joan Plowright brings some class to the movie as kindly painter Sophie. She is the woman who finally gets David to trust people and draws out the child that has been taken away by years in prison. The rest of the cast make only fleeting appearances but do add to the story.
'I am David' is a movie that is impossible not to like. Interesting from the start and through the performance of Ben Tibber, you cannot help but be drawn into David's journey and be intrigued as to whether he completes it or not. This is a heart-warming tale that, while not life changing, will effect you and just make you feel a little more grateful for what you have.


NOT AVAILABLE

Life is Beautiful
---
The Usher Home | Hush, Hush... | The Big Story | The Usher Speaks
Stuck @ Home | Coming Soon | Links | Contact the Usher

2004