"Nobody insults my horse"
Frank Hopkins
1890, Frank Hopkins (Mortensen) and his horse Hidalgo were legendary long distance racers winning competitions all over the US. His reputation was spreading to the point that it gained the attention of Sheikh Riyadh (Sharif). Every year his family run a 3000-mile race called the Ocean of Fire across some of the most inhospitable desert the Middle East has to offer. Frank accepts the challenges but nobody expects that an inferior mustang could ever beat a field full of thoroughbred Arabian horses.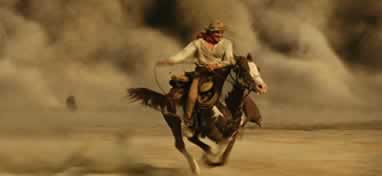 Viggo Mortensen takes another step towards becoming the silver screen's most bankable hero, the same way as Harrison for did after starring in a successful film trilogy.
Based on the allegedly true story of life of Frank Hopkins, this is a big budget action that isn't like your usual high concept fair. The movie combines blistering action, exhilarating racing with slow character development and a lot of subtitles as the characters speak in their native languages. This is an unusual approach for a potential blockbuster, as it is well known that excessively subtitled films find it difficult to reach an audience in English speaking countries, especially the US.
The story of Frank Hopkins and his horse Hidalgo is still interesting however as it is a tale of extreme endurance made all the more watchable by some great performances. Omar Sharif brings a touch of class to the proceeding as the honourable Sheikh Riyadh. The actor just exudes dignity and commands respect every time he graces the screen. It's a shame that we don't see him more often. The beautiful Zuleikha Robinson makes her big screen splash as Jazira. This should start to get the British actress noticed in Hollywood. Louise Lombard is also good as Lady Ann Davenport, the woman with a lot to gain if her horse wins the race.
This is Viggo Mortensen's showpiece however. Not shackled by a fellowship, Mortensen is becoming an extremely watchable actor and the hero for new millennium. He is emerging as a lead actor that can command the screen and bring iconic idols to life.
Hidalgo is a good movie that is bogged down by been slightly too long and by having large gaps between the action. Director Joe Johnston is known for his big budget spectaculars like The Rocketeer, Honey I Shrunk the Kids and Jurassic Park but his shows that his can handle character development as well as rip-roaring action. Capturing the extremes of the Arabian Desert brilliantly and always doing enough to entertain, this is a movie that is well worth a flutter.


PICTURE & SOUND
Presented in 2.35:1 Anamorphic Widescreen with a Dolby Digital 5.1 surround soundtrack, the transfer is very good. The sharpness of the picture quality brings the desert scenery to life, conveying all the bleakness and beauty of the treacherous terrain, as well as the splendour and grandeur of the race and its competitors. The sound it also very good especially during the crowd sequences and the start of the race, as it fills every speaker with a crescendo of sound.
BONUS FEATURES
Sand & Celluloid (9.03 mins)
Director Joe Johnston, producer Casey Silver, executive producer Don Zepfrel, production designer Barry Robinson and star Viggo Mortensen take you behind the scenes of the filming of Hidalgo. In this short featurette we learn more about history of endurance racing and the legend of Frank Hopkins and Hidalgo. Joe Johnston and his crew take you to the sets and tell you what they had to do and what it was like filming the movie in Morocco. We also find out how Viggo ate the locusts and how all the horses they used for Hidalgo.
Easter Egg (3.09 mins)
This hidden featurette features Native Americans David Midthunder (Assiniboine-Sioux) and Leo Pard (Northern Pikunii) talking about the exploits of Frank Hopkins and Hidalgo. Star Viggo Mortensen accompanies the footage with some excellent still photographs that he took during the production.
Trailers
Previews of Starsky and Hutch and The Alamo
OVERALL
An epic movie like this deserves a far better DVD treatment than Touchstone has given it. A very short featurette and an even shorter hidden feature do not do enough to please fans of the movie. This is a film that would have benefited from a commentary track or even some more cast and crew interviews. The picture and sound presentation are good but you'd expect that with a modern film. Fans will be disappointed with the bonus features but this should not put you off renting the film.
DVD


---
The Usher Home | Hush, Hush... | The Big Story | The Usher Speaks
Stuck @ Home | Coming Soon | Links | Contact the Usher

2004