"...after six they just walked out"
Kate Baker
To say Tom (Martin) and Kate Baker (Hunt) have a large family is an understatement. They are the proud parents of twelve kids aged between twenty-two and four years old. When Tom lands his dream job of coaching his college American Football team, The Stallions, he relocates his family from the sleepy town of Midland to the suburbs of Chicago. The kids don't take too well to this however as they have to leave their schools, friends and in eldest son Charlie's (Welling) case, girlfriend behind.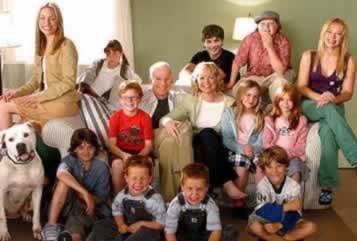 Steve Martin has family troubles. Kids running wild, teenage angst and daughter boyfriend trouble.
Haven't we heard this all before? Cheaper by the Dozen is a lesser version of the far superior Parenthood, which Martin made with director Ron Howard in 1989. The movie itself is actually a remake of a 1950s film, which was based on the true story of the Gilbreth family from Rhode Island but its themes are so similar to Parenthood that you have the feeling that you've seen this all before.
The cast are good however but due to the scope of the story and the sheer number of characters, many of the kids tend to fall more into minor supporting roles. With twelve kids you can't expect them all to have an equal share of screen time but some of them have hardly anytime at all. Hillary Duff is one example. She is an up and coming star that is mainly used as the dizzy, Barbie doll member of the family who has really little to say or do other than look beautiful and give fashion tips. Tom Welling is also underused as the family's disgruntled eldest son Charlie, as all he has to do is look moody and angst ridden. Piper Perabo has hardly any screen time as earliest daughter Nora but her scenes with Ashton Kutcher are some of the funniest in the movie. The younger children have little chance to shine with Alyson Stoner as Sarah and the twins Brent and Shane Kinsman as Nigel and Kyle been the highlights of the younger siblings.
The movie is all about Steve Martin and Bonnie Hunt's characters trying to regain the dreams they sacrificed to bring up their children. Martin's Tom Baker is basically the same as Gil Buckman from Parenthood, the steadfast, reliable Dad who thinks he can cope when his wife isn't around to help. This is Steve Martin on autopilot and it seems like we will never get to see that wild and crazy guy that made him famous. Bonnie Hunt is as good as ever however and is the shining light of the movie. She has great comic timing and some of her one-line comebacks are very funny indeed, especially when witnessing her eldest daughter and her boyfriend kissing in front of her.
"Cheaper by the Dozen" adds nothing new to the family comedy genre. The cast are good but with this many characters their screen time is limited, leading to many of them being underdeveloped. This is inoffensive, feel good nonsense that does just enough to entertain but not enough to really make you care.
One thing it does succeed in however is putting you off having a lot of kids.


Audio commentary from director Shawn Levy, Audio commentary from the Baker kids, Deleted scenes (with optional audio commentary), 'Frogs And Eggs' featurette, 'Dylan's Birthday' featurette, 'Director's Viewfinder: Creating A Fictional Family' featurette, 'Critters' featurette, Storyboard to finished film comparisons & Easter Egg (hidden feature)

Parenthood
---
The Usher Home | Hush, Hush... | The Big Story | The Usher Speaks
Stuck @ Home | Coming Soon | Links | Contact the Usher

2004