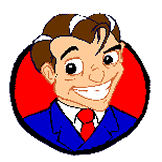 THE WILD THORNBERRYS MOVIE

Starring the vocal talents of:
Lacey Chabert, Tim Curry, Jodi Carlisle, Danielle Harris, Brenda Blethyn, Rupert Everett and Marisa Tomei
Directors:
Jeff McGrath and Cathy Malkasian
Running time:
85 mins

Good Vocal cast
Entertaining and educational plot

Very average animation
Feels like an extended episode of the TV show
Eliza Thornberry (Chabert) isn't an ordinary girl. She travels the world with her wildlife documentary making parents, her constantly moaning sister, her out of control, adopted brother and her pet chimpanzee Darwin (Curry). Unbeknownst to her family however, Eliza has a talent given to her by a mystical Sharman for saving his life, she can talk to animals. When that gift lands her in trouble and a cheetah cub is kidnapped by poachers, it is up to Eliza and Darwin to get him back whatever the cost.

Based on the popular Nickelodeon cartoon, The Wild Thornberrys Movie feels more like an extended episode than a feature film.
This has been the problem with transferring small screen hits onto the big screen, as they just come across as a way of cashing in on a show's popularity. There is nothing here that couldn't have been accomplished on the TV series and this is the same as Hey Arnold, The Rugrats, Recess and every other child's show hit that has made the transition.
This aside, the movie is still enjoyable especially for the fans. The wildlife conservation plot is a good educational tool and well as an entertaining one. The film does make the assumption that you have seen the cartoon before, as there is little in the way of character introduction and background information but at the end of the day this is a kids movie and it would only slow the film down, losing the audience's attention.
TV cartoons to film transfers don't really push the 2D animation genre to new heights but The Wild Thornberrys Movie is a better than average attempt. The strong vocal cast and the entertaining and educational plot will keep parents as well as children interested for its entirety.
Anyone for the Wedgy Dance?

NOT AVAILABLE

---
The Usher Home | Hush, Hush... | The Big Story | The Usher Speaks
Stuck @ Home | Coming Soon | Links | Contact the Usher

2003